The Smithsonian American Art Museum is celebrating 40 years of exhibitions at the institute's Renwick Gallery, a branch of the museum dedicated to craft and decorative arts. Titled "40 under 40: Craft Futures", the exhibit showcases the work of 40 artists under the age of 40 with the aim of highlighting the changing concept of the craft movement.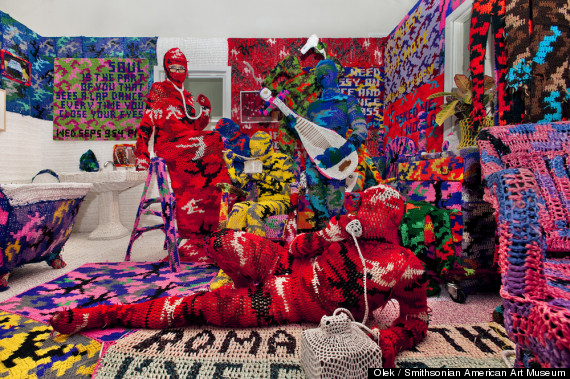 Olek, Knitting is for Pus****, 2005-2011, mixed media and 100% acrylic yarn, Courtesy of the artist, photo by Jeffrey Kilmer.
The exhibition, which opens on July 20th at the Renwick Gallery, features an array of projects, ranging from the usual decorative art suspects -- ceramics and metalworks -- to less common craft media like sculpture, industrial design, installation art, fashion design, sustainable manufacturing and even mathematics. The impressive breadth of artworks considered in the discipline of craft is meant to speak to the ways in which the field has changed since the early '70s, incorporating new methods of creating as generational changes lead to new technologies and new conceptual trends.
The common theme of the exhibit is modern innovation. Not only were the works produced by artists born in the 40 years since 1972, the various pieces were all created in the years following September 11th, 2001. The artists are therefore united in their awareness of issues that affect modern society, like the push for sustainability and the return to valuing hand-made goods. As the director of the Smithsonian Art Museum, Elizabeth Broun, stated in the exhibition's press release, "When the Renwick Gallery opened in 1972, it introduced a new generation of artists to the American public. I am excited that we are poised now to introduce to the museum's community these 40 young artists who will inspire a new generation."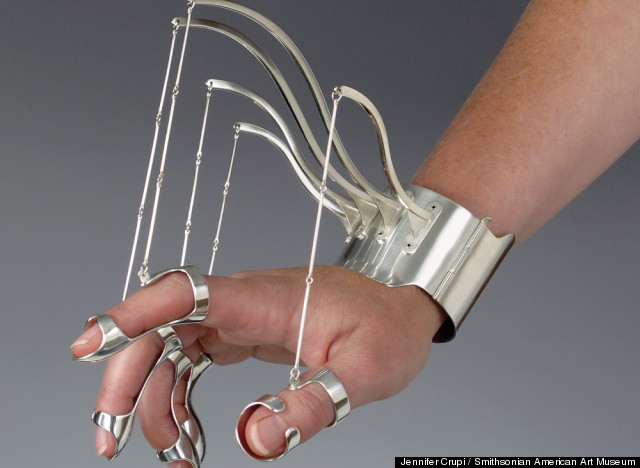 Jennifer Crupi, Ornamental Hands: Figure One, 2010, sterling silver, acrylic, inkjet print on vellum, courtesy of the artist, photo by Christian Luis.
Some of the exhibition's displays are interactive, like Christy Matson "Sonic Structure II" and Nick Dong's "Enlightenment Room." Even works like Olek's wild knitted creations encourage viewers to step into the displays and experience craft in a tactile way. Other works seem like odd inventions meant to be marveled through protective glass. The concept of time and modernity is certainly present in many of the pieces. Whether a work seems to harken back to the past, like Stephanie Liner's "Momentos of a Doomed Construct", or point to a distant future, like Jennifer Crupi's "Ornamental Hands: Figure One," there is a distinct feeling of a contemporary lens, filtering pressing ideas of the now into decorative expressions.
"40 under 40: Craft Futures" opens July 20th, 2012 and will run until February 3rd, 2013. Check out a preview of works on display below!
PHOTO GALLERY
"40 Under 40: Craft Futures" at the Smithsonian American Art Museum
REAL LIFE. REAL NEWS. REAL VOICES.
Help us tell more of the stories that matter from voices that too often remain unheard.
BEFORE YOU GO