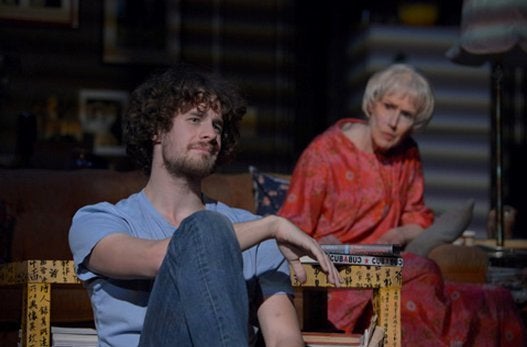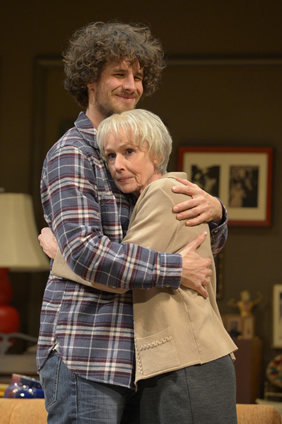 Four-thousand miles is the distance traveled by bike from the West Coast to the front door of a Greenwich Village apartment where an elderly widow welcomes in her road-weary grandson. 4000 Miles is also the title of Amy Herzog's novella of a play, which opened last week at ACT.
While the parent-child relationship is the stuff of much drama (both onstage and off), Herzog unconventionally bypasses the middle generation to focus on the grandparent-grandchild relationship.
Grandma Vera is not the warm-hearted, cookie-baking type you see on TV. Nor do she and her grandson Leo have the corny connection that's so often depicted when grannies are depicted at all. Under Mark Rucker's low-key direction, Herzog's play is honest and unsentimental. But it's a slight play -- short on theatrical drama. While there's something to be said for restraint, this is play that rolls scenically along, but really doesn't gain traction and momentum.
Even so, the performance of Susan Blommaert as the octogenarian Vera, is sharp and intelligent. Vera is a no-nonsense, straight-shooter, a cultured Manhattanite, strong-willed and quick-witted. Blommaert's performance holds are full attention. Refreshingly, she's neither the archetypal kindly granny nor a caricature of a curmudgeonly coot. When Leo shows up, Vera doesn't push him to call his worried mother. Her bond with her daughter is likewise cool, and Leo's estrangement from his mom is something she can relate too, even though the audience never gets to go down that road.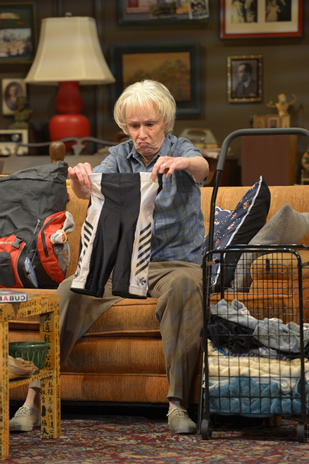 Reggie Gowland's Leo is less specific -- less character-driven. He is a man with a past. An Oregon "mountain man" and self-proclaimed hippie, Gowland makes this "it's all good" type credible. Leo's Zen vibe has been derailed by the ordeal he experienced on his cross-country trip. So he has arrived in New York with baggage. More than fits in a set up panniers, if this metaphor can be further milked.
Some of this will be unpacked for us. Leo, his girlfriend and another couple -- their best friends -- had originally planned to bike across the country together. But the foursome crumbles and Leo has arrived in New York alone. While the telling of Leo's back story is vital, it's the casual couch time between Vera and Leo that is the heart of the play. Leo has a few visitors (Julie Lawler plays Bec, Leo's former girlfriend and Camille Mana plays Amanda, a girl Leo picks up) but 4000 Miles is richest as Leo comes to know his grandmother.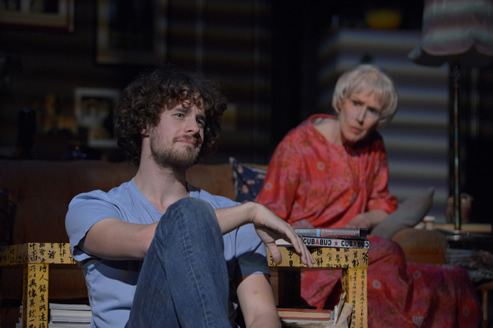 Vera tells him of her past marriages. She matter-of-factly tells him about her sex life and her husband's infidelities. She tells him a bit (not enough) about her politics -- she's a former communist. Leo later reassures Amanda, "a lot of people were communists back then. It was like recycling -- something you did to be socially responsible." Amanda, a Chinese-American who "hates communists," has just told Leo "that just set you back 20 minutes." While she at first seems like a stock floozy, Mana surprises us as with her sharp, clever and funny performance.
The play balances the comedy and the pathos pretty nicely. But Rucker's production does have a bit of a dramedy feel with easy laugh lines and a static set where characters come and go through the apartment door. Vera has more senior hours than senior moments; she struggles (too briskly) to recall words, misplaces this and that and accuses Leo of pilfering. She bickers over the phone with her next door neighbor. Less comically, they check in every day; neither one wants to die alone in their apartments undetected.
The absent characters, Leo's mother and especially his adopted sister, feel like loose threads. Herzog doesn't heed Chekhov's play-writing dictum that a loaded rifle on the wall in Act One needs to go off in Act Three.
4000 Miles is more of a staged short story than a play. And it's more of a gentle ride than a comprehensive voyage.
This review was originally published on KQED Arts
Popular in the Community