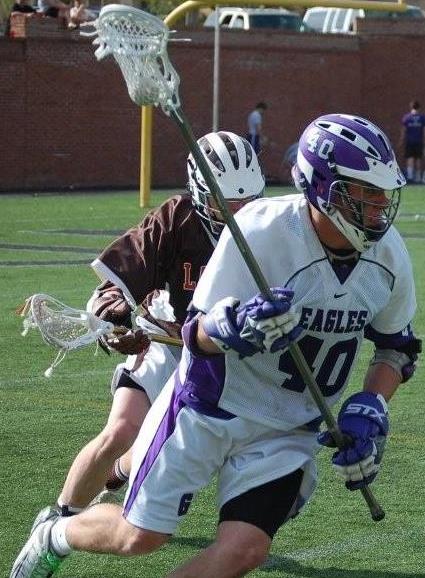 This Mother's Day I had an early and unusual gift from my oldest son, Hank, a senior at Gonzaga College high school. Friday, I walked into my office and draped over my chair was his #40 lacrosse game jersey. His note said, "Mom, I left my jersey if you want to wear it to the game [WCAC Championship] tonight.
This might not sound like a big deal to most, but there is a story behind this gift. As a working mother, I've always struggled to balance my duties at home with those at work. Several months ago I left my job managing an international partnership dedicated to eliminating diseases of poverty that affect more than 1.4 billion people globally. That job required extensive international travel, and a typical work week was nothing less than 60hrs. As a result, I missed a lot at home over the last five years - games, confirmation, school plays, homecoming....you name it. I convinced myself that I was not only providing my kids with an opportunity to go to some of the best schools in the region, I was helping the poorest...or so I thought.
Looking at my son's lacrosse jersey hanging on the back of my chair, I saw 18 years flash before my eyes. Where had time gone? I remember buying him his first lacrosse stick when he was 8 years old...10 years later he's a team captain and this game, the championship, would be his last. I was overcome with emotion when I realized that I almost got on a plane the day before to attend a meeting in Germany....only this time I didn't. I canceled my travel plans, and the jersey was his gift to me.
The Gonzaga lacrosse team hadn't won the WCAC title in 12 years and their opponent, DeMatha, had shut them out the past five years. Gonzaga got off to a tough start and was down 8-3, heading into the fourth quarter - but, in a made-for-TV ending, they pulled off a thrilling 9-8 overtime victory. I fought the crowd to find Hank and congratulate him - grabbing him from across the fence. I found it hard to let go, both literally and figuratively. He was no longer the little boy used I used to read Harry Potter books to each night at bedtime. Standing 6'2", he was now a young man, and a leader on and off the field. But, this story isn't really about lacrosse at all. It's about a son's character.
Over Hank's 4 years at Gonzaga, I've seen him grow and exemplify their motto, 'Men for Others.' I've heard from his classmates, teachers, coaches and other parents how he leads both on and off the field, and I've experienced his leadership skills firsthand over the past several months as I struggled through the emotional challenges of my career change. When he saw that I was upset he would put his arms around me and tell me that everything was going to work out in the end....and he was right. To encourage me, he wrote one of his college essays on how I have been a major influence in his life fighting for social justice and advocating for the poor. His essay taught me about really being there for others...not just the poor who live far away, but those in our daily lives and local community.
In the wake of the tragic death of Yeardley Love, the DC/Baltimore based lacrosse community is struck with both shock and grief. I call it a community because it truly is, and my heart aches for the mothers of both Love and Huguely today. Lacrosse has gotten a reputation as a sport of the elite and entitled, and obviously some of the kids are capable of making errors in judgment. However, much like my son, there are thousands of children who engage in this sport who become exemplary citizens both on and off the field. It is important to learn from these types of tragedies and make them teaching moments for our children--to help them understand how important it is to develop a strong moral character.
Parenting isn't easy these days, and I remember some difficult and heated conversations with my son over the last few years about sex, drugs, drinking, girlfriends...you name it. Our breakthrough came one night a couple years ago when in tears I confessed that I didn't know what the hell I was doing....saying, "God didn't give me an operating manual when you were born." He accepted my limitations, and we agreed to figure this out together. Holding up his end of the bargain, he agreed to go to Rwanda one summer to see what I was doing so far away from home. That experience gave him a new sense of appreciation for the simple things in life. In return, I agreed to listen more and not judge. After all, life is a journey and my job was to support him as he navigated through life's challenges to find his passion and purpose.
So, this Mother's Day, I'm taking a different approach. I'm going to thank my children for all they have taught me. I've learned through them to live in the moment, to embrace the journey, and to celebrate the moments big and small. But most importantly, I've learned to value time...life's most precious commodity. Eighteen years have flown by, and in a few months my son will leave for college.
Hank's #40 jersey will hang on the back of my chair as a reminder of the greatest mother's gift of all - a son who has grown up to become a kind and generous young man. Go Eagles!

Calling all HuffPost superfans!
Sign up for membership to become a founding member and help shape HuffPost's next chapter