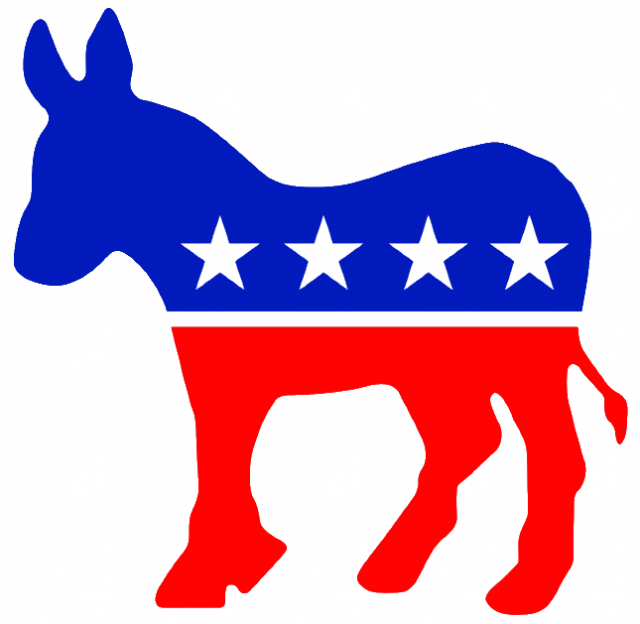 The real resistance to Donald Trump begins at 8 pm Eastern on January 31, 2017 when Mr. Trump announces his nomination to fill what many believe is Merrick Garland's seat on The Supreme Court.
And if The Democratic Party is to have any legitimacy as "The Opposition Party" they must join this resistance.
And if the 48 individual Senate Members of The Democratic Party are to have any legitimacy as Democrats, they too must individually join this resistance
This means one thing, and one thing only.
At least 41 of the 48 Democratic Senators must filibuster Donald Trump's nominee for The Supreme Court unless that nominee represents the values and positions and dreams of the majority of the American people.
If not, Democrats across the country must rise up between now and the Democratic Primaries in early 2018 and find, and fund Senate Democratic challengers who will.
Any and every Democratic Senator who caves and gives in to Donald Trump and to an "out of the mainstream" Supreme Court nominee (who could serve for 20 or 30 or more years) must be vigorously and apologetically "Primaried" regardless of how red their state is or how many "angry Trump voters" there may be in their state. These Trump voters are not going to vote for them anyway and the brilliant political strategy of trying to appeal to them instead of boldly championing women's rights, civil rights, environmental rights and other core Progressive values and principles is the reason Democrats keep losing in the first place.
41 Senators Can Protect The Vast Majority of Americans
Marches have impact. Rallies have impact. Protests and videos and phone calls and emails have impact.
But 41 Democrats in The United States Senate can accomplish what millions marched into the streets for on January 21, what thousands protest for at airports across the country now and, most importantly, what 73,648,823 Americans voted for, and against, on November 8, 2016.
Donald Trump was destroyed in The 2016 Presidential Election.
There was a landslide all right. Against him!
10,669,187 more voters voted for Hillary Clinton, Jill Stein, Gary Johnson and the other candidates than voted for Donald Trump, far in excess of the oft quoted 2.9 Million more that voted for Hillary. In fact, Donald Trump only received the vote of 27.2% of eligible voters and 19.4% of the US population and his current approval ratings confirm his historically shocking minority support.
The only reason Trump is in The Oval Office is because 76,588 voters, out of 136,628,459, in three states, voted for him, i.e., a minuscule 0.056% of the total voters.
Bottom line, Donald Trump is "A Minority President" and deserves to be treated as such, and there is only one thing that can - with absolute certainty - reflect this minority support and stop him in his tracks.
And that one thing is The Senate Filibuster - the same tool that Minority, now Majority Leader Mitch McConnell used, virtually non-stop, to thwart almost everything President Barack Obama wanted to do for 8 years.
If Democrats filibuster Donald Trump's nominee, McConnell, now on the other side of the filibuster, will have to find 60 Senators to end that filibuster in a procedure called "cloture". But McConnell only has 52 total Republicans. He and Donald Trump will need to peel away 8 Senate Democrats to end the filibuster and move to a vote to confirm the nominee.
What that means is that if only 41 of the 48 Senate Democrats vote against cloture and to continue the filibuster, then Trump's pick does not get confirmed.
Democrats just need 41 Senators to stand up to Donald Trump and defeat his nominee, and him, and send a message that if he wants to fill the empty seat, "The Merrick Garland Seat" on The Supreme Court, Donald Trump must nominate someone who supports women's rights, gay rights, civil rights, environmental rights and wants, like the vast majority of American citizens, to undo "Citizens United".
So here's the list of the 48 Democrats and the 52 Republican United States Senators, by state. If you marched in The Women's March, if you want to protest, if you want to stop Donald Trump and his agenda then find your two Senators, call them and tell them to stand up against Donald Trump . . . or that you won't be voting for them in 2018, or 2020 or 2022!
"But Then They Will 'Nuke' The Filibuster!"
Yes, Donald Trump has vowed to destroy the filibuster if Democrats deign to oppose his Supreme Court pick, but this is the kind of fearful, timid, reactive thinking that has all but destroyed the Democratic brand.
We gain nothing by allowing Trump and Republicans to intimidate the country in this way.
I say, bring it on. For two reasons.
First of all, it is not a certainty that Republicans will, indeed, "nuke" the filibuster. They need 50 of their 52 Senate members and it is unlikely that experienced members like John McCain, Lindsey Graham, Susan Collins or Lisa Murkowski and Trump critics like Jeff Flake or Ben Sasse will go along with the destruction of historic minority rights in The Senate. They understand that "what goes around comes around" and that, one day, they will again be in the minority. This hard reality kept 53 Democrats from eliminating the filibuster for Supreme Court Justices when they voted to reform the procedure in 2013.
Secondly, America would understand that eliminating this last check on one-party control creates the threat of a very real anti-democratic, authoritarian, Donald Trump led tyrannical regime and that the only way to reverse this and re-install critical checks and balances to America would be for the country to come together to defeat Republican Senators and return Democrats to control of The United States Senate.
102.7 Million eligible voters did not vote in The 2016 Election. My bet is that a large percentage of these non-voters will come out of the electoral shadows to defeat Senate Republicans in 2018 if, in support of a wildly unpopular President, they "nuke" democracy on their watch!
LIST OF THE 100 UNITED STATE SENATORS with Phone Numbers
ALASKA Murkowski, Lisa - R (202) 224-6665 Sullivan, Dan - R (202) 224-3004
ALABAMA Sessions, Jeff - R (202) 224-4124 Shelby, Richard C. - R (202) 224-5744
ARKANSAS Boozman, John - R (202) 224-4843 Cotton, Tom - R (202) 224-2353
ARIZONA Flake, Jeff - R (202) 224-4521 McCain, John - R (202) 224-2235
CALIFORNIA Feinstein, Dianne - D (202) 224-3841 Harris, Kamala D. - D (202) 224-3553
COLORADO Bennet, Michael F. - D (202) 224-5852 Gardner, Cory - R (202) 224-5941
CONNECTICUT Blumenthal, Richard - D (202) 224-2823 Murphy, Christopher - D (202) 224-4041
DELAWARE Carper, Thomas R. - D (202) 224-2441 Coons, Christopher A. - D (202) 224-5042
FLORIDA Nelson, Bill - D (202) 224-5274 Rubio, Marco - R (202) 224-3041
GEORGIA Isakson, Johnny - R (202) 224-3643 Perdue, David - R (202) 224-3521
HAWAII Hirono, Mazie K. - D (202) 224-6361 Schatz, Brian - D (202) 224-3934
IOWA Ernst, Joni - R (202) 224-3254 Grassley, Chuck - R (202) 224-3744
IDAHO Crapo, Mike - R (202) 224-6142 Risch, James E. - R (202) 224-2752
ILLINOIS Duckworth, Tammy - D (202) 224-2854 Durbin, Richard J. - D (202) 224-2152
INDIANA Donnelly, Joe - D (202) 224-4814 Young, Todd - R (202) 224-5623
KANSAS Moran, Jerry - R (202) 224-6521 Roberts, Pat - R (202) 224-4774
KENTUCKY McConnell, Mitch - R (202) 224-2541 Paul, Rand - R (202) 224-4343
LOUISIANNA Cassidy, Bill - R (202) 224-5824 Kennedy, John - R (202) 224-4623
MASSACHUSETTS Markey, Edward J. - D (202) 224-2742 Warren, Elizabeth - D (202) 224-4543
MARYLAND Cardin, Benjamin L. - D (202) 224-4524 Van Hollen, Chris - D (202) 224-4654
MAINE Collins, Susan M. - R (202) 224-2523 King, Angus S., Jr. - I (caucuses with Democrats) (202) 224-5344
MICHIGAN Peters, Gary C. - D (202) 224-6221 Stabenow, Debbie - D (202) 224-4822
MINNESOTA Franken, Al - D (202) 224-5641 Klobuchar, Amy - D (202) 224-3244
MISSOURI Blunt, Roy - R (202) 224-5721 McCaskill, Claire - D (202) 224-6154
MISSISSIPPI Cochran, Thad - R (202) 224-5054 Wicker, Roger F. - R (202) 224-6253
MONTANA Daines, Steve - R (202) 224-2651 Tester, Jon - D (202) 224-2644
NORTH CAROLINA Burr, Richard - R (202) 224-3154 Tillis, Thom - R (202) 224-6342
NORTH DAKOTA Heitkamp, Heidi - D (202) 224-2043 Hoeven, John - R (202) 224-2551
NEBRASKA Fischer, Deb - R (202) 224-6551 Sasse, Ben - R (202) 224-4224
NEW HAMPSHIRE Hassan, Margaret Wood - D (202) 224-3324 Shaheen, Jeanne - D (202) 224-2841
NEW JERSEY Booker, Cory A. - D (202) 224-3224 Menendez, Robert - D (202) 224-4744
NEW MEXICO Heinrich, Martin - D (202) 224-5521 Udall, Tom - D (202) 224-6621
NEVADA Cortez Masto, Catherine - D (202) 224-3542 Heller, Dean - R (202) 224-6244
NEW YORK Gillibrand, Kirsten E. - D (202) 224-4451 Schumer, Charles E. - D (202) 224-6542
OHIO Brown, Sherrod - D (202) 224-2315 Portman, Rob - R (202) 224-3353
OKLAHOMA Inhofe, James M. - R (202) 224-4721 Lankford, James - R (202) 224-5754
OREGON Merkley, Jeff - D (202) 224-3753 Wyden, Ron - D (202) 224-5244
PENNSYLVANIA Casey, Robert P., Jr. - D (202) 224-6324 Toomey, Patrick J. - R (202) 224-4254
RHODE ISLAND Reed, Jack - D (202) 224-4642 Whitehouse, Sheldon - D (202) 224-2921
SOUTH CAROLINA Graham, Lindsey - R (202) 224-5972 Scott, Tim - R (202) 224-6121
SOUTH DAKOTA Rounds, Mike - R (202) 224-5842 Thune, John - R (202) 224-2321
TENNESSEE Alexander, Lamar - R (202) 224-4944 Corker, Bob - R (202) 224-3344
TEXAS Cornyn, John - R (202) 224-2934 Cruz, Ted - R (202) 224-5922
UTAH Hatch, Orrin G. - R (202) 224-5251 Lee, Mike - R (202) 224-5444
VIRGINIA Kaine, Tim - D (202) 224-4024 Warner, Mark R. - D (202) 224-2023
VERMONT Leahy, Patrick J. - D (202) 224-4242 Sanders, Bernard - I (caucuses with Democrats) (202) 224-5141
WASHINGTON Cantwell, Maria - D (202) 224-3441 Murray, Patty - D (202) 224-2621
WISCONSIN Baldwin, Tammy - D (202) 224-5653 Johnson, Ron - R (202) 224-5323
WEST VIRGINIA Capito, Shelley Moore - R (202) 224-6472 Manchin, Joe, III - D (202) 224-3954
WYOMING Barrasso, John - R (202) 224-6441 Enzi, Michael B. - R (202) 224-3424
Related
Popular in the Community