The level of carbon dioxide in the Earth's atmosphere just keeps going up and up, in an ominous trend that suggests the ravages of climate change are only going to get worse.
Last Tuesday, the Mauna Loa Observatory in Hawaii recorded its first carbon dioxide reading above 410 parts per million — specifically, 410.28 ppm. For context, in 1780 or so, around the beginning of the Industrial Revolution, that figure was only about 280 ppm; by 1958, when the Mauna Loa observatory began taking continuous measurements of atmospheric CO2, it had come up to about 315 ppm.
The planet breached the scary 400 ppm limit in 2013, and now we're already past 410. The atmosphere hasn't had similar levels of carbon dioxide in it for about 3 million years.
President Donald Trump has dismissed climate change as a "hoax," despite the nearly universal scientific consensus that it represents a looming threat to the planet. Meanwhile, the ever-growing load of CO2 in the atmosphere is pushing the goals of the Paris climate accords further and further out of reach — regardless of whether Trump chooses to stay in the fight.
As the amount of carbon dioxide in the atmosphere keeps rising, scientists are already warning that we could soon surpass records set 50 million years ago.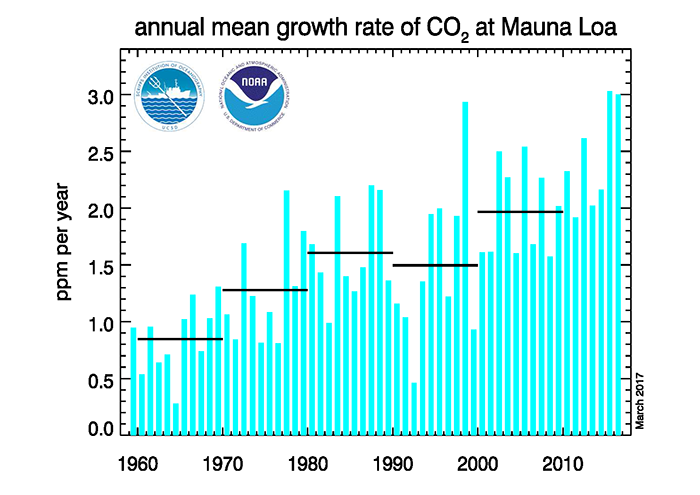 Nearly 200 nations around the world have agreed to cut carbon emissions in an effort to hold the average temperature increase to "well below" 2 degrees Celsius (3.6 degress Fahrenheit) above pre-industrial levels.
Earlier this month, Pruitt said the U.S. should "exit" the Paris agreement because it's a "bad deal" for the country.
Even with a strong global commitment to reducing CO2, the stuff that's already in the air will take a very long time to dissipate, and only then after concerted effort. 
The rate of CO2 increase will "go down when emissions decrease," said Tans. "But carbon dioxide will still be going up, albeit more slowly. Only when emissions are cut in half will atmospheric carbon dioxide level off initially."
And even then, scientists agree, the effects of climate change will linger long into the future.
CORRECTION: An earlier version of this article misstated the level of atmospheric carbon dioxide measured in 1958. It was 315 parts per million, not 280.
Calling all HuffPost superfans!
Sign up for membership to become a founding member and help shape HuffPost's next chapter