Show Me the Hamilton's- How much would you pay for Hamilton Tickets?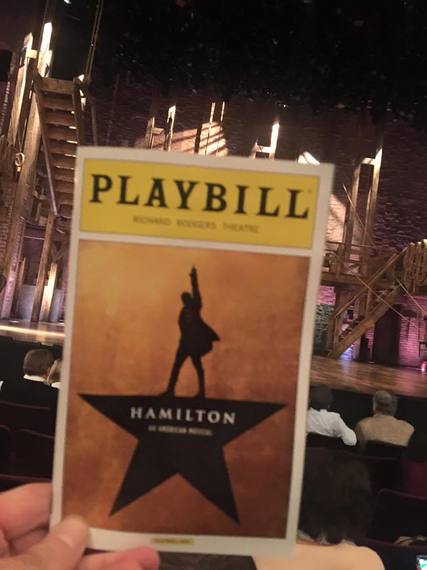 Someone just spent $42,500 on a pair of tickets to Hamilton starring Lin-Manual Miranda -- the incredible dynamo who conceived, wrote and stars in the show -- on Broadway. The money did go to charity, but still. Like many of you I'm obsessed with this musical, have the Grammy-winning cast album on auto-repeat and can sing the whole score from memory. And even though ticket prices are insane -- we talking a minimum of six times over face value -- I'm planning a trip to New York in May specifically to see it. But can I justify the expense? Can anyone?
You may be surprised as a financial planner that I'm a big proponent of spending money on experiences rather than things. Live theater fits the bill because it is the type of thing I remember forever. So the questions I'm dealing with now are:
- Will I be able to hang on until next year to see the show and if I wait does this mean I'll miss Lin-Manuel Miranda in the starring role?
- Do I want to spend enough "Hamiltons" (ten dollar bills) to finance the GNP of an emerging nation to buy tickets to the show NOW?
My handsome husband stays mum throughout my Hamilton tix-lust turmoil. (He's no fool.) But perhaps the lyrics to the show itself can help me finalize my decision and make the smart financial choice in the process. We begin with the opening number, "Alexander Hamilton".
"My name is Alexander Hamilton
And there's a million things I haven't done
But just you wait, just you wait..."
OK, I'll admit I've gotten caught up in the Hamilton hype. Last month, I saw a charity auction for two house seats to the show plus a meet-and-greet with Lin Manuel-Miranda (Alexander Hamilton). I put in a crazy bid of $4000 for this amazing experience, but was quickly outgunned to the tune of the aforementioned $42,500. Obviously this experience is pretty valuable to a few other people too. As a card carrying theater queen I can justify spending a good amount of money for a great theater experience, but I do have a breaking point, and have not yet been able to justify the ticket prices... yet.
But it's like King George (Jonathan Groff) is taunting me in "You'll Be Back":
"You say
The price of my love's not a price that you're willing to pay
You cry Why so sad? You'll be back, soon you'll see
You'll remember you belong to me
You'll be back, time will tell . . ."

Undaunted, I turn to Alexander Hamilton (Lin-Manuel Miranda) with "My Shot":
"And I am not throwing away my shot
I am not throwing away my shot
Hey yo, I'm just like my country
I'm young, scrappy and hungry"
I am determined to see this show, I will see this show even if I have to skip a few meals to afford it. So I try to justify purchasing tickets at their new marked up prices. (To be clear the higher prices benefit resellers not the show's cast or producers, grrrrr.) I figure I will get more "value" for my money by paying a ton for a show I am dying to see, rather than the half priced tickets at the TKTS booth to see "Phantom" for the 100th time.

Eliza and Women sum up my predicament as "Helpless":
"Helpless! Look into your eyes, and the sky's the limit I'm helpless!
Down for the count, and I'm drownin' in 'em"
Barely able stomach the extortionate ticket price, it's the additional Ticketmaster fees that kill the deal. I was ready to splurge. I'd found a "good deal" on tickets in the orchestra section. I hemmed and hawed as I do with big purchases. I put the tickets in my cart and was ready to buy them. Then I saw that Ticketmaster was set to gouge me for $260, that's more than the original face value of the seats, which pushed me over the edge. I just couldn't do it.
Good things come to those who wait, right? Right? Aaron Burr (Leslie Odom Jr.) puts in his two cents with "Wait for It":
"When so many have tried
Then I'm willing to wait for it I'm willing to wait for it"
So I've ended up buying tickets to see the show in the second half of 2017 here in L.A. at the Pantages Theater. With my subscription benefits and early access I figure I can go four to five times and take friends to enjoy it with me. Even if you throw in dinner, all this is for less than the pair of tickets on Broadway in May.
But that know-it-all Aaron Burr won't let it rest in "Schuyler Defeated":
"Oh, Wall Street thinks you're great
You'll always be adored by the things you create"
But what about waiting until autumn? Prices are still high in the fall, but I could literally buy flights out, get a hotel room, and buy tickets for less getting tickets for May. Of course if I procrastinate, those later tickets might be sky high then as well.
But I've decided to give the lyrics a rest, step back and let fate decide for me now. Tickets prices have jumped again for our upcoming New York trip dates, and I will try my chances in the #ham4ham lottery and maybe, just maybe, the theater gods will shine a light on me and I will get to see the show for just $10. It could happen.
Warren Buffet, the Oracle of Omaha, comforts me now, "Price is what you pay. Value is what you get."
Stay tuned though, I have a feeling my Hamilton saga isn't over yet.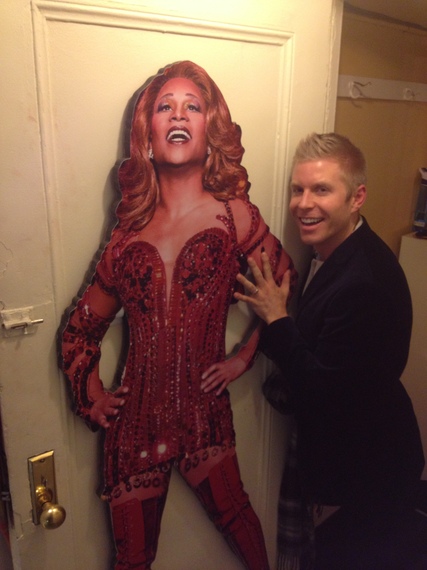 David Rae at the Entrance to Billy Porter's Kinky Boots Dressing Room.
Or perhaps I can find the joy of reading in the Ron Chernow Biography "Hamilton", but somehow I don't think reading it will be the same as experiencing it. Until Next time, Be Fiscally Fabulous. Back to binge-listening to the Hamilton soundtrack.
DAVID RAE, CFP®, AIF® is a Los Angeles-based retirement planning adviser with Trilogy Financial Services, a regular contributor to the Advocate Magazine and a financial planner proudly serving friends of the LGBT community for over a decade. He has even been spotted on a few musical stages over the years, but more often find himself in the audience.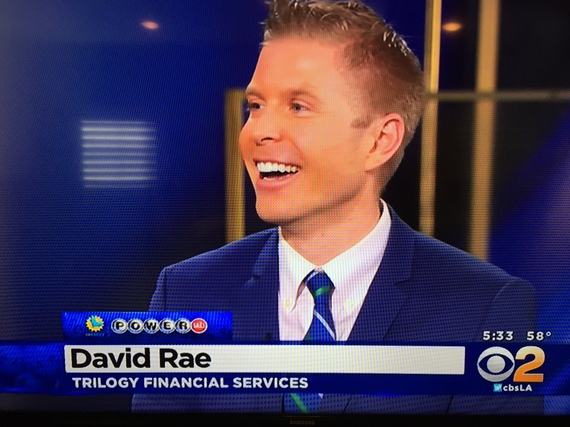 Securities and advisory services offered through National Planning Corporation (NPC), Member FINRA/SIPC, a Registered Investment Adviser. Additional advisory services offered through Trilogy Capital, a Registered Investment Adviser. Trilogy Capital, TFS and NPC are separate and unrelated companies.
REAL LIFE. REAL NEWS. REAL VOICES.
Help us tell more of the stories that matter from voices that too often remain unheard.