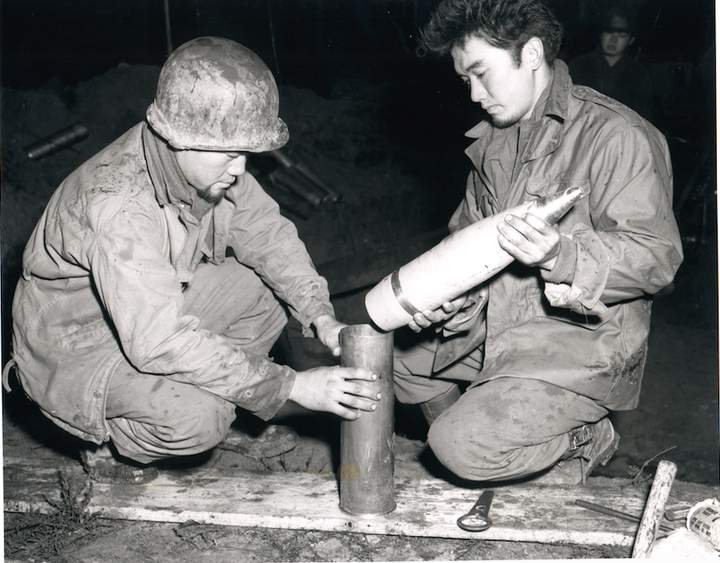 As Americans look back and honor service members across the country on Veterans Day, one unit's work is largely left out of the mainstream conversation. 
But the 442nd Regimental Combat Team's contributions to the country are nothing short of remarkable. 
With the motto "Go for broke," the unit was made up of Japanese-Americans who served the U.S. during World War II ― a time of rampant anti-Japanese sentiment. As many of their civilian loved ones were imprisoned behind barbed wire after the bombing of Pearl Harbor, the team accrued an impressive combat record, becoming the most decorated unit in U.S. military history for its size and length of service.
And they did this all the while enduring racism and xenophobia at home, said Mitch Maki, president of Go For Broke National Education Center, which spreads awareness around the Japanese-American soldiers.
"Many of them decided they were going to serve because they knew this was the only way to prove their loyalty and create a better place for themselves as well as for their families," Maki told HuffPost. "Many of these young men believed that loyalty needed to be demonstrated in blood."
The Tough Path To Battle
The 442nd RCT, which was formed on March 23, 1943, included mostly second-generation, or "Nisei," soldiers, who were the children of Japanese immigrants. The unit included both draftees and volunteers, according to the nonprofit Densho, which preserves the history of Japanese-American incarceration during World War II. 
The 442nd's formation marked a turning point in the U.S. military's wartime policy. Following the bombing of Pearl Harbor, people of Japanese ancestry had actually been barred from service as "enemy aliens," 4-C, by the U.S. War Department while xenophobic sentiment swept the country.
"We kept asking, 'What can we do? How do we change things?' We were upset that we did not have a chance to prove our loyalty," Nisei veteran Kenjiro Akune, who ended up being placed in Japanese-American intelligence unit, Military Intelligence Service, told HuffPost.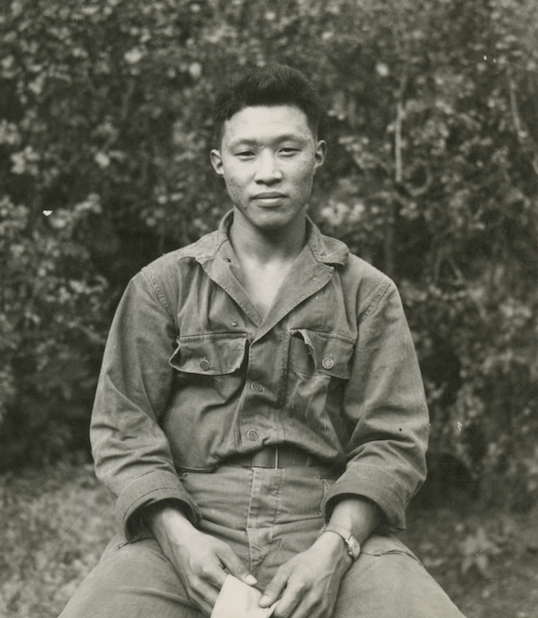 According to Densho, the need for more soldiers and the lobbying efforts of the Japanese-American community and its supporters eventually swayed leaders' views. The work of the 100th Battalion also played a significant part in altering opinions.
The battalion was made up of Japanese-Americans who had been part of the Hawaii National Guard at the time of the attack on Pearl Harbor, before Japanese-Americans were prohibited from service. By law, the Nisei who were already members of the National Guard could not be forced out, and they eventually formed the 100th. This particular group of men developed such a stunning training record that it helped inspire leaders to reverse the exclusionary military service policy. 
"They basically changed the minds of military and political leaders who had banned the enlistment and drafting of Japanese-Americans after Pearl Harbor," Pauline Yoshihashi, a spokeswoman for Go For Broke whose father is a veteran of the 442nd, told HuffPost. 
Racism Amid Tremendous Achievements
The 100th eventually merged with the 442nd, and in just over a year's time, they proved to be an extraordinarily valuable team. The unit won seven Distinguished Unit Citations, presented to units who demonstrate exceptional heroism in action against an armed enemy. President Harry Truman presented one of the citations himself, telling the members, "you fought the enemy abroad and prejudice at home, and you won."
They also racked up 21 Medals of Honor, 4,000 Purple Hearts, 29 Distinguished Service Crosses, 588 Silver Stars and more than 4,000 Bronze Stars. The group's immense contributions in the war include helping to liberate several towns, including Bruyeres and Biffontaine, France, as well as the sub-camps of the Nazi concentration camp Dachau.
The Japanese-American soldiers took on incredible risks. In one particularly memorable engagement, the 442nd was ordered to rescue the "Lost Battalion," white U.S. soldiers who were stranded on a ridge near Saint-Dié, France, attempting to withstand heavy enemy fire. Two other battalions had already failed to rescue the battalion, which was running low on food, water and supplies, according to Densho. The military decided to send in the 442nd. 
"They were given some of the assignments in which they knew they were cannon fodder. They knew that they would be suicide missions," Maki told HuffPost. "The unspoken message was that they were expendable." 
They knew that they would be suicide missions. The unspoken message was that they were expendable.

Mitch Maki, president of Go For Broke National Education Center
The Nisei fought for six days, finally breaking through to the Lost Battalion and rescuing the 211 soldiers. But in the process, they sustained 800 casualties, Maki explained. 
When returning to life in the U.S., the soldiers continued to experience racism, despite their service to the country. In interview outtakes for PBS documentary "The War," the late Sen. Daniel Inouye (D-Hawaii), who had earned several medals and distinctions for his service in the 442nd, recalled that he had attempted to get a haircut in a barbershop in Oakland, California. Dressed in uniform, Inouye entered a shop that had three empty chairs, he said. After verifying that  Inouye was of Japanese descent, a barbershop employee told Inouye he didn't "cut Jap hair." 
"And I thought to myself, here I am in uniform. It should be obvious to him that I'm an American soldier, a captain at that," Inouye said. "And that fellow very likely never went to war. And he's telling me, 'We don't cut Jap hair.'"
The Lessons From The 442nd 
In the face of so much hardship both on and off the battlefield, members of the unit exemplified true American values, Maki told HuffPost. Though they were of Japanese ancestry, they showed that they truly belonged in the U.S.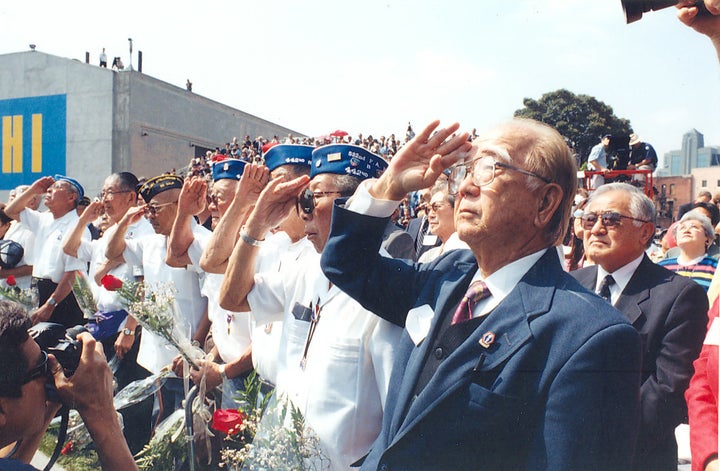 "Their skin color was a little different from mainstream America, their parents came from the country with which we were at war, and many of them were not Christian, they were Buddhist," he said. "And yet, they proved to be the most loyal Americans and courageous Americans at war." 
As immigrant communities and people of color continue to be threatened by the Trump administration's policies, like the crackdowns on immigration and travel from certain countries, Maki said it's important to learn from the example of the 442nd. He noted that there are loyal Americans of all races and backgrounds, and that the allegiance of an entire group of people should not be questioned.
"Clearly, we see examples of people who are Arab or Muslim who've served this nation," Maki said. "And clearly we cannot make the same mistake that we made in 1942 of being fearful of a group of people because they come from a different country or they worship a different god."
And Nisei veterans today echo that message. 
"Every citizen has basic rights that are guaranteed by the Bill of Rights," Don Miyada, Ph.D., told HuffPost in an email. "They should be treated individually, not as a group. Whether they're immigrants, Muslims, Nihonjin [Japanese], all should be looked upon as individuals."
Calling all HuffPost superfans!
Sign up for membership to become a founding member and help shape HuffPost's next chapter