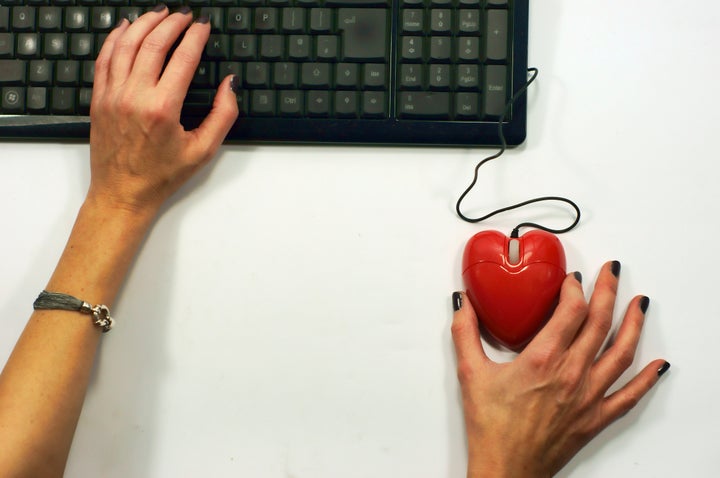 For several years now, January 1st not only means the beginning of the New Year, but also an opportunity to look at trends in year-end fundraising emails from nonprofit organizations. Back in 2011, I started collecting all the emails that nonprofits sent me during the month of December and reviewed what was in my inbox.
Here is the 2015 edition of my annual review of year-end nonprofit fundraising email subject lines. (Be sure to check out 2014, 2013, 2012, and 2011 too. Every year, I try to look for something interesting or at the very least see how email marketing is evolving in the nonprofit sector.
In 2015, I received 456 email messages sent to me from 90 different nonprofit organizations between December 1st and 31st, 2015. Here are some insights, trends, and the complete list of email subject lines.
Emails By Date
Nonprofit emails during the month of December started off with a bang on #Giving Tuesday 2015. This year's annual event landed on December 1st and the second highest number of emails were sent by nonprofits on this day. December 31st remains the busiest inbox day of December. I was sent 70 emails from 41 different nonprofit organizations.
In case you're wondering, most nonprofit emails were received between Monday and Thursday of the week. Sunday and Saturday had the lowest email volume during the month. An interesting pattern has emerged on the first weekend of December. In 2015, I didn't receive any nonprofit emails on Saturday, December 5th. Last year, I didn't receive a single nonprofit email on Sunday, December 7th, 2014.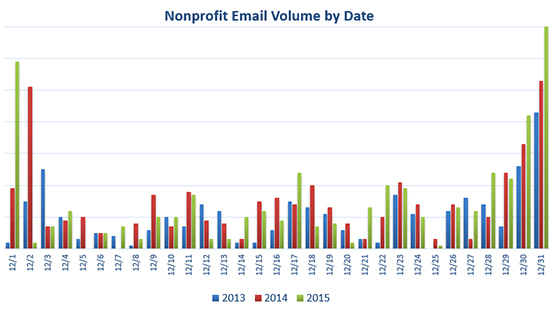 Emails by Hour
32% of all fundraising emails were received between 9am ET and 1pm ET during the month of December 2015. This was a decrease of over 10% as more emails are shifting to later in the day. Perhaps nonprofits have listened to my advice over the years to time their email campaigns when the most giving happens. The optimum hours for email delivery and online giving are between 11am and 2pm ET.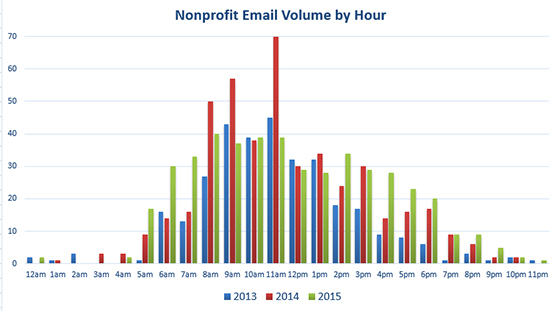 Email Frequency
Nonprofits sent a median of 4 fundraising emails during December 2014. One nonprofit sent me 21 emails during the month, which was slightly down from the all-time record of 23 last year. There were 14 organizations that sent me 10 or more emails and 11 nonprofits that only sent me a single email all month.
Is there a magic number of emails to send? Yes, absolutely. And the best way to find the right number is to test. My experience over the years tells me that most nonprofits still don't send as much email as they should be.
Subject Line Analysis
This word cloud was generated based on all 456 fundraising email subject lines. The most frequently occurring words are larger and common English words have been removed.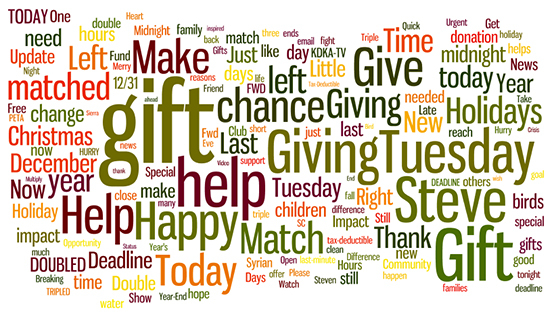 Variations on "Gift" and "Give" were very popular this year. The use of "GivingTuesday" continues to increase every single year, while the focus on tax deductions remains very low. There were 22 subject lines that were personalized with my first name and this is big opportunity based on other research into email effectiveness.
A growing number of nonprofits are offering match or challenge programs as part of their email campaigns. Several organizations have developed very successful year-end matching gift campaigns. There were more faux forwards in my inbox this year and except for a few, most don't work.
If 2014 was about minimalist subject lines (e.g. "hey" or "pending"), then 2015 was about emoji's. Yes, those cute little icons that have invaded our online and mobile communication have invaded the inbox. They definitely stood out, but my fear is that too many nonprofits jump on the emoji bandwagon and ruin a good thing.
Best of the Best
Every year, I try to look for some of the more interesting and effective emails that nonprofits send me in December. Here are the best of the best from 2015!
Best Subject Line Award goes to Oxfam America Ambassador Aziz Ansari for his "Bad fruitcake news, Steve" message. Perfect combination of humor, personalization, and attitude that we've come to expect from this holiday campaign.
Best Expectation Management: Environmental Defense Fund for their email series that told me exactly how many messages were on the way (e.g. [2 of 5] and it created a mini serialization in my inbox.
Best Innovation in Graphics: This one goes to Lifeline Children's Services for showing a giving pyramid inside the email noting how many gifts of each level they had received and still needed to get. Very innovative and clever way to turn something only seen by fundraisers to help drive year-end gifts.
Best Looking Emails: This is a tie between the Museum of Modern Art and charity: water for showing that you can still design beautiful emails despite all the constraints.
Best Use of Mobile: Online donations on a mobile device should surpass 10% in 2015 and that makes mobile friendly emails that much more important. The Humane Society of the United States gets the award for Best-Email-That-Looked-Like-The-CEO-Sent-It-From-An-iPhone message. The Nature Conservancy gets the Best Text Message Award for the second year in a row. Sadly, there were a lot more mobile unfriendly emails than those that work well on a mobile device.
All the Nonprofit Email Subject Lines
Here are all the fundraising email subject lines beginning with those received on December 31, 2015 and moving backwards in time to December 1, 2015:
Tax deductible gift for 2015 -- last chance
This is it
RE: Urgent deadline: all gifts DOUBLED!
LAST CHANCE--PLEASE HELP!
Nature Needs You! Give by MIDNIGHT!
Only A Few Hours Left To Create Opportunity This Year!
Before the ball drops
Final email of 2016: Match is ending
This is your last chance
almost there
We can't afford to fall short
Only hours left to double your impact
Close out your year with clean water
Just hours left -- please hurry!
Friend, FINAL chance to DOUBLE your GOOD!
This is your last chance
Last chance: The best way to solve the worst problems is in this email
Do you believe in human rights? Open this
FWD: I now help others in the fight because of LIVESTRONG
Deadline: Midnight
Here's to you!
Last chance to have your gift triple-matched
Closing the books
Sea this email
Help Us Face the Challenges in the Year Ahead - Right Now
Tax deductible gift for 2015 -- last chance
Thank You and Happy New Year!
hey
Urgent Match Deadline
Breaking: New Match Gift Challenge
Now Is The Time.
Thank you for being a friend to the BMA
[Match] Quick - don't let 2015 end without being a part of this
FWD: HURRY! Just a Little Time Left
TODAY: Last chance to double your gift
Procrastinators Unite
Match increased: Offer ends tonight
❗❗ Hours left to DOUBLE your tax-deductible gift ❗❗
Fwd: Steven - Review Your 2015 Donations
The year in photos:
Time to be bold
Today is the last day
Urgent deadline: all gifts DOUBLED!
Can You Make It By Midnight?
Last day to help birds 3x as much
We can't afford to fall short
Thank You
Steve
Make a Gift So We're There When We're Needed - Right Now
Match Deadline: Just Hours Left
I now help others in the fight because of LIVESTRONG
Last call for clean water
Deadline Tonight: Unclaimed Funds Expire at Midnight
This is the moment you've been waiting for.
TODAY ONLY--Your gift for animals doubled
TODAY: Your support DOUBLED!
Match deadline is here--make it count.
Quick favor
Before you ring in the new year...
Wow, Steve, there's a last-minute match
We're THIS close!
I wish I had done more
We're so close - will you help us reach the finish line?
The Day Has Come
Today Only: Your Gift TRIPLED
incredible! triple match.
LAST DAY: Your tax-deductible gift does 2x the good
FWD: HURRY! Just a Little Time Left
Beat the Shot Clock
Last chance to renew in 2015!
why I'm emailing you
CRC Appeal Update
Thank you!
Status of your support - pending review
You Can Make More Moments Like This Possible!
The clock is ticking
gorgeous. (and a triple match!)
Circling back on the Arctic
As you requested
Countdown for our children
Thanks to you, all of this happened.
We're almost there!
Today Only: Your Year-End Gift will be Matched!
Would you like to change a life in 2016?
Keep fighting
Steve, your gift will be MATCHED
Action needed by 12/31
⏰ Friend, the clock is ticking - will you help? ⏰
48 hours
Come to the Cabaret! Stork Club: One Night Only
Steve, will you help?
Hurry - just 2 days left
This can't keep happening to dogs!
There's still time to reduce your taxes & double your impact!
Your year-end gift helps others find life after cancer.
Double Your Impact Today!
One day left, three more reasons
Steven - Review Your 2015 Donations
Finish off 2015 with healing & hope
Only two days remain to triple the value of your gift
[48 hours left] Make TWICE the difference
JUST RELEASED: Triple MATCH!
Give clean water one last time this year
Just 48 hours left to make a difference this year
Be part of our heroic history
Deadline: Your help still needed by 12/31
Coming to a close
It's so beautiful. And it's worth protecting in 2016.
48 hours to...DOUBLE your dollars!
Your gift will be matched 2-for-1 today
2 Days to Make Your Year-End Donation
Your gift will be matched 2-for-1 today
☑ A or ☒ B
This doesn't happen often:
Great Things Happen!
10 million reasons to say thank you
So many people benefit from your kindness today
Procrastination
New Year's Eve Gala/Performance and more
Last chance to make a gift in 2015!
BREAKING: Your gift matched until 12/31
Important: Three Days Left!
Ring in the New Year in New York and Vienna
2015 Is Coming To A Close
Fwd: Seismic Blasts
Hottest Year Ever...Again
This year, all the crops died - help now
I believe in Amnesty: Here's why
Just Two Days Left
Help birds 3x as much
Only days left
Bearer of good news
⏰ Time is running out - will you help? ⏰
Your gift by 12/31 helps youth learn and earn
Give The Gift That Lasts A Lifetime
Next Week in Charleston: Offshore Wind Meeting
Hurry! It's Not Too Late!
Your Year-End Contribution Doubled Right Now
Downton Abbey, The Final Season
Your gift today helps twice as many children
You're invited to our Community Candle Lighting on Wed., Jan. 20
FWD: Refugees are struggling to stay warm
What's Happening at WMCHealth!
Will you help us reach our goal, Steve?
Make a Gift to Help Stop the Spread of Disease - Right Now
Double Your Impact
3 days left to change a life
[Response needed]
Imagine being told you wouldn't make it to your 18th birthday
5 moments that inspired us in 2015
You need to see these numbers...
100x louder than a jet engine
I open my heart to Syrians: Will you?
Friend, this can't wait
Feet in the water
Triple. Match.
Students Need Your Help to Help Others
HURRY! Just a Little Time Left
Steve, I really can't thank you enough
Double your impact today!
What does a displaced family look like?
2-1 match: The phone is ringing and someone needs help
Hurry! Help us reach our goal before time runs out!
SeaWorld did WHAT to PETA?
Status:
How your gift - matched $2-for-$1 - can help move forward
Only 5 days left to multiply your impact for children
The Gift of Giving
Give big ideas a chance
Where my love of art began
Thinking big
Only Hours Remain
Holiday Giving: Match Opportunity
Steve, what they need this winter
Protect their homes
Today Only
Risking everything to get to safety - can you help?
2 to 1 match: Syrian families rely on us. We rely on you
Quick Update
Something You Can Always Trust
SC Sierra Club -- Checking in
Your gift for birds will be matched
The power of oysters
Merry Christmas and Happy Holidays from the Obama family
Victory for Lions!
Merry Christmas!
Make a Gift to Help Those Forced From Home - Right Now
Steve, Did You Forget Someone?
Don't Worry - It's Not Too Late To Give a Great Gift
Get last-minute gifts that carry a lifetime of change
Still need holiday gifts? We've got you covered.
Let's Celebrate
Deck the Halls!
22 last-minute gift ideas
We ♥ Rudolph, but NOT at SeaWorld
Happy Holidays and Seasons Greetings from your Team
Seasons Greetings!
What Are You Most Proud Of?
Happy Holidays!
New Year's Eve Gala/Performance and more
You make Christmas special
10 photos that inspired us this year
There is still time to make your 2015 donation!
Give the gift that keeps on giving
Thank You for Helping Children
"Even animals are treated better"
2015: Look What We Did ... Together
No ribbons required
A Few Days Left to Share
pending
Have a heartwarming Christmas
You can still double your tax-deductible donation
Happy Holidays!
Be Merry and Bright
Did You Know?
200 have joined; will you?
Still a Little Time for a Life-Saving, Tax-Deductible Gift
VIDEO: 'Life of Pi' Tiger Owner Caught Viciously Whipping Young Tiger
Happy Holidays from Opportunity International
Field Report: Syrian refugees, Seattle Times, and more.
Check This Twice
What lies ahead
Happy holidays from our family to yours ⛄
The Documentary That Fueled a Road Trip
Dead zones, dead fish, bacteria plagued Bay
[5 of 5] Your gift will go three times as far to fight climate change
Steve: There's still time to change lives
Change the world with your IRA
Your gift before 12/31 instantly doubles
The Right Gift at the Right Time
Still a Little Time for a Life-Saving, Tax-Deductible Gift
This offer ends at midnight!
Last chance for six months free!
50 Faces of Providence - A Special Thank You
Thanks to you, all of this happened.
We'll Be There
Plan Canada e-newsletter - December
Steve, they need you NOW
Happy Holidays
Something to Love
Stories that haunt me
following up
Help free Waleed from a Saudi Arabian jail
A lovely season
What if WGBH Disappeared?
Give the Gift of the Arts. Make An End of Year Donation Today!
Are walruses the new canary in the coal mine?
Time is running out
🗻 Take in the views, Steve 🗻
Please read, children need your help by December 31
What a blessing!
Happy Holidays!
Happy Holidays, from all of us at EDF!
Breaking: Gray Wolves
Bad fruitcake news, Steve.
Determined to Make a Difference
What DIDN'T PETA Do in 2015?
Happy Holidays from Wake Forest University
TCR News: Connections & Courage
Crafty Crows and Other Highlights from Bird Cams
Show her what she means to you
Get your donation matched
Would you look at this...
It's not possible
Are you going to Stork Club? One Night Only!
Our most challenging year yet
Update: Gifts for our children
What if every holiday gift made a difference?
Giving More Than Cash
Add your name next to mine, Steve
Watch the Free Care Fund Benefit Show tonight on KDKA-TV!
Make Christmas special for a family this year
Watch how you changed their lives
Help Habitat reach 2X as many families
Steve: There's hope, but we can't fall short
Tips for a healthy holiday
Free Waleed, jailed Saudi Arabian human rights lawyer
Asia-Pacific Update | Hands-on for Habitat
We can't sit back while Gray Wolves are killed
A Little Inspiration from THIRTEEN
SC Sierra Club -- 7th Annual Awards Ceremony Invitation
Top 5 reasons to support CBF
Crisis news December - bring someone in from the cold this Christmas
Watch the Free Care Fund Benefit Show tonight on KDKA-TV!
Help Fund Stipends and Chromebooks for Youth
Morgan's new ♥
Holiday Magic Under the Sea
30 years of winning for the planet
This is your chance to create opportunity
News that matters...
NestWatch eNews: Winter-proof your birdhouse, plus birds that nest in wreaths
Giving feels good. Pass it on.
Enough is enough
Help change the future
Double your impact for birds and habitats
Multiply Your Planned Gifts - FREE Seminar Near You!
Sacrebleu! This Changes Everything
, You Can Do So Much.
Steve, add your name if you're with us
Happy Birthday, Mr. Sinatra
#TogetherWeGo
Moving Beyond the Rhetoric in the New Year - December 2015 InterAction Newsletter
Get your gift matched today, Steve
A Tragic Existence: 50+ Dogs Saved from Dark, Crowded Basement
I've never seen anything like this before
All of our products are 25% off!
eNews: Try One of These 7 Ways to Help Birds at Home
Help Us Build Better Men for a Better World
Give the gift that helps Syrian children
Holiday Fund + Gifts for Kids
Deadline for InterAction's14th Annual Photo Contest is January 15
Sinatra: Voice for a Century
Realizing dreams in Myanmar
Take Action: Fight the Extinction Crisis
Steve: In a year of crisis, you can bring hope
Look what you did
You're Changing Lives
Give back to the Bay, x2
Tell Congress: Say YES to Clean Energy
Video: Dogs Cut Open and Left to Die
Today is the day
Special delivery
Thank you! Video of your impact in 2015
Deadline: Order by midnight to get an Unwrapped card by 12/24!
BREAKING: NIH Ending Baby Monkey Torture!
Why haven't they all signed?
New Year's Eve with the CSO at the Gaillard
A conversation with Lidia
Save the Date! Girls' Night Out!
Chutzpah.
Bringing Myanmar into the digital age
Best Gift Ever + Free Points
Special Olympics South Carolina News
Give Now to See Your Name on KDKA-TV!
Make a Year End Impact by Supporting Outward Bound
Tiny Heart, Big Love
Get ahead of 2016
Most aren't so lucky
[2 of 5] Do three times the good for threatened wildlife
Coastal Community Foundation's Giving News: December 2015
Give Now to See Your Name on KDKA-TV!
Who is it?
Help Stop Offshore Drilling in SC
You Can Spark a Vital Movement
Breaking: PETA Exposes Hell for Animals and Children in Bangladesh
#GivingTuesday is changing the world - and so are you
Happy Human Rights Day
December E-news: Happy Holidays
Your gift will be TRIPLED!
Relive Your Favorite Moments
Birds need you more than ever
I'm on the ground right now
Steven - By midnight
A promising new beginning
You Can Transform A Life.
This is so important, Steve
The Perfect Gift for Everyone
The Best $30 Gift
December eNews: Helping Shelters Save Kittens!
This gives me hope
The Perfect Gift
Steve: Your Gift to Animals DOUBLED!
Can you help raise $50,000 in 6 days?
Fwd: Double trouble
Loved for the first time
20% Off The Bear Essentials!
Still looking?
Happy Holidays from All UConn Huskies at Heart
Cartoonist facing years in prison for a Tweet
Finish your shopping right now
Make a Difference This Holiday Season
Thank you - we'll end pet homelessness, the seal hunt, and more
Going, going...
Help birds twice as much!
Double Trouble
Into the future
Chimpanzees Are Dying
RTPI Holiday Open House Tomorrow!
We're just 198 goats from the goal - put us over the top before midnight!
Give that warm fuzzy feeling
Black Lab Rescued from Dog Fighting
All the cuddles you can handle!
What's a red lokai?
Colorful Grosbeaks, Majestic Albatrosses, and Clownish Woodpeckers: Highlights from Bird Cams
Thank you for all you do for people with diabetes
Why I'm taking action for Zunar, a fellow artist
DEADLINE TODAY: 4,481 signatures needed (including yours)
We ♥ goats
Tell Your Senator: Refugees Welcome
Finally a fix to No Child Left Behind:
Holiday Drop-In
DEADLINE TOMORROW: Take action to cut climate pollution
Thought you'd want to see this
A harsh winter for Syrian refugees: Please help
A safe new home for needy orangutans
It's Not Too Late: Bonus Match Extended Through Midnight
Extended: Your donation tripled for today only!
Today was AWESOME!
Popcorn's Deadly Secret
Your voice is needed -- Refugee Resettlement vote approaching!
More ways you can help this #GivingTuesday:
Match expires at midnight!
It's Not Too Late To Make a Difference on #GivingTuesday!
Special offer ends at midnight
Give for Transformation.
We need your help today #GivingTuesday
DEADLINE: #GivingTuesday gifts matched!
Little help from our friends
Fwd: It's amazing what can happen
Update: 118 donations to go
Update:
Please Support Art, Education and Conservation on Giving Tuesday
Last chance: Your donation will be tripled
Tuesday Isn't Over Yet!
It's Giving Tuesday!
We're so close! Give before midnight to have your gift DOUBLED!
Christmas is just around the corner...
Public lands are not for private profits
Check WNYC Off Your List
#GivingTuesday: Show the Heart of UConn Nation
Give for Community.
#GivingTuesday Sparks a New Tradition
Multiply your Gift of Hope this Giving Tuesday!
One week left to ship your gift for FREE
The answer is incredible.
#GivingTuesday
It's not just any Tuesday . . .
Celebrate #GivingTuesday - Your Gift Doubles!
Today Only: Your Gift TRIPLED
Sophie's birthday wish
#GivingTuesday is TODAY: Help grieving families & inspire others to give
A #GivingTuesday gift like no other
300 donations unlocks $10,000
A Community That Gives: NTEN Member News
Giving Tuesday special: Your gift matched
Today's the day. Give 100%.
Triple Your Impact This #GivingTuesday!
Today Only: A Giving Tuesday Gift for You
Be like Charlie
Today Only: Your gift to the Earth matched $3-for-$1
24-hour Match
The best way to help a child this Christmas season
It's amazing what can happen
Happy #GivingTuesday from the Gibbes!
Match for the ocean. Today only!
A #GivingTuesday offer for you
Your gift will be matched
The Art of Giving
TODAY ONLY...Your gift is DOUBLED!
Join Us in #GivingTuesday
Create lifesaving change this #GivingTuesday
Your #GivingTuesday gift doubles today
Giving Tuesday - December 1, 2015
Today is a special day.
Make an Impact on #GivingTuesday
An IU video for you on #GivingTuesday
Related
Popular in the Community