Only 46,570 out of an estimated 27 million victims of human trafficking were identified in 2012. That is the conclusion of a new report released by the U.S. State Department.
The State Department's annual Trafficking In Persons Report (TIP) collects global data to create a comprehensive picture of human trafficking around the world. In addition to the low identification rates, the report found that out of 3,162 people prosecuted for human trafficking worldwide last year, only half of the cases led to convictions.
Though the tally of prosecutions and convictions was the highest ever recorded by the State Department, the report acknowledges that there is still great room for improvement in the fight against human trafficking.
According to Luis CdeBaca, Ambassador-at-Large in the State Department's Office to Monitor and Combat Trafficking in Persons, an important first step would be to redefine human trafficking as modern slavery rather than as moving of humans across borders for the purpose of exploitation.
"Once you stop looking at [human trafficking victims] as contraband that's being moved across international borders," said CdeBaca, "you start to focus on the people as individuals, and…from that flows an urgency of identifying and helping the victims."
CdeBaca told The Huffington Post that this redefinition is key to establishing laws and law enforcement practices that will lead to more victim identifications and more cases against traffickers.
For example, the report congratulates Taiwan for a policy that proactively screens at airports and offers shelter and comprehensive services to individuals who are identified as potential trafficking victims.
To encourage nations to establish practices similar to Taiwan's, the 2013 report ranks every country in the world on a scale evaluating, among other things, their anti-human trafficking laws, legal assistance for victims and government-funded shelter and care for victims.
More than 20 countries garnered the lowest ranking this year, including war-torn nations like Syria, the Central African Republic, and the Democratic Republic of Congo and regional powers like China, Russia, Saudi Arabia, and Iran.
The bottom group also includes Mauritania, an arid West African country with a long history of hereditary slavery. According to a CNN special report, the nation only made holding slaves a crime in 2007. While an estimated 20 percent of the population is still enslaved, only one person has been convicted since the 2007 law was passed.
Although U.S. law authorizes sanctions for nations like Mauritania, Ambassador-at-Large CdeBaca argues that soft power is the most effective tool when addressing nations where a lack of political will limits efforts to combat human trafficking."Because we have our own history with legal slavery," explained CdeBaca, "we have perhaps a different abilty to talk to the Mauritanians about this than other countries."
The U.S. garnered the scale's highest ranking, meaning it complied with its own minimum standards. Other countries that met the goals include almost all nations in Western Europe, in addition to Canada, Nicaragua, South Korea, Australia, and newcomers like Armenia.
Check out this awesome map showing how the U.S. State Department ranked the world on its anti-trafficking efforts (built using DevInfo's visualization tool) below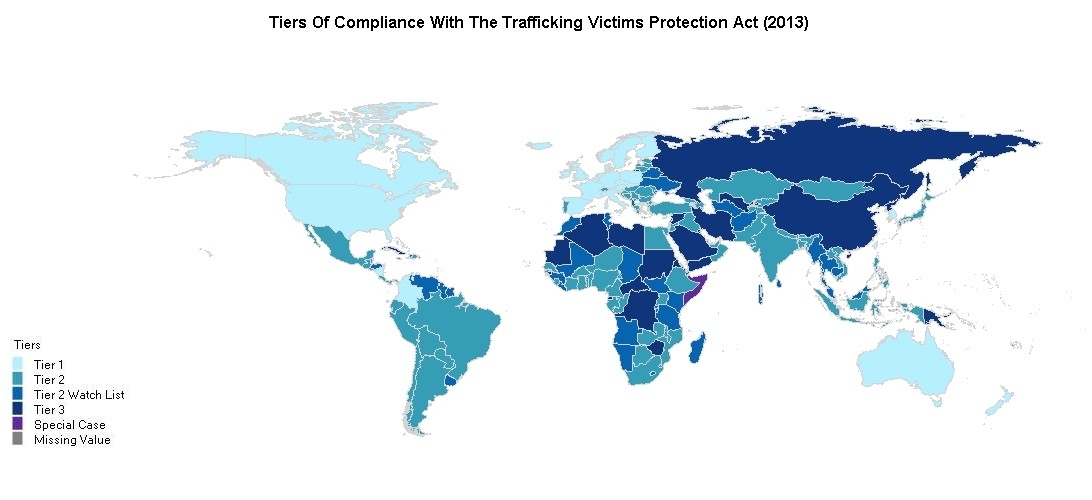 Calling all HuffPost superfans!
Sign up for membership to become a founding member and help shape HuffPost's next chapter
BEFORE YOU GO
PHOTO GALLERY
21 Worst Countries For Human Trafficking