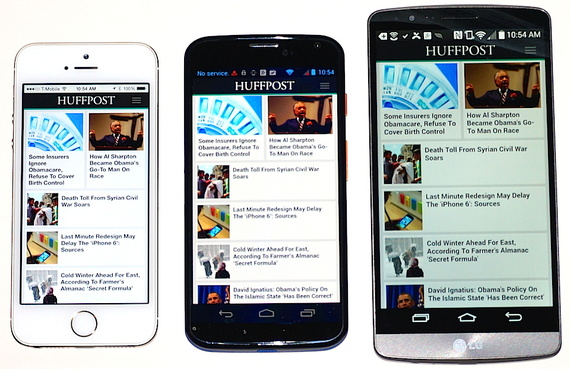 In a few weeks, I and millions of other iPhone owners will be facing a vexing purchase dilemma.
On September 9, Apple will -- reportedly -- announce not one, but for two new iPhone 6s, a 4.7-inch iPhone 6 and a 5.5-inch iPhone 6/Air phablet.
Which iPhone 6 do I and millions others choose?
Moving from a 4-inch iPhone to a 4.7-inch seems like a big enough jump -- but that "good enough" rationale is a trap. You should never ever buy a piece of tech by rationalizing "that's all I need," because it's never all you'll need.
"Oh, I only need 1 TB of memory," you rationalize, until your hard drive is suddenly over-flowing with large video, music and photo files. "Oh, I only need a 42-inch TV," until you discover you can't see it from across the room. "Oh, I don't need the fastest router" until Netflix buffers more than it streams. As technology expands, so do your needs and you're left woefully under-teched in short order.
So I can't choose the 4.7 iPhone 6 just because it's slightly bigger than the iPhone 5s.
Plus, the 5.5-inch iPhone Air promises to be the more tech-loaded of the two, perhaps with the vaunted invincible sapphire screen, perhaps with 128 GB of on-board memory to hold my entire 12,000-track music library and some movies, which I'll now be tempted to watch on the bigger screen.
As you can see from the photo adorning this post, the display on 4.7-inch Moto X is barely more spacious than the iPhone 5s. But the 5-5-inch screen on the LG G3? That's Madison Square Garden vs. your high school gym. That's a 5-bed/4-bath penthouse vs. a studio apartment. That's Bill O'Reilly vs. Jon Stewart (and I'm speaking purely physical size comparisons here).
But is a 5.5-inch iPhone Air TOO big?
Fortunately, I have a way of finding out.
So to discover if a 5.5-inch phablet is TOO ponderous, I've been toting the LG G3 around for the last few weeks to get used to its girth, and for research for an upcoming everything-about-smartphones piece I'm writing for the November/December issue of Consumers Digest.
But something funny happened during this "is a 5.5-inch smartphone too big" experiment.
I've fallen in like with the G3.
First off, the G3 is not too big. In fact, after handling it for a while, the iPhone 5s and the Moto X seem insignificant in comparison -- sort of like swinging a weighted bat then picking up the regular bat and finding it too toothpicky.
Like previous iterations of LG's G-series phones, the G3 has installed its sleep and toggle buttons on the rear of the phone, immediately beneath the camera lens. I'm still getting used to this location and I'm still not sold on it, but you can simply tap-tap-tap on the blank screen to wake the G3 up - no sliding locks across the screen necessary.
While tests indicate the Galaxy S5 takes slightly superior snaps, the G3's camera is faster, especially in capturing candids in low light.
The G3 also has a louder and clearer speakerphone than the Galaxy S5 (although nothing beats the HTC One's stereo front speakers for smartphone aural enjoyment).
UI-wise, the G3 also is filled with clever software gimmicks, such as true multi-window operation that, among other things, lets you drag an item from one app into another (i.e. a photo into a text message). And LG's clever add-on Quick Circle charging case ($60) lets you operate apps from within a circular cutout with the case closed, operate the camera with the front flap folded back, and is compatible with the Powermat wireless charging system.
But these are mere quantifications. How does the 5.5-inch G3 feel?
G3's more generous screen real estate keeps e-book reading a more emotional continuum (i.e. fewer flow-interrupting virtual page turns) than any smartphone I've used, playing intricate games is less squinty and movie-watching is more immersive than a smaller-screened model.
And toting a 5.5-inch phone means I'd no longer have to carry both a phone and, for entertainment purposes, a small tablet. So a 5.5-inch model actually would be less bulky in the aggregate.
And as big as the G3 phone is, I can still operate it with one hand -- not nearly as one-handed operable as the iPhone 5s or the Moto X, admittedly, and not to all corners of the display, but still mostly thumb navigable in one hand while gripping a subway poll with another.
Whether the 5.5-inch iPhone Air will be as space-efficient at the G3, of course, remains to be seen.
Plus, I'm trapped in the iOS ecosystem.
But if I were an Android user on the lookout for a new premium device, I'd chose the LG G3. Too bad its not waterproof like the Samsung Galaxy S5 and the Sony Xperia Z1s, though.
So, it seems I've talked myself into it. I'll opt for the 5.5-inch iPhone Air phablet.
Calling all HuffPost superfans!
Sign up for membership to become a founding member and help shape HuffPost's next chapter