Before "This Is Us" was even a thing, Mandy Moore joined fellow actor Claire Holt for a challenging project that would prove to be both fun and frightening.
In "47 Meters Down," Moore and Holt play sisters who venture out on a shark diving trip during their tropical getaway to test their adventurous spirits. Thing is, the protective cage they're in is pretty rusty, which is why it breaks off the boat and falls, well, 47 meters down into the open ocean. Did we mention their air tanks are running low? Or that there are great white sharks feeding off the chum the crew tossed overboard? Well, get ready for a nauseating, anxiety-inducing ride. 
"Both Mandy and I had no diving experience before we did this film," Holt told HuffPost during a Build Series interview. "We had a crash course for about a day and a half and then we got really thrown in the deep end. Pun intended," she joked, adding, "There were some hairy situations we got into on a few occasions, but by the end of it, I think we just felt really proud of our accomplishment that we survived two months underwater."
Those "hairy situations" could have been horror flicks themselves as Holt said she endured stretched lungs due to a malfunctioning tank and ear pain following an equalizing issue. 
"We really didn't understand the toll it would take on our bodies ... we were just so exhausted and we would crawl out of the tank at lunchtime and just pass out," Holt said of the experience shooting. "I just didn't know how I was going to make it through, and that was the scariest part for me because I knew I was looking down the barrel of another seven weeks or so of that. But we were really well taken care of ― we had wonderful safety divers and amazing professional divers, stunt divers who did some of the really tricky stuff for us, like when the cage drops. But the whole thing was pretty dang scary." 
Holt, who many know from her role as Rebekah Mikaelson on "The Vampire Diaries" and "The Originals," did add that it wasn't all bad, though. She said being underwater was peaceful at times, and "a really zen experience."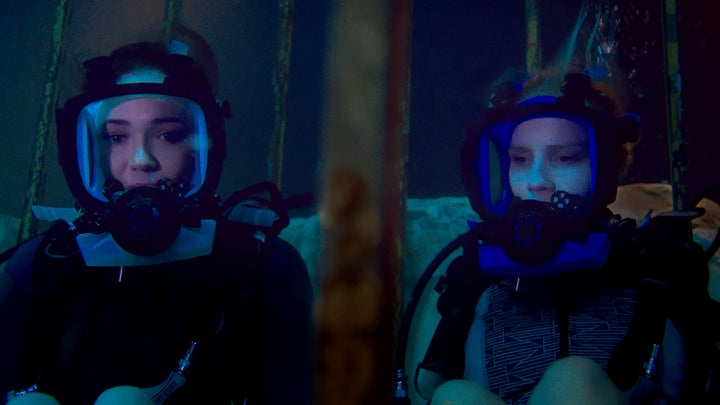 Although the exterior shots of the movie were filmed in the Dominican Republic, most of the shoot took place in a 20-foot-deep tank in London, where the ladies would spend hours underwater, filming while wearing scuba gear. Camera operators and various crew members would also be in the water with Moore and Holt, as well as safety divers who would make sure they were OK.  
"We had to learn how to act in a different way to be able to emote. And it's all really in our eyes," Holt shared. "Crying underwater with that mask on is a very strange experience. It's quite technical, too. The camera crew was amazing and helped us a lot."
Although pretending that you could be devoured by a great white shark at any moment was a hard task to accomplish ― especially when said shark was just a prop rock on set ― Holt said she knew she wanted to be in the thriller immediately after reading the script. 
"I read it and it was so compelling and I couldn't stop turning the pages," she said. "I knew how difficult it would be from my small amount of tank experience from the mermaid show I did many years ago ["H2O: Just Add Water"]. But both Mandy and I felt the same way: we were searching for a challenge. And it's not often you get material that is so heavily dependent on just a few characters and so physically demanding ― it was exciting and frightening, but I'm so glad I agreed." 
"47 Meters Down" hits theaters Friday. Watch Claire Holt's full Build interview below. 
Calling all HuffPost superfans!
Sign up for membership to become a founding member and help shape HuffPost's next chapter
BEFORE YOU GO
PHOTO GALLERY
Celebrity Photos 2017