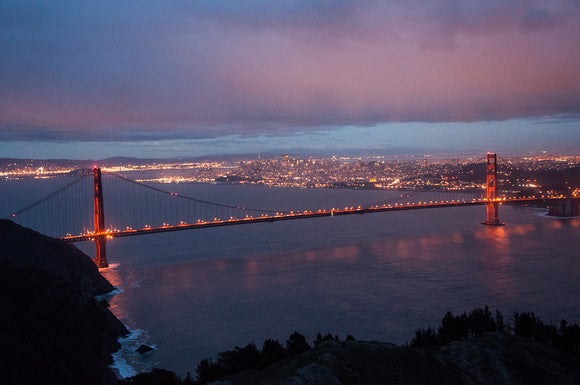 Many thanks to travel, business, and writing partner, Michael Whiteman, whose brilliant observations help illuminate "Restaurants to Watch" and "48 Hours."
We breezed into the City by the Bay last week to see our son Jeremy, to take in some art, and to dine exceedingly well.
The InterContinental was our hotel of choice because of its easy and bucolic walk to the San Francisco Museum of Modern Art -- and for its Michelin star restaurant Luce (whose original chef was the superstar Dominque Crenn. Today the chef is Daniel Corey, and also compelling.) In the museum's newly expanded spaces, we reveled in a collection of post-1960s German art by Gerhardt Richter and Anselm Kiefer -- two painters whose large-scale works you embody both viscerally and intellectually. We recovered from that sensory onslaught by enjoying splendid hors d'oeuvres at the InterContinental while telling old war stories about the hospitality biz with the hotel's General Manager and old friend Peter Koehler. Pacific blue prawns with espelette pepper and brown butter, and king trumpet mushrooms looking like small marrow bones, were standouts. Wine pairings made by the hotel's affable sommelier Keith Hansen were spot-on.
We're always fascinated by the contrasting culinary sensibilities between New York and San Francisco. Chefs in New York, where we live, proclaim their devotion to using only a few ingredients and allowing the food to speak for itself. But in San Francisco many chefs intentionally shower their dishes with bewilderingly complex assortments of vegetables, herbs, and often fruit.
Perhaps chefs there can't resist, because produce is fresher and livelier when consumed close to where its grown. Two standout restaurants were the LihoLiho Yacht Club, which is neither a club nor near the water; and State Bird Provisions, where the only bird is quail and where you order both from rolling carts and also from the evening's menu.
LihoLiho Yacht Club is a lovely mashup of Indian, Chinese, Hawaiian and California cooking, so you readily can imagine the food's complexities. Roasted octopus comes with curried raisins, castelvetrano olives for contrast, and a shower of cilantro; while marinated squid comes with crisp tripe, cabbage and peanuts. Yellowtail sashimi is festooned with padron peppers, strawberries, white soy sauce and brown rice vinegar, which sounds gastronomically chaotic but was fun to eat. Our delicious tamari-honey glazed cornish hen was plated with cashews, pineapple and broccoli. We coveted, but did not order, a massive slab of beef ribs with kimchi-chili sauce, sweet frying peppers, carrots, miso butter and pickled red onions. (You get the idea.)
Dinner at State Bird Provisions is like dining inside a pinball machine because food comes at you from all directions. Dim sum-style carts roll up to your table helter-skelter, the driver announcing what's to eat and you shout "yep, we'll have it," or "no we'll pass" -- but not for long since another cart is on its way. Meanwhile, there's a menu on your table full of things you assuredly should eat. You want the poppy seed buckwheat pancakes with beef tongue pastrami (yes, you do, too). You also want the "state bird," which is a quail that's rolled in bread crumbs and pepitas and fried to an amazing crunch over sweet-and-sour stewed onions. At an adjoining table they were attacking quail eggs in a cast iron skillet with smoky date puree, pancetta and a maple-sherry reduction -- which prompted Jeremy, who hadn't entirely recovered from LihoLiho the night before, to throw his hands in the air and ask: "Do normal people eat like this every day?"
The answer is that while both restaurants have gotten tons of national publicity, they are perpetually packed with locals who know how to eat well even in the face of extreme trendiness. Ten dishes and a bottle of wine at State Bird came to $230. Six dishes (did we tell you about the Spam?) and a bunch of drinks at LihoLiho cost $150.
And we loved Café 5 at the SF Museum of Modern Art. Although the museum's more upscale restaurant In Situ gets all the publicity (the concept is the faithful execution of recipes from important chefs from around the world), we adored the minimally-designed, sophisticated architecture, and the definitively-California, Technicolor salads and sandwiches at the Café. Another fun spot, with a great water view and San Francisco vibe, is the populist Waterbar on the Embarcadero, where a Dungeness crab cocktail and an order of fried green tomatoes made a great afternoon snack
And we couldn't have timed the trip better. As big fans of the French conceptual artist Sophie Calle, we were thrilled to spend several hours at Fort Mason Center, where her eclectic work and site-related projects (her memorial to her mother was placed in a nearby chapel) spanned three venues, all walkable, all an homage to her relationship to the Bay area which began in the late 1970s.
And for a last bit of uniquely-San Francisco culture, we browsed through the city's most famous bookstore, City Lights, home of the Beat poets, and the grandmaster publisher/poet Lawrence Ferlingetti who opened it in 1953. (In 2001, it was made an official historic landmark).
For a much-needed cup of Iron Buddha Tie Guan Yin Oolong Tea, head to the newly-opened, spankingly modern ChinaLive, smack in the middle of wonderful fusty Chinatown and around the corner from City Lights.
Related
Popular in the Community