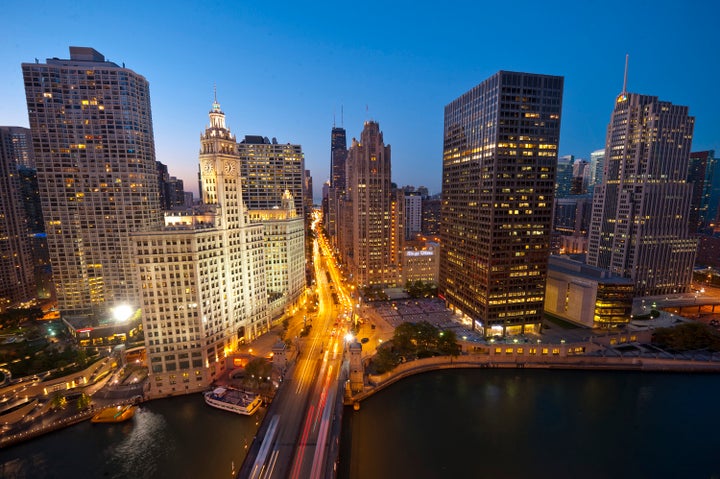 If you seek a conventional tour guide — look elsewhere — this one is all about indulgences. Here's an unconventional and speedy way to enjoy the Windy City in a mere 48 hours: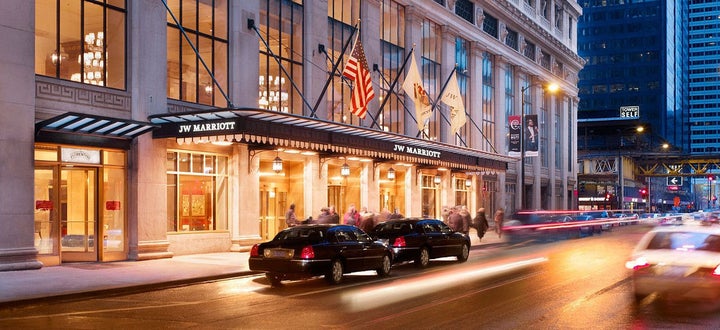 Days 1 and 2: One of the hallmarks of Chicago is its architectural beauty, so it is fitting to stay in a historic landmark such as the JW Marriott Chicago. The building was once a Continental & Commercial National Bank designed by Daniel Burnham (the same famed architect who designed Chicago's World's Fair). Up until 2010, the space was primarily office buildings. After a $440 million renovation, the hotel showcases Burnham's famous architectural style with elegant, modern surroundings.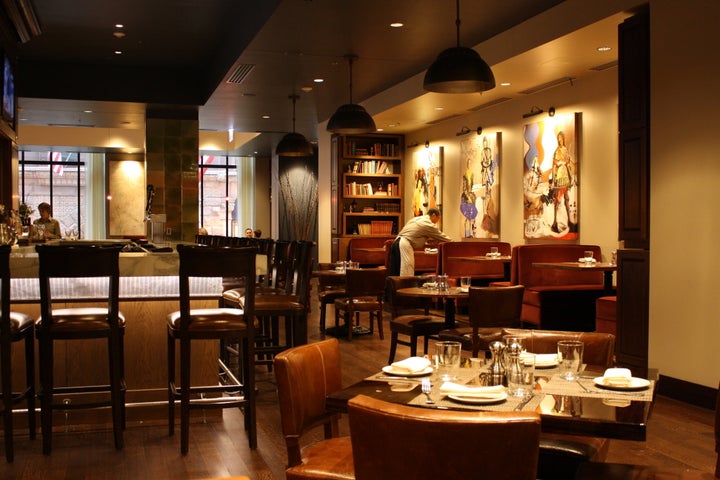 Executive Chef Zachary Walrath offers a wealth of seasonal Italian fare that includes antipasti, homemade pasta, wood-fired pizzas and rotating specialties.
What to order: Gnudi fava beans, oyster mushrooms, proscuitto, parmesan: golf ball sized gnudi are like soft lozenges that melt in your mouth; the dish is enhanced with umami-riddled fungi and cheese. Carbonara Neapolitan pizza with bechamel, fior di latte, pancetta, sweet pea, sunnyside egg: perfect for those who cannot decide between pizza or pasta - it offers the best of both worlds - creamy sauce that melds with soft cheese and salty meat.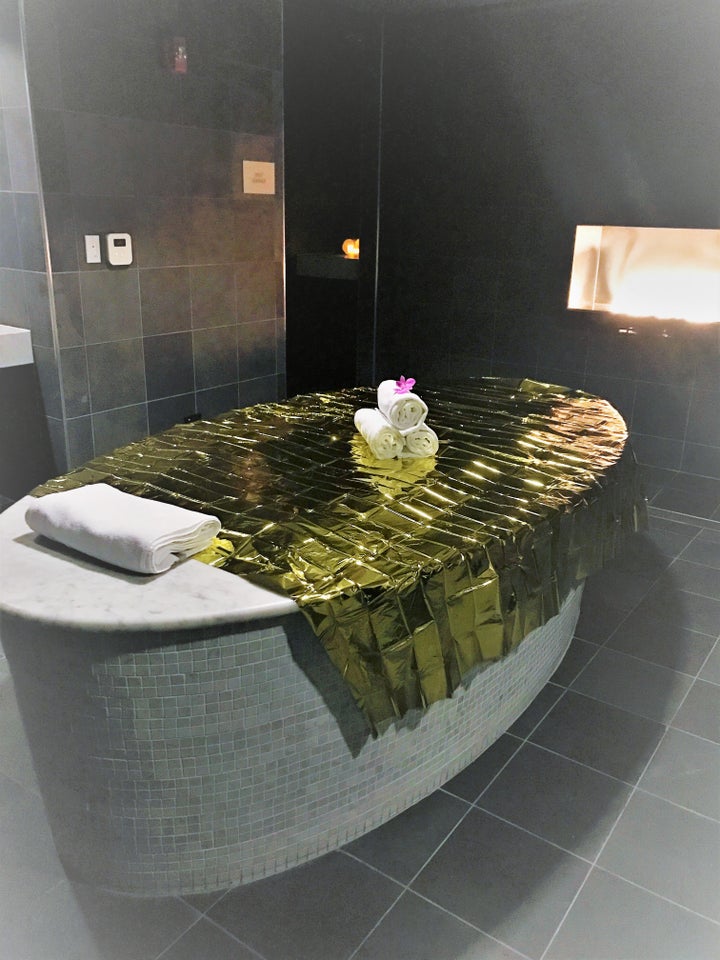 Recently launched at the end of March 2017 is the 24K Gold Package; according to the estheticians, the service was developed for frequent spa-goers and for those seeking an alternative, albeit, brag-worthy experience. It is 4-hours long; the service rotates you to different "stations" - which includes being painted with "gold mud" and cocooned in a gold wrap. The gold is blended with sea minerals and supposed to help with detoxification of the body. The wrap is followed by a Signature Massage that uses gold-flecked shea-butter, which is said to restore hydration and radiance to the skin. The package ends in the aesthetics suite with a 24K Gold Collagen Facial. The mask, which includes algae, gold, and minerals is said to be hydrating, antibacterial (to help with any acne issues and congestion), refines pores, and stimulate collagen production.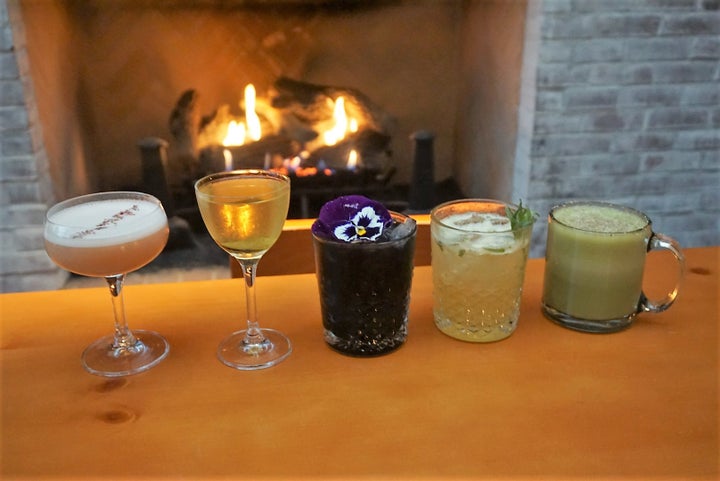 Cocktails at Cindy's is a must, especially when the program is spearheaded by Nandini Khaund - the Spirit Guide. The menu is a worldly melange of cultural embellishments and seasonal influences — best of all are the names and descriptions, which reference everything from pop culture to classic film and everything in-between. Dive head first, "down the rabbit hole" and channel Alice in Wonderland's gusty "drink me" potion mentality. Cocktails are an homage to the apothecaries of a bygone era and best enjoyed on the rooftop with views of Millennium Park and the sprawling city of Chicago.
What to order: Howl at the Jun - a "punny" potion named by Maddy, one of Khaund's bartenders — it features beefeater gin, 'jun' kombucha, grapefruit, sparkling rosé. Inspired by the French 75 cocktail, the 'jun,' is a Tibetan-style kombucha fermented from raw honey. The kombucha is particularly special because, Frog (the creator's name) only brews on phases of the moon. If you're not keen on alcohol, try the Matcha Latte: a creamy, earthy drink that uses shizuoka matcha, local honey, almond milk (opt for it cold or hot).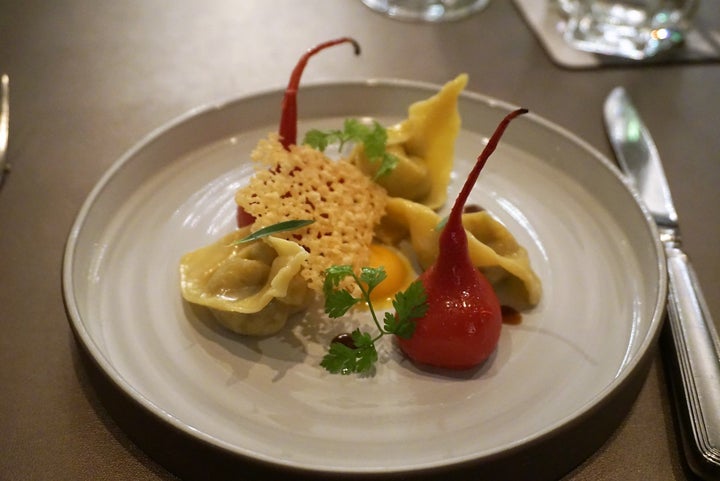 While the restaurant's name and decor may honor its heritage as an 1890s print-shop, the cuisine at Sepia is firmly rooted in a contemporary and modernist period. Chef Andrew Zimmerman is defining American cuisine through his gastronomic creations; he isn't trying to reinvent the wheel, rather he simply "likes things that taste good and wants to share it." Dish creations are his interpretation of flavors he has tried abroad; he echoes elements that resonate with him most and puts it on the plate. And don't describe it as "fusion" cuisine either— it is not that - instead, it is pleasant and unexpected twists on conventional or classic fare.
What to order: Black Walnut Tortelloni are parcels of lush pungency with a touch of sweetness. They're succulent and mimic the richness of pork or beef. For carnivores, the Slagel Beef Shank is a must. It features braised, lacquered meat with a soft shred and a forest of sunchokes, fiddlehead ferns, and finished with white cheddar.
This experience may feel more like pain than pleasure, but a workout is truly great for the body, mind, and spirit. Non-hotel and hotel guests can sign up for sessions with top Nike Personal Trainers. There are Nike-specific training sessions and regular classes. For instance, trainer Natalia Kley-Wisniewska has a competitive kicking boxing background and on Germany's National Kickboxing team. She offers a fitness circuit with a warm-up, followed by intensity and burst training. The idea is as follows: "Alternate between exercising at 90-100 percent of your maximum heart rate for 30-60 seconds, followed by 30-60 seconds of lower intensity exercise or rest." According to Natalia, the result of this cardio and strength conditioning that is interspersed with kickboxing will not only burn calories during the workout - but throughout the day as well.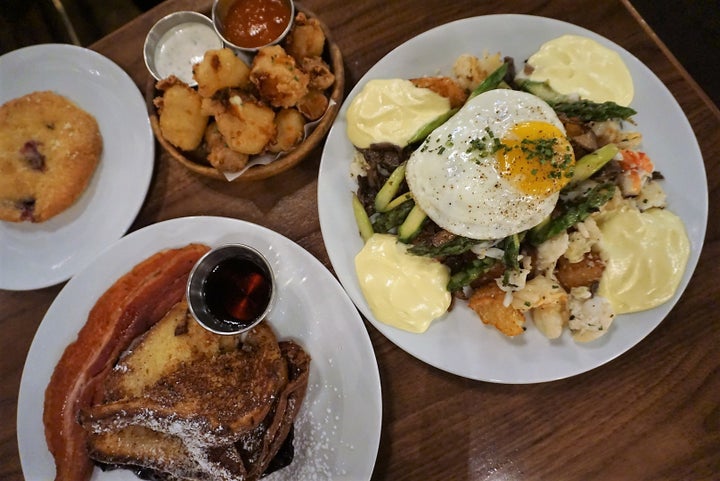 After a grueling but worthwhile exercise session, indulge in brunch. Located downstairs from Maple & Ash in the Gold Coast neighborhood, the Eight Bar is the restaurant duo's more casual and fun sister. Chef Danny Grant says that it is a French bistro that's collided with a diner and a bar. The mix of menu items satisfies even the most discerning of palates. They are uncomplicated, accessible dishes that have been elevated, just a touch. For even more variety, the lunch menu is offered during weekend brunch service.
What to order: Pillowy-plush slices of Brioche French Toast or hearty King Crab hash. If those don't whet your appetite, you'll be enticed by the Double Cheeseburger or crisp, squeaky Deep Fried Cheese-Curds instead, sourced from (where else?) Wisconsin. And save room for dessert: the Ice Cream Sundae is the stuff of dreams.
Related
Popular in the Community