Francesco Vitali is the founder of the 48 Film Project, a project that's proved so popular that it's spawned many knockoffs. Vitali and his partner Chris Siametis started it back in 2009, in Greece. Originally it was a film competition only for Greek nationals to create a short in 48 hours. This program was created to be concurrent with the United Nations Climate Change Conference. 48 hour Go Green Athens was a huge success, and the income from the screening was given to the WWF (World Wildlife Federation). The Top Winner's film was screened at Cannes.
In 2011 Vitali and Siametis decided to create an online platform and give equal chances to filmmakers from all over the world to be able to participate. 48 Go Green became an online international competition, headquartered in Cyprus. There were online events being held concurrently with live events in 10 major cities throughout the USA. The Top 15 Winning films were shown in the Short Film Corner of Cannes International Film Festival and NAB Show in Las Vegas. A total of 330 teams from more than 130 cities worldwide participated in this event! In 2012, 48 Projects Inc. headquartered in the USA. And since then 48 Go Green became 48FILM Project. The host city component was dropped and the competition was held solely online. I spoke to Vitali on the eve of the launch of the latest 48 Project.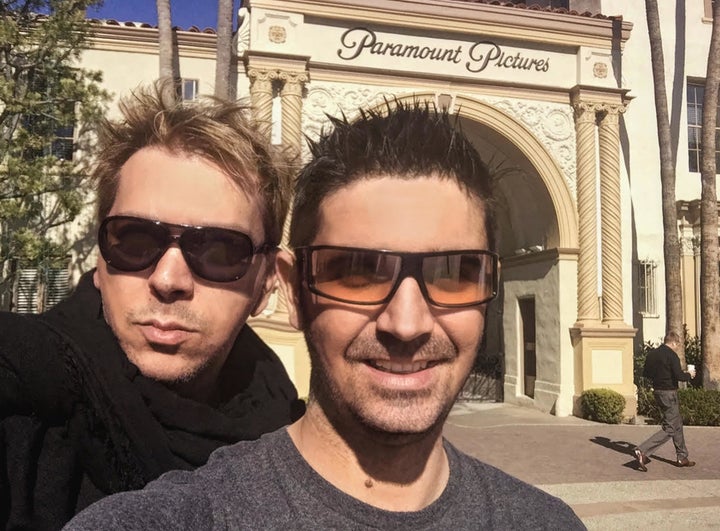 Breaking into the film industry is very difficult, would you say this competition opens the door for a lot of amateur writers, actors and directors? Absolutely! 48FILM Project is an international short film festival. Our door is open to any creative talent, even a freshman or a veteran. We don't discriminate our participants or separate them into different levels. But definitely, it is a unique chance for aspiring talented people to break into the business and get global exposure. First of all, it gives you the chance to screen your short, not in a local little theatre in some city of the world, but at the house of the greatest directors of our time, The DGA in the heart of Hollywood—in front of reputable agents, managers, executives, directors and even studio moguls.
What is the best part of the competition for you? Is it the race, the chaos, or the finished product? The most important for me, is the procedure. It is the journey through challenging and stressful filming. For us, everyone is a winner. Managing to create a short 4-7-minute-long film within 48 hours automatically makes you a winner in my eyes.
What was the impetus in founding the 48 Film Project? What about starting this race intrigued you? It was Chris' idea (my partner and co-founder Christos Siametis) to create a platform in order to unite filmmakers from all over the world, as well as bring them together – to create a strong film making community. And so far, it's looking good! We have more than 195,000 registered members. Every year there is something new, something more to learn, to achieve, and we're constantly trying to push it to the next level.
Why 48 hours? Because 72 is too much and 24 is too little. Don't forget that we also give to the participants an extra 2 hours to upload their movie. So technically, you've got 50 hours to complete a 4-7-minute-long film.
What makes the 48 Film Project truly the best?
First, we are global. There is huge exposure and opportunity for every filmmaker, all over the world. Secondly, as a filmmaker you own the the rights to your film. The competition is open 24/7 from January until November 30th. That means you are the boss and are not confined to a single weekend out of the month. Lastly, you get to choose the genre, so no unpleasant surprises there! In other competitions, films are judged by the festival owner. In the 48FILM Project, the judges of our films are acclaimed, reputable, Hollywood producers, directors, casting directors, cinematographers and the like.
Do you feel grateful or lucky for the tremendous success of the international short film festival 48FILM Project? I do believe in luck but luck only makes up one percent, the other 99% is hard work. And I'm very grateful. Thank you for giving me the opportunity to thank my closest associates and partners. We are a team of dedicated, experienced creatives with more than 30 years in the field. I wouldn't have been able to create all this without my partner in business and "crime "Chris Siametis. He is a true inspiration with such a dedication and creativity. And two more strong assets of my team, the Executive Producer Nana Palaitsaki. A very unique mind highly educated anchorwoman from Greece with more than 130,000 hours on air, as well as a very acclaimed TV and Film Producer, who is our Director of operations. As well as, John Barounis the head of technology. The King of coding as we call him.
Do you have any tips on what truly makes a short film successful? Passion, faith and preparation — that's the important thing. You have to battle daily with Gods and Demons. Your brain is like a pool of ideas, your eyes constantly looking for unique opportunities, your ears tuned for feedback from different people and cultures and backgrounds. You get confused. You get tired. Wrong people can bring you down, derail you from your purpose.
Keep faith in your project.
Francesco Vitali has many years' experience as a director writer and producer, with more than 1300 commercials under his belt. He started his early career in Athens, Greece as a journalist and became a successful manager to the stars. He relocated to the States and after completing his Master's Degree in Communication Studies and Marketing, studied acting and directing at various prestigious institutions in New York, including The Lee Strasburg Institute and The Stella Adler Conservatory. Mr. Vitali returned to production, his biggest passion, and with Chris Siametis, he established 48Film Project. Creative visionary and founder of the 48 Projects Inc. he sparks the ideas and inspires the troops. Communicator extraordinaire, he'll take a marketing dream and spin it into gold. This year he is about to direct the supernatural feature film Gates of Hades which is based on the love story of Persephone and Hades. And he is in pre-production of his documentary Respect Greece a documentary about rebranding Greece hosted by veteran anchorwoman and acclaimed journalist Nana Palaitsaki.
Popular in the Community