Istanbul is one of the world's most historically rich destinations, a busting metropolis with one foot in Asia and the other in Europe. It's a city of many contrasts -- East and West, the old and new, traditional and modern. There's so much to discover in this beguiling city on the Bosphorus that you'll likely need at least a week to cover the different areas. To help guide your trip, here's a selection of the best of where to eat, stay and play.
The Grand Bazaar is not your typical flea market, it is the largest and oldest marketplace with over 3000 shops. Bursting with tiny shops selling everything from scarves, textiles, spices (and probably the most authentic looking replica handbags you'l'l ever see), budget to spend a few good hours here. Don't forget to bargain as the shopkeepers purposely start off with a high price expecting the customer to haggle.
No trip to Istanbul is complete without a turkish bath experience. For a traditional yet luxurious experience, head to the spa at the new Raffles Hotel. The treatment starts with a steam bath, and after you are led into a private room where an attendant will wash and scrub your skin from top to bottom using a special type of lathering soap. The treatment is followed by a relaxing massage. By the time you're done, your skin will be silky smooth. The 3000 sqft spa also has an outdoor pool beneath a tiered sun-lounging area. It's truly relaxation paradise.

For those of you who want to go to a traditional hammam, the Kılıç Ali Paşa Hamamı is one of the most historical bathhouses in Istanbul built in the 16th century and was recently completely renovated. While you don't get the privacy as you would with a hotel hammam experience, the men and women are separated. The baths are split into two shifts, women from 8am - 4pm and men from 4pm-11pm.
Insider Tip: If you want to include a massage with your bath at the Kılıç Ali Paşa Hamamı you must book in advance. Don't forget to leave gratuity.

Tucked away in a 19th century five-story house in the Cukurcuma neighborhood is the quirky and charming Museum of Innocence. It is based off a novel set in 1970s Istanbul which charts the ill-fated love affair between its narrator Kemal and his lover, Fusun. The museum is made up of objects artfully displayed in constructed boxes and vitrines that represent the things collected by Kemal to remind him of Fusun, from rusted keys, stopwatches and film clips.
There are 83 cases in total and the grandest piece, box number 68, is entitled '4213 Cigarette Stubs' with lipstick stained cigarette butts - each dated with a handwritten note under each one. Definitely worth visiting if you want your fill of magic and nostalgia.
Insider Tip: Bring a copy of the book for free entry.
You could spend a week just visiting all the various historical sites in istanbul. Some notable ones not to miss include the Aya Sofya, The Blue Mosque, the Basilica Cistern and the Galata Tower.
Insider Tip: Buy a museum pass for 85 TL to bypass the long queues for sites like The Hagia Sophia and Topkapi Palace. You'll save hours of waiting time. Also, ladies don't forget to bring a scarf before you head into a mosque as you'l'l need to cover your head and shoulders.
This is a small, unassuming restaurant that is great for experiencing a traditional Turkish breakfast. Best to not go solo as the many dishes are meant for sharing. The restaurant doesn't take reservations but the wait is well worth it.
Kronotrop Cafe is located in the area which is known for vintage antique shops, bars, restaurants, traditional cafes and kebab houses. They opened in 2012 and was one of Turkey's first specialty coffee bars. The cafe has a hipster, artsy vibe (for a minute I felt like I was transported to Williamsburg). Great place to sip on a cortado and people watch.
MOC is a coffees lovers' dream. This specialty coffee shop opened in 2014 on Şakayık Sokak. Sydney-raised barista Sam Ceviköz and his team use elaborate apparatuses like syphons and cold brew drip systems, and even infuse espresso with zesty citrus fruits and other exotic ingredients. The shop brings green coffee beans from 12 different countries, roasting and blending them to produce what will surely be one of the most flavorful coffees you'll have ever tasted. Also, MOC Istanbul offers chocolate croissants brought in straight from France.
Insider Tip: Try their cold brew, which is coffee that's been brewed in ice for 24-28 hours.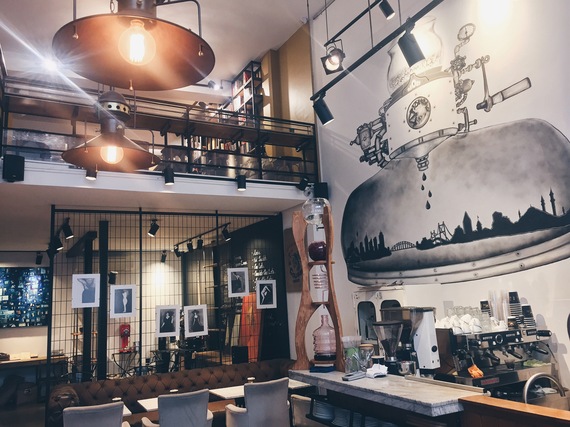 Four Seasons Istanbul at Sultanhamet
Housed in a century-old neoclassical Turkish prison, lies Seasons Restaurant. A great spot for lunch with outdoor seating serving local cuisine, including homemade pastas and bread. Order off the Anatolian menu (the lamb and kebab are delicious) and pair with a local Turkish wine.
Insider Tip: Try Chef Aydemir's signature boneless lamb shank cooked for eight hours.
Stay:

Shangri La Bosphorus
Located right by the water in the Besiktas district of Turkey, the Shangri La Bosphorus is the perfect hotel to take in both the European and Asian influence of the city. The property was a former 1929 tobacco warehouse that has turned into an opulent 186 room hotel, complete with a two-story high chandelier of contemporary Bohemian glass. The Besiktas ferry terminal is just outside, offering regular commuter boats across the Bosphorus to the Asian districts of Kadikoy and Uskudar.
The buffet breakfast is impressive, offering everything from dim sum, to fresh fruit to a table reserved just to showcase the different varieties of fresh honey.
Insider Tip: Right outside the property, a twice-daily tourist boat for 25 lira will take you on a five-hour excursion to the mouth of the Black Sea and back.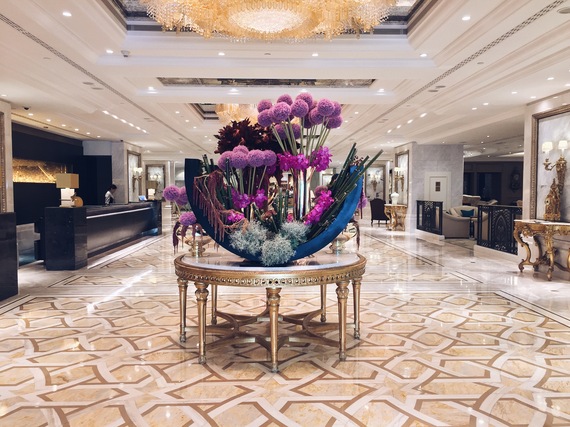 The long awaited St. Regis Istanbul is the newest addition to the finest luxury hotels Istanbul has to offer. The property resides in the "5th Avenue" of the city, in the prestigious Nisantasi district, the premier location for upscale shopping. The hotel is designed with a modern aesthetic and of course and on the 15th floor is the decadent Bentley Suite, equipped with a Bentley-leather sofa, a grand foyer, floor to ceiling windows and a in-room champagne bar. Unlike other St. Regis properties where only suites receive butler service, every single room category at The St. Regis Istanbul comes with 24-hour butler service.
The rooftop restaurant Spago is a must try while visiting the St Regis. With a signature farm-to-table philosophy, the menu features Wolfgang Puck's famed wood-oven pizzas, handmade pastas, and a wide selection of seasonal cuisine with influences from all around the world.
Insider Tip: Have a Turkish coffee outdoors at The St. Regis Brasserie and ask to have your fortune read.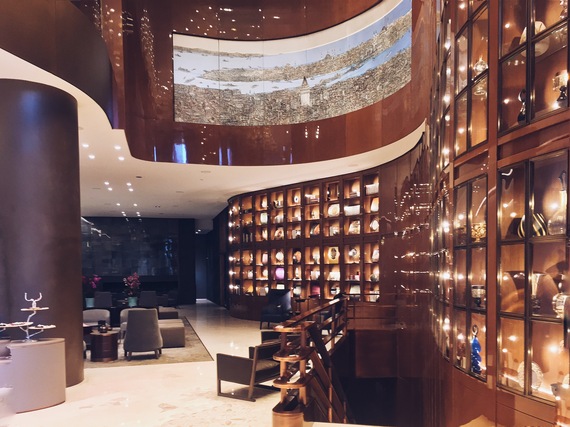 The trendy W Istanbul is located in the Akaretker district in Besiktas, surrounded by cafes and art galleries. Many of the rooms come with private cabanas and terraces. The hotel has recently undergone a complete renovation and now features an entry lounge with an "interactive art installation" mixing lights, mirrors, and video installations, interiors designed by Turkish artist Mahmut Anlar, and a traditional Turkish-style hammam in the W Spa.
Each one of the 136 guest rooms come equipped with a smartphone, so travelers need not to worry about roaming fees when exploring the city. The smartphone provides unlimited calling and surfing when you're about and about. Also, this hotel provides guests with a great spin on the traditional concierge service, as a 'W Insider' looks after any of your requests and needs. My W Insider even went so far to add me on Whatsapp, and I would message him throughout the day looking for cafe and shop recommends.
Insider Tip: In the summer months, request for a second floor Marvelous Room, which boast air-bridges to private cabanas.