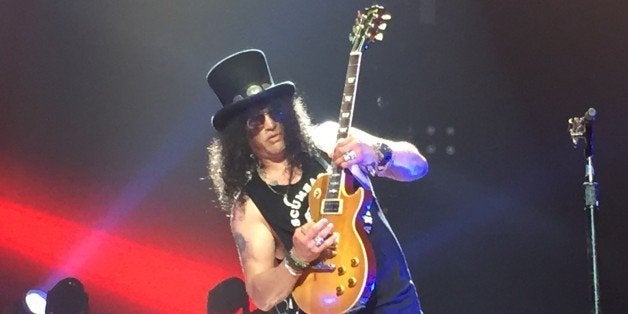 When Guns N' Roses was inducted into the Rock and Roll Hall of Fame in 2012, I thought if the original lineup was ever going to reunite, it would be then. So my good friend Brian (a walking, talking late '80s/early '90s music historian whom I met writing on MTV's Total Request Live) and I flew to Cleveland in the hopes we would see Axl, Slash, Duff, Izzy and Steve Adler on stage for the first time in two decades.
Instead, we got Myles Kennedy fronting GNR, which I imagine is the equivalent of patiently waiting for months to see Hamilton and instead of Lin-Manuel Miranda, getting his understudy. (No offense to Lin-Manuel Miranda's understudy.) Axl's "not in my lifetime" quote to TMZ about a reunion was becoming a sad reality.
Four years later, that all changed, when in early January GNR announced they would be headlining Coachella. A few weeks later, two warm-up shows in Las Vegas were announced which would become the kickoff to the Not In This Lifetime Tour. Unfortunately, Forrest Gump had an easier time finding a seat on the school bus than I had getting a seat during a pre-sale process that seemed to be an exercise in refreshing your computer screen. But my friends and I were determined. And if we were willing to fly to Cleveland for GNR, you bet your sweet child of mine we were headed to Sin City.

"If we were willing to fly to Cleveland for GNR, you bet your sweet child of mine we were headed to Sin City."

Guns N Roses has been in my life as long as I can remember. Appetite for Destruction was the first cassette tape I begged my parents to buy me. I would sit through MTV's Top 20 Video Countdown with Adam Curry waiting for "Welcome to the Jungle" to come on, turn up the volume as loud as it would go and run around the house. When other kids wanted to go as super heroes for Halloween, I wanted to go as Slash.
Eventually, when I arrived at Hofstra University in 1998, my freshman year roommate was Joe -- he was from Long Island, went to Catholic school, loved the gym, but hated sports. I was a Jewish, over-weight, sports obsessed kid from Pittsburgh. We had absolutely nothing in common -- except for Guns N' Roses. That's all we needed.
Even after one relationship shortly after college ended, my ex-girlfriend texted me, "We used to be like Axl and Slash. Now we're like Axl and Slash." It was almost clever enough to get us back together.
Fast forward to last Friday night, now 35 with a (incredible, thoughtful, caring and now will have to get Adele tickets) wife and our sick four-year old daughter dealing with what could only be described as a smoker's cough back home in New Jersey, with tickets to both shows in hand my friend Dan and I left for the airport.
But it wouldn't be GNR without some drama.
We landed in Vegas at 3:56 p.m. At 4:01 p.m., I checked Twitter to see if any news had leaked. Axl had posted something for the first time since January's Coachella announcement, a video from a Santa Monica doctor saying that he had fractured his foot and was now in a cast.
NOOOOOOOOOOO!!!!!! The good news was the show would go on. The bad news was the once most dangerous man in music would be confined to a chair, his foot in a cast.
When we arrived at the brand new T-Mobile Arena the scene was a combination of a party at the Playboy Mansion and Comic-Con. Women were dressed like they had hopes of going backstage and fan-boys were dressed up like members of the band. Despite the rain, lines for merch outside (and inside) the arena resembled the ones back at JFK airport security and this was for $40 t-shirts, $50 posters and $80 sweatshirts.

"What Slash does with a guitar is like what Steph Curry does with a basketball..."

Alice in Chains finished their hit-heavy set at 10:32 p.m. and from there the wait was on. And on, and on, and on. Dan, Joe and I all had different seats on the floor and as midnight approached the crowd seemed to be getting antsy. Joe, who had bought the "Gold/Signature/My Wife Would Have Killed Me If I Bought It" VIP Package, was backstage before the show and confirmed that Axl was indeed in a wheelchair. Thoughts of Axl getting cold feet began to creep in. At 11:55, I texted them "You wanted the best, well they didn't make it-- literally." A nod to the introduction of the GNR Live Era album.
Then out of nowhere, the lights went out and the Looney Tunes theme song blared throughout the arena. Holy shit. ITS ACTUALLY HAPPENING. "Good evening," Axl welcomed everyone, and we were off and running. Except for Axl. He sat in a chair that looked part Game of Thrones, part like he was a judge on The Voice, his foot in a cast propped up.
But Axl's best supporting cast was Slash. It was almost as if he wanted to remind Axl that he was a massive integral part of the success that originally made this band so explosive. What Slash does with a guitar is like what Steph Curry does with a basketball, Banksy with stencils and spray paint and Kate Upton does with a bikini. After those two shows, I think it's nearly impossible for Axl to tour again with a band billed as Guns N' Roses with anyone other than Slash.
Because of the surprise Troubadour show a week earlier, fans already knew they would perform tracks off Chinese Democracy. Granted this will really never happen in this lifetime, but man I hoped that Axl would do something off Velvet Revolver's Contraband (Slash & Duff's band in-between stints with GNR).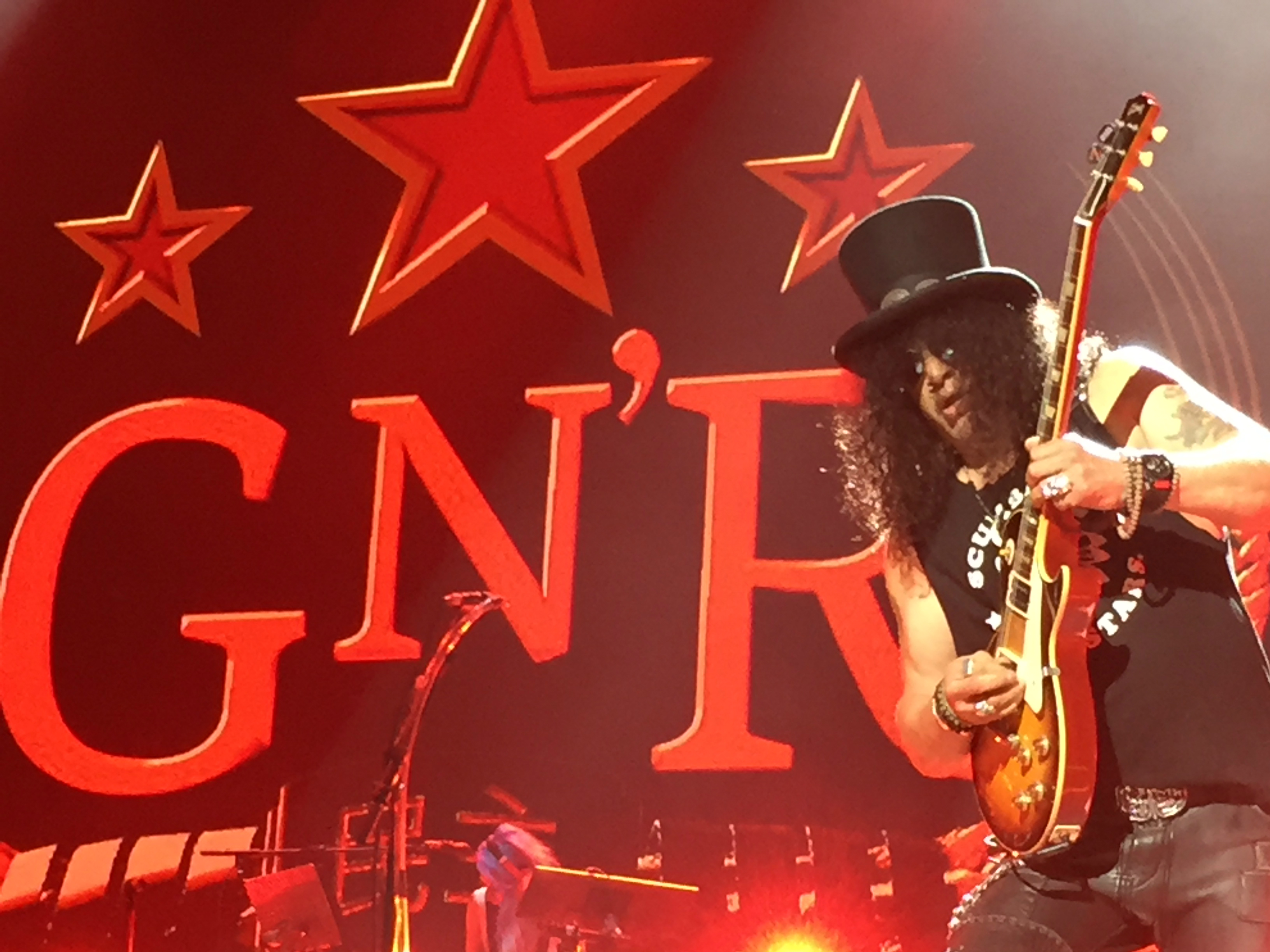 The following night, knowing we had plenty of time before GNR hit the stage we decided to see Don Rickles perform at The Orleans casino. Seeing Mr. Warmth would be another thing on the top of my bucket list crossed off in the span of less than 24 hours. Ironically, in one night we saw two legends perform resigned to a chair. One of them was a near 90-year old comedian the other was Axl Rose.
On night two, fans didn't have to wait as long. Shortly after 11 p.m., the lights went out and again the Looney Tunes jingle hit. Holy shit. Here we go again.
The second night, GNR sounded even better. Maybe Axl had gotten used to performing from his throne, but those trademark powerful screams were back. This time the set list included "Don't Cry" and after weeks of speculating what surprise guest may show up, we got our answer, Skid Row frontman Sebastian Bach joined in for "My Michelle." There's a good chance no one was happier in the world to see GNR reunited than him.
The show ended at 1:45 a.m., and we needed to leave for the airport in four hours. At this point I looked at Dan and said, "Should we just follow them on tour?" That's how great the past 40 hours had been.
During the Friday show a smiling Axl told the crowd, "I can see how you could get used to this." He was referring to his chair. But he might as well been asking the 20,000 strong in attendance who had waited so long to see this reunited band perform live again.
Was it perfect? No. But it was Guns N' F'N Roses.
I have only one regret. Not buying the $40 tour shirt.
Calling all HuffPost superfans!
Sign up for membership to become a founding member and help shape HuffPost's next chapter