Sublime beaches, seaside ruins, a world-renowned reef, shrimp ceviche -- Mexico's 100-mile Riviera Maya sure isn't short on attractions. Jetsetter's latest Mystery sale takes you on a greatest hits tour of the region then invites you to crash at a minimalist, adults-only resort in Cancún. You'll start your weekend with sun salutations on the beach before diving cenotes, climbing ruins and toasting the sunset with a salty margarita.
Click here to book Jetsetter's Mystery hotel then read on for your curated guide to the cenotes, ceviche and sunsets of the Mayan Riviera.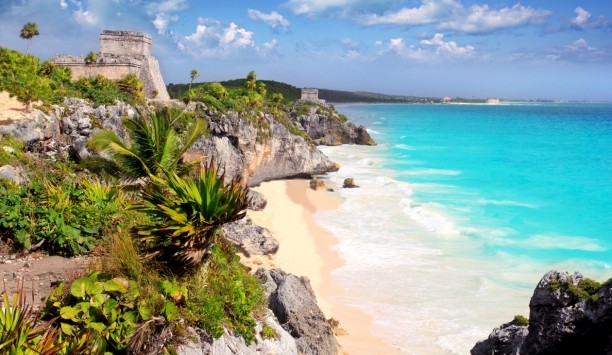 10 a.m.:Sun Salutation
Greet the day in true Caribbean style with a yoga class at the resort's exclusive outdoor yoga palapa. Or if you're a serious yogi, hit the road early and visit one of the Riviera Maya's top yoga studios. At Yoga By the Way (Calle 26, between 5th and 10th avenues) in Playa del Carmen, instructors Ellen and David teach beachside Vinyasa (Monday through Saturday). And Maya Tulum, 82 miles south in Tulum's Hotel Zone, strike a Fire Fly pose during one of the varied classes -- hatha flow to kundalini.
12 p.m.: Lunch on a Dime
Skip the touristy Häagen-Dazs-style joints on Playa del Carmen's main pedestrian thoroughfare, Fifth Street, in favor of humble local spots with plastic furniture, spectacular seafood cocktails and fish tacos. Find La Floresta (between C=Constituentes and Juarez streets) on the southbound service road just underneath the Highway 307 bypass. The lunch specials here offer big bang for your buck: Don't miss the shrimp tacos with the spicy verde sauce.
For traditional Mexican, try Carboncitos (34 Norte, between 5th and 10th avenues), where the people watching is as good as the flank steak burrito and $6 jumbo margaritas. Or hit Piola (Calle 38 between 5th and 1st avenues), run by Italian ex-pats -- it serves wood-oven fired pizzas and basil martinis in an intimate garden two blocks from the beach. Like many kitchens on the Riviera Maya, these have limited hours, so go early for lunch.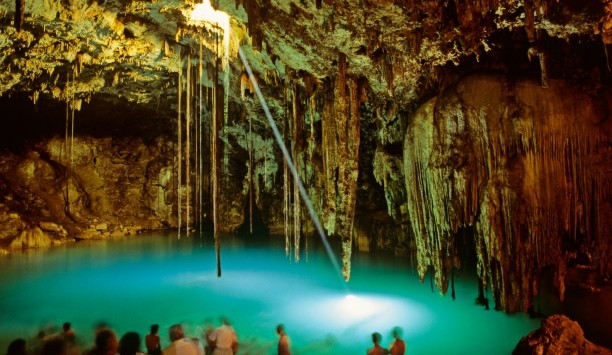 1 p.m.:Cave Dive
There are more than 6,000 cenotes (freshwater caves) in the state of Quintana Roo. A four-hour tour through these dark caverns is an adventurous alternative to diving the Riviera Maya's famous barrier reef. While you're in Playa, book a tour with the pros at Protect Diving: they take groups of no more than four divers through a network of cenotes. Tours (from $120 for two divers, per day) include diving equipment, ground transportation, lunch and beverages. A scuba license is required -- or you can snorkel the cenotes instead.
5 p.m.:Sunset Shiatsu
Continue your water-focused afternoon with a splash at the resort's hydrotherapy spa before heading out for a night in downtown Cancún. Choose between a shiatsu massage in one of 10 treatment rooms, or book a beachside treatment and take in sunset at the same time.
8 p.m.:Hit the Town
Unlike most of the Riviera Maya, nights in Cancún start late and can entail high heels and Euro discotecas -- but there's a way to experience Cancún's nightlife without the cocktail-loving crowd. Trek downtown to the Mercado 28, where the city's best boutiques and galleries exhibit authentic souvenirs and there are signs of a reviving art scene. Choose the up-scale Yucatan cuisine at Labná (Margaritas 29), or try the tapas accompanied by live Mexican guitar at El Rincón wine bar (Calle Alcatraces 29).
9 a.m. :World-Renowned Reef
Make Isla Mujeres, a 20-minute boat ride from your hotel, your launch pad for a survey of the world's second largest barrier reef Isla Mujeres (Island of Woman). Here, beach dwellers roam barefoot on pristine white sand and swim up close to 20 impressive acres of base coral. Have the resort concierge arrange a direct transfer to the island, or board the Punta Sam ferry for just $3 (35 pesos), each way. The reef looks best on the island's west coast, at Punta Nizuc National Park, where the coral is 125,000 years old.
11 a.m.:Climb the Ruins
Most would say the seaside ruins of Tulum and the well-manicured structures of Chicén Itzá are sights not be missed, but the underrated Coba ruins, a 40-minute drive inland from Highway 307, make for a more authentic survey of the ancient Mayan temples. Unlike most ruins in the peninsula, Coba's 80-square-mile jungle park is open to climbers and bikers.
1 p.m.:Go Native
Once a truck-stop town, Tulum is now a favorite with European expats and New York's fashionistas, who dawdle between the thick jungle and secluded beaches fringed with palapas and yoga mats. You might even spy a few celebs in the local establishments -- was that Sandra Bullock ordering a papaya juice?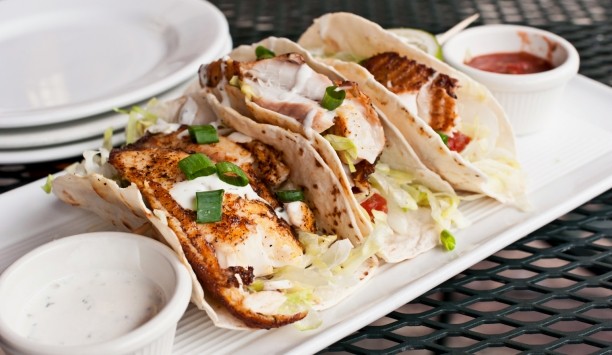 But aside from the few A-list spots, Tulum's best features are its cheap lunch spots and sunset. Find the best shrimp tacos (either fresh or with coconut) at the hole-in-the-wall Camello Jr. (on the northbound side of Highway 307, near the middle of Tulum's downtown strip). Then enjoy the freshest papaya juice in town from an intimate courtyard in the back of Flor de Michocan, just down the street on the same side.
4 p.m.:Sunset + Ceviche
Drive 20 minutes through Tulum's Hotel Zone to the arches of the 1.3-million-acre Sian Ka'an Biosphere Reserve. At the entrance of this UNESCO site the roads turn from tarmac to sand, and the jungle canopy grows thicker. After paying the entry fee (about $4 per person), find a casual sunset spot at kayak trip on the stillwater lagoon, then make a reservation for sundowners and ceviche on the kitchen's rooftop terrace.
Or, for a hip scene in a jungle setting, visit Hartwood, about three miles into the reserve. Opened by the New York expats who helmed Brooklyn's Vinegar Hill and Manhattan's Peasant, the restaurant serves locally grown and fresh-caught dishes (sweet ribs, roasted eggplant and herbed chicken with pan gravy) that change daily.
8 p.m:Localize
Before the trip back north, make a late night (which means 8 p.m. -- no all-nighters here) -- pitstop at Le Gran Mosca Verde (The Big Green Fly). Here Yucatan culinary delights and Tulum's local hipster scene commingle. Read up on the latest Radiohead album (on the reverse side of the menu), kick back for an outdoor movie screening (if you're here on a Wednesday or Sunday night), or sip one of their famed mint mojitos before saying hasta luego and headed back to your Mystery resort.