As the capital of the United Kingdom, London is a large and bustling city with an incredible amount of things to see and do. Visitors and residents alike are able to experience a modern, developed city that also holds a long royal history. The city today holds 48 different neighborhoods: each with their own unique qualities and diverse attractions. The following guide describes each London neighborhood in just a few quick keywords, so you can learn a little bit about each one. Read about each neighborhood and discover all that London has to offer!
Balham - Friendly, Trendy, Hildreth Street Market, Live Music, Stand Up Comedy, Independent Shops, Victorian Architecture
Battersea - Parks, Arts & Culture, Pubs & Restaurants, Antique Shops, Small Boutique Shops & Galleries
Belgravia - Expensive Hotels, Rich & Famous, Georgian Houses, Embassies, Quiet, Exclusive Shops, Buckingham Palace
Bermondsey - Arts & Culture, Markets, Creative, Re-designed Warehouses, Shopping, Bermondsey Street, Interior Design
Bethnal Green - Street Art, Artistic, Multicultural, Lively, Boutique Shops & Hotels, Trendy Lounge Bars & Club
Bloomsbury - Academic, Literary, British Museum, British Library, Charles Dickens Museum, Cultural, Classic, Touristy, Garden Squares, Green
Brixton - Up & Coming, Lively, Markets, Alternative, Arts Galleries, Pop-up Restaurants, Victorian Architecture
Camden Town - Camden Lock, Markets, Alternative Shops, Colorful, Street Food, Cafes & Clubs, Tattoo Shops, Night Live, Noisy, Touristy, London Zoo
Canonbury - Quiet, Charming, Walking Paths, Eccentric, Residential, Traditional Pubs
Chelsea - Small Town Atmosphere, Wealthy, Flower Show, National Army Museum, Saatchi Gallery, Exclusive, Football

City of London

- Sightseeing, Historical, Museum of London, Barbican Centre, Finance District, Old Spitalfields Market, Leadenhall Market, St. Paul's Cathedral, Victorian & Modern Architecture, Roof Top Bars & Restaurants
Clapham - Parks, Victorian Residential Houses, LGBT Friendly, Night Life, Independent Shops, Expats, Students, Markets, Cultural
Clerkenwell - Modern, Hip & Happening, Good Food, Design, Architects, Furniture Shops, Historical Pubs, Theater
Covent Garden - Street Artists, Shopping, Market, Royal Opera House, Neal's Yard, Lively, Cultural Events, Touristy
Earls Court - LGBT Friendly, Concerts, Expensive Georgian Houses, Garden Squares, Earls Court Exhibition Centre
Fitzrovia - Community, Creative, Arts Centre, Galleries, Classic British Pubs, Cocktail Bars, Trendy, Shopping
Fulham - Trendy, Bars & Restaurants, Safe, Expensive, Exclusive, Quiet, Green
Greenwich - Day Trip, Maritime History, Royal Observatory, Child Friendly, Parks, Independent Shops, Market
Haggerston - Street Art, Design, Artists & Students, Victoria, Architecture, Young, Multicultural
Hammersmith - Cafes, Creative, Small Community, Multinational, Commercial Centre
Isle of Dogs - Financial District, Canary Wharf, Martime, Casual Pubs & Cafes, Quiet, Modern
Islington - Trendy, Creative, Family Friendly, Theatres, Street Markets, Boutique Stores, Restaurants & Bars
Kennington - Residential, Cinema Museum, Gin Distillery, Parks, Farmer's Market, Family Friendly, Pubs
Kensington - Residential, National History Museum, Victoria and Albert Museum, Science Museum, Touristy, Parks, Kensington Palace, Gardens, Architecture
King's Cross - Platform 9 3/4 (Harry Potter), Eurostar, Industrial, St. Pancras Station, Night Life
Knightsbridge - Expensive, Exclusive Shops & Restaurants, Harrods, Design, Touristy
Lambeth - Imperial War Museum, Historical, Garden Museum, Bridges, Classic Pub Culture
Maida Vale - Residential, Edwardian Houses, Little Venice, House Boats, Local Bars & Cafes, Celebrities, BBC Studio's, Music, Quiet
Marylebone - Sherlock Holmes Museum, Madame Tussauds, Farmer's Markets, Bars & Pubs, Classic, Book Shops, Small Town Feeling, Green
Mayfair - Expensive, Elegant Hotels, Exclusive Shopping
Notting Hill - Portobello Market, Vintage Shops & Cafes, Antique Shops, Artistic, Creative, Live Music, Notting Hill Carnival
Paddington - Paddington Train Station, Shops, Touristy, Victorian Architecture, Multicultural, Hyde Park, Independent Markets
Pimlico - Residential, Regency Architecture, Art Galleries, Restaurants, Traditional Pubs, Relaxed, Tate Britain
Shepherd's Bush - Big Shopping Mall, Markets, Bars & Cafes, Victorian Architecture, Stand-Up Comedy, BBC Studio's, Night Life, Theatres
Shoreditch - Street Art, Alternative, Second Hand, Antique Shops, Cafes, Arts & Culture, Markets, Pop-Up Stores
Soho - Chinatown, Hip & Trendy, Fashion, LGBT Friendly, Foodie, Multicultural, Lively
Somers Town - Residential, Quiet, British Library, Arts Festivals, Pubs, Street Market, Multicultural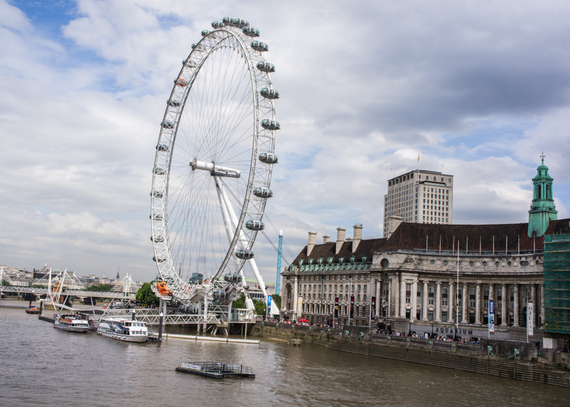 The London Eye, one of many attractions of The South Bank
South Bank - Events & Art Exhibitions, London Eye, Touristy, Skaters & BMX riders
Southwark - Shakespeare Globe Theatre, Tate Modern, Borough Market, Butler's Wharf, The Shard, Trendy
Stepney - Residential, Classic Pubs, Churches, Relaxed, Historical, Green
St. James's - Royal, Galleries, Buckingham Palace, Green, Parks, Expensive, High Tea, Exclusive Shops, Antique Markets
St. Luke's - Residential, Small Community, Daily Market, Business District, Furniture Shops, Galleries, Cafes, Green
Stockwell - Victorian Architecture, Pub Culture, Skaters, Multicultural, Parks, Arts, Portuguese Community, Cafes & Bakeries
The West End - Theatre, Modern, Touristy, Expensive, Busy, Noisy, Historical
Walworth - Multicultural, Markets, Parks, Cafes
Westminster - Government, Westminster Abbey, Houses of Parliament, Big Ben, Touristy, Parks, Buckingham Palace
Whitechapel/Brick Lane - Lively, Jack the Ripper, Art, Culture, Street Art, Spitalfields Market, Cafe Culture, Trendy, Alternative, Curry
Wimbledon - Wimbledon Tennis, Quiet, Theatre, Dog Friendly, Restaurants, Expensive Living, Private Schools
This post by Nienke Krook originally appeared on the Eating London Tours website
.
.
Support HuffPost
A No-B.S. Guide To Life
Related
Popular in the Community