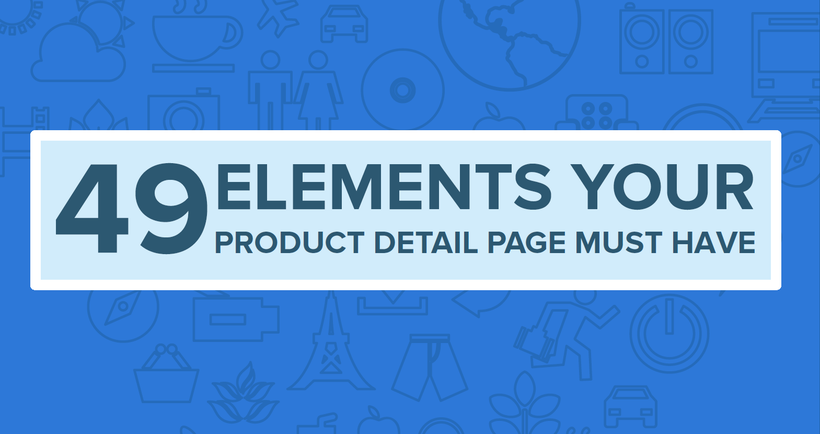 So you've finished setting up the product page and you want to start getting orders, right?
Wait a moment, are you sure your product page is ready?
A recent research by Econsultancy shows that "Only about 22% of businesses are satisfied with their conversion rates." This is to prove to you that you're not in this alone. Many other marketers are facing the same problem.
So now, what are you going to do about this? Where will you even start?
Let's briefly discuss a few of them. Below is also the comprehensive infographic on 49 design elements you should try to include in your product page to increase traffic, conversion and revenue.
1.  Write product name in big and bold form
Your product name is just like the title of a blog post. A good headline must be clear and irresistible enough to capture a reader's attention.
For instance, the product name "HP Laptop" will be confusing. This is because HP Laptops come in different versions and models, you have to be clear enough as to which model you're referring to.
Here, Best Buy tells you exactly what model of HP laptop they're selling the features on the product name.
2.  Leverage breadcrumbs navigation for a better user experience
In case you're wondering what a breadcrumb is, it's a form of secondary navigation in a website which shows a user's location on a website.
Typically, it gives website users an easy way to trace the path back to their original entrance point.
You will often see this on popular e-commerce sites like Amazon.
Interestingly, Google recently announced the replacement of the URL that usually shows within the result snippet with a site name followed by a breadcrumb path. See what I'm talking about in the screenshot below:
There are different types of breadcrumbs which include: location based, path-based, and attribute based breadcrumbs.
Smashing Magazine listed some of the primary benefits of using breadcrumb, below is an excerpt:
3.  Include product detail section
The product description section of a product page should appear below the fold. The objective is to tell the user what the product they intend to buy is about.
The principal aim of product details is to sell your products on its own.
Remember you won't be there to persuade the customer to buy; your product details should be able to do the job for you hence, the need to write in a persuasive manner.
The first step to crafting an incredibly superb product details is to define your buyer persona.
According to David Meerman Scott, "Basing your work on buyer personas prevents you from sitting on your butt in your comfortable office just making stuff up, which is the cause of most ineffective marketing."
Your buyer persona is like an imaginary customer, it is the person for whom your product is created for, and to whom you desire to sell to.
The screenshot below is from ThinkGeek.com, and it's a description of the Multi-color LED Flashlight.
Notice how compelling it is?
While writing your product detail, you need to speak to the buyer the same way you would if you're selling to him face-to-face. This will eventually skyrocket your product's ecommerce conversion rate.
4.  Include detailed customer reviews
You can easily tell your customers how good and useful your products are but, the claims will be more credible and trustworthy when other people that that have used the product are testifying to it.
On the internet today, product reviews are becoming a pivotal part of the decision and buying process. According to ConversionXL, "User generated reviews, in general, are tremendously influential in persuading people to buy."
Check the screenshot below from Amazon for the famous book "Made to Stick" by Chip Heath, and Dan Heath.
Notice the massive number of customer reviews? That is to tell you how many copies of this book has been sold so far.
According to eMarketer, Consumer reviews are significantly more trusted (nearly 12 times more) than descriptions that come from manufacturers.
Customer reviews are important in driving conversion and sales, people have learned to trust their peers more than brands, so you need to start leveraging customer reviews right now to see a significant improvement in conversions.
5.  Include customer service phone number
Personally, I always feel more comfortable and secure doing business with a company that I can quickly reach on the phone if the need arises.
Take Payoneer for example, you can always contact their customer care via phone call if you have any problem, and they will quickly attend to your needs without any hassle.
However, having a phone number on your product page isn't the main thing; you also need to place it prominently where your customers will easily find it. It has to be visible enough so they can see it on arrival at your site.
From experience, the two primary places to put a phone number are in the header of your product page, and on your contact page.
Another company that's utilizing this strategy is Shopify. If you visit their contact page, you will see the phone numbers visibly positioned in a way that anyone can call them:
Finally, you need to consider having your customer service phone number on your product page as this will drive calls and will eventually boost sales too.
6.  Include a newsletter sign up feature
As a marketer, if you're not capturing your customer's email address, you're losing fat.
Most shoppers don't usually make their buying decision on their first visit to an e-commerce site; some will even go as far as including the product to their cart with the intention of checking it out later.
Honestly, the role of email marketing in today's marketing world has become indispensable with 91% of consumers checking their email at least once/day.
According to McKinsey & Company, "email is 40 times more efficient at acquiring customers than Twitter & Facebook.
Make sure you have a newsletter sign up form on your product page. It'll boost your conversion rate.
Below is also an infographic on 43 other elements to include in your product page.
Calling all HuffPost superfans!
Sign up for membership to become a founding member and help shape HuffPost's next chapter
This post was published on the now-closed HuffPost Contributor platform. Contributors control their own work and posted freely to our site. If you need to flag this entry as abusive,
send us an email
.