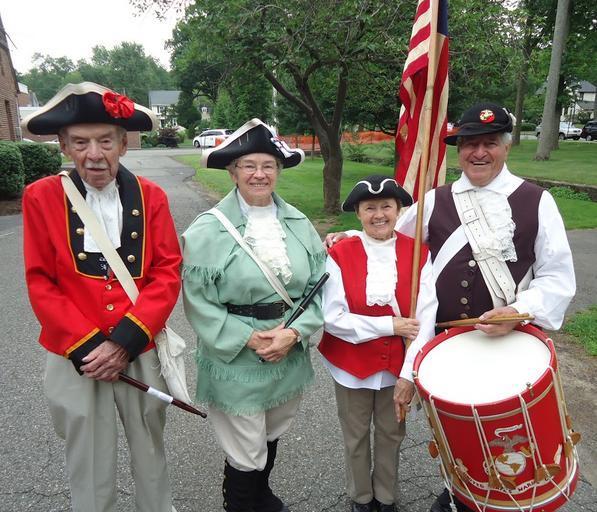 The orange life-flight helicopter kicked off the Mayville parade, flying low over the parade route. It was followed by vintage fire trucks, marching bands, cub scouts, and all of the expected 4th of July participants. After the parade, we walked to the park where there was live music, kids' activities, and a line to see inside the helicopter. I balanced the baby on my hip as my three-year-old son looked very carefully at everything. A nurse in an orange flight suit explained the equipment, including a box of Nilla Wafers for "cookie emergencies." She asked my son if he wanted a cookie, but he wordlessly shook his head.
"Why didn't you want a cookie?" I asked. I don't think I had ever seen him refuse a cookie before.
"They are for emergencies. I wasn't having an emergency," he replied.
That was the last 4th of July I spent with my boys.
We were supposed to alternate holidays every year, but I had a strategy of being agreeable. When my ex asked to have them two years in a row, I said yes, because I knew I would want a favor in return one day. I figured being easy-going would create a stockpile of goodwill I could draw on later, but then it became a tradition. Every year my ex took our boys back to his home town of Chicago for July 4th. I understood. He came from a large and fun family that had a massive party every year. They even made their own family parade and walked around the neighborhood. I wanted my kids to have an abundance of cousins and aunts and uncles and run around in the grass and throw water balloons and all that.
But I missed them. Terribly.
When I was a child, 4th of July was right up there with Christmas and Halloween—way above Easter and Thanksgiving. It was everything good and Norman Rockwell-esque about America. The parade was two blocks from our house. The all-day festival and fireworks an easy bike ride away. Our 4th of July parties only consisted of a handful of people, but they were people that were dear to me.
Every year that my kids were gone I pretended that it would be OK, and every year it wasn't. Finally, I wrote what was probably an overly-harsh email to my ex-husband demanding that he allow me to take the kids the following year on the 4th of July. I knew I couldn't compete with his family, but I wanted to take my kids to a parade and buy red helium balloons from a hawker and tie the strings around their little tanned wrists, just like my mother did for me. My ex-husband, perhaps following his own strategic plan of agreeability, agreed without argument.
Except then I got accepted into an MFA program, and their residencies were over the 4th of July holiday. I had to write my ex-husband back and ask if he would ignore my not-so-friendly email and instead arrange his schedule to take the kids for the next two 4th of Julys, and also the next two New Year's Eves. He readily agreed, and for the next two years, he scheduled his vacations around my schooling. After that, I couldn't interfere with what had become my children's 4th of July tradition.
I understood the importance of traditions to children. I remembered that the one year I broke with my tradition of spending Christmas at my mother's and instead went to my father's house, it was the bleakest holiday of my childhood. It wasn't that he did anything wrong, mind you, but it wasn't the same. So I am aware that removing my kids from their annual Chicago celebration will likely end in disappointment for everyone. I don't want to be the one who ruined their holiday with my insistence of togetherness.
One year I got lucky, and my neighborhood had a parade on the Saturday preceding the 4th of July. We didn't just march in the parade waving flags—I made a 4x4 float complete with 4-foot tall sit-on ponies and pulled the children down the street while they held flags. One wore his baseball uniform, and the other dressed inexplicably as a Canadian Mountie. They felt too shy to wave their flags, and I didn't make them. Afterwards we ate cookies and accepted our "best float" award. (We were the only float.) We planned to do this every year, but the neighborhood moved their parade to the actual 4th of July in the following years, and the boys were always gone for it.
Once again this year I will do grown up things on the 4th of July. There are some benefits to being child-free on the holiday. You don't have to remain sober and can tell as many off-color jokes as you like. You don't have to be quite so vigilant if drunk people set off fireworks—and no matter where you go, you are likely to encounter drunk people setting off fireworks. I will bake a dessert, go to a party, drink festive drinks, and probably even wear red-white-and-blue. I may even go down to the fireworks and sit amongst other people's families, but my heart will still be in Chicago, where my boys are.
Tomorrow I will once again enjoy the peace and quiet that comes from having my boys on vacation with their father. I'll get work done and not be interrupted with the constant summer refrains of "I'm bored!" or "My brother's making me crazy!" There are benefits to the kids being out of town, as well. But today, I will miss those little creatures and fake a smile for my neighbors. If I hold the smile long enough, it might start to feel like I mean it.
Support HuffPost
A No-B.S. Guide To Life
Related
Popular in the Community