As a pinup and boudoir photographer, Ashlee Wells Jackson is used to taking intimate shots of her subjects. But her "4th Trimester Bodies Project" -- a photo series that embraces the changes brought to women's bodies by motherhood -- is revealing in a very different sense.
By showcasing moms, Jackson hopes to shine a light on cultural interpretations of female beauty and change women's expectations for themselves and those around them.
"[T]his project has been something that has felt a necessity in my mind for years now," she told HuffPost by email, adding that the impetus for the series was deeply personal. "After coming out the other side of a very traumatic pregnancy and birth experience myself and struggling with the strangeness of my new body, I felt like it was finally time to make this project a reality."
Story continues below.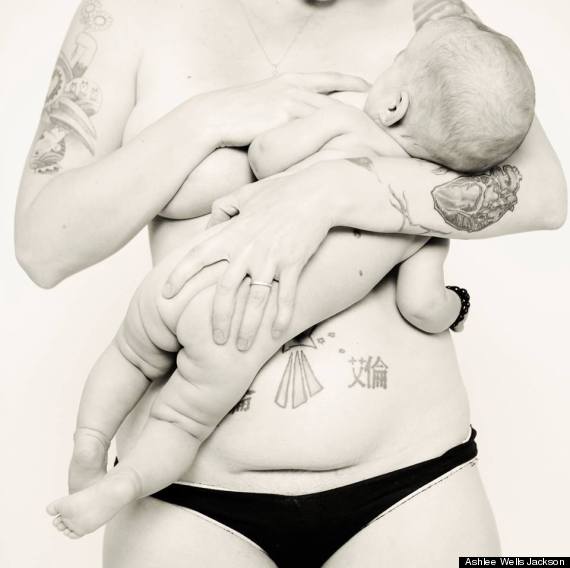 Photographer Ashlee Wells Jackson with her baby.
I see beautiful, inspiring, real women on a daily basis who struggle with their body image because they don't feel they measure up with who the media tells them to be. I feel like this is even more poignant in mothers who often feel like their bodies have been ruined when they should instead be respected for creating, sustaining and nourishing life. So much more needs to be done in our society to embrace body positivity and normalize breastfeeding. ... So, I started with my story and it has exploded into a beautiful thing from there.
Jackson is a mother of three: a 7-year-old son, Xavier, and twin daughters Nova, 10 months old, and Aurora, who was lost due to complications of twin-to-twin transfusion syndrome. She strives to include all types of mothers in the project -- from adoptive and surrogate moms to grandmothers -- with the tagline: "It doesn't matter how you've come to motherhood or how old your children are. If you've the bravery, we'd love to photograph you."
She said she appreciates the beauty of every woman's experience of motherhood: "As much as I love capturing the stories that are triumphant because they've defied some odds or struggle, I also find such beauty in the women who have had normal, healthy, happy pregnancies and birth experiences."
The photo series is reminiscent of Arizona photographer Jade Beall's "Beautiful Body Project," another initiative that celebrates mothers' bodies with striking black-and-white photography. Jackson hadn't seen Beall's work when she started her own series, but she said she was happy to hear there are other women on similar missions, adding that "any project or piece of art that celebrates true beauty, motherhood or body positivity should be applauded."
See more photos from the project below.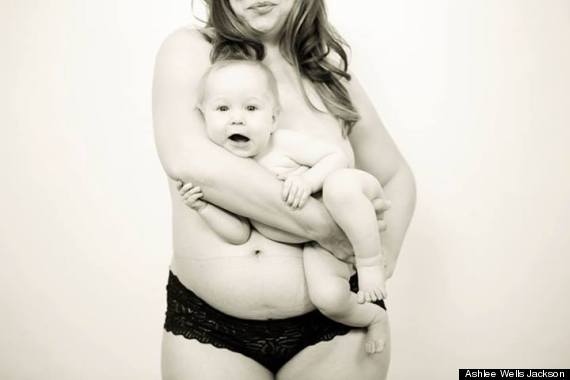 Rejecting the "supremely sexualized" media she sees around her, Jackson looks back to historical periods, like the Renaissance and the heyday of the pinup, when she feels the female form was viewed and valued differently. American painter Mary Cassatt created several images from which Jackson said she drew direct inspiration for this project.
The way women, especially mothers with their children were portrayed in Renaissance art is so realistic and beautiful it brings me to tears. Curves were everywhere as was breastfeeding ... And while Pin Up art focused more on the singular woman, often in sexy or suggestive circumstance, there is something so empowering about it. There was a wholesome innocence and embrace of a healthy female form that I really admire.
Today, Jackson said, "most people simply have unrealistic expectations because they don't know any better."
The Huffington Post reached out to Facebook and Instagram for comment. A Facebook spokesperson referred us to the site's Help Center FAQs, which say that breastfeeding pictures are not banned. Images -- for the most part flagged by other users -- are sometimes removed from the site for nudity.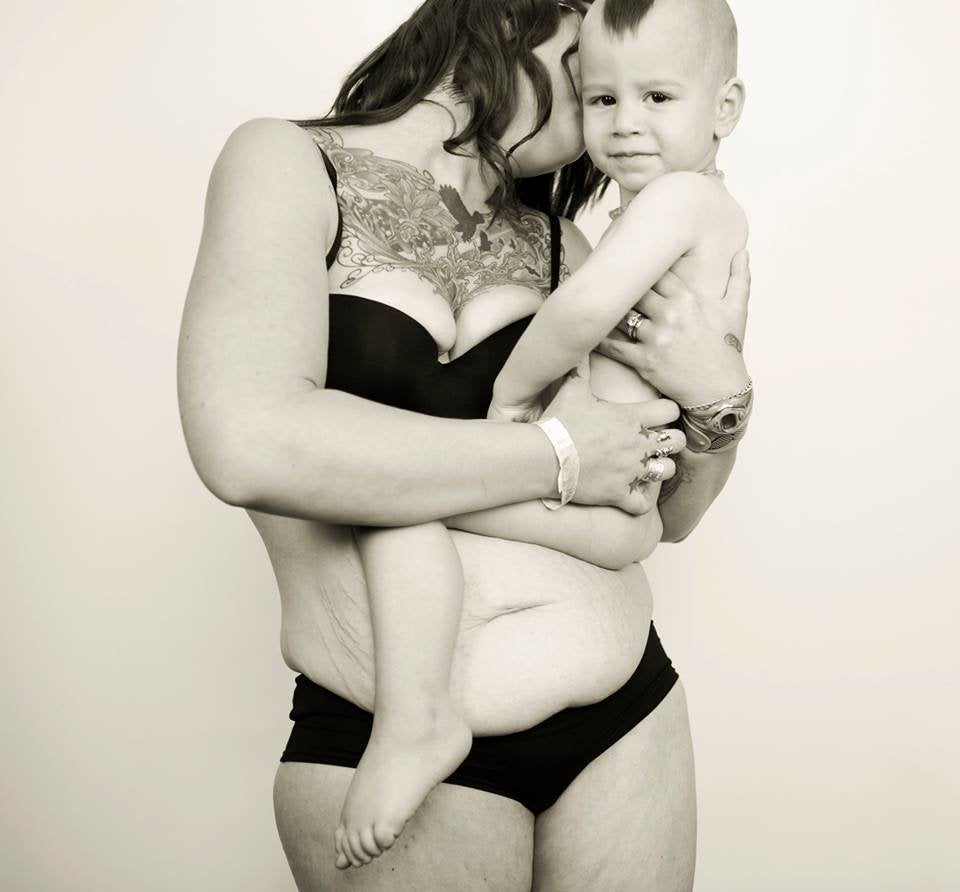 The 4th Trimester Bodies Project
Jackson is raising money for the "4th Trimester Bodies Project" through Fundrazr, and hopes to produce a gallery show as well as self-publish a volume of photographs next July or August. She is offering the photo shoots for free -- both in Chicago, where she is based, and around the country, as she travels (partly in partnership with sponsor MommyCon) to meet mothers who would like to participate. For more information, contact her at 4thtrimesterbodies@gmail.com.
Related