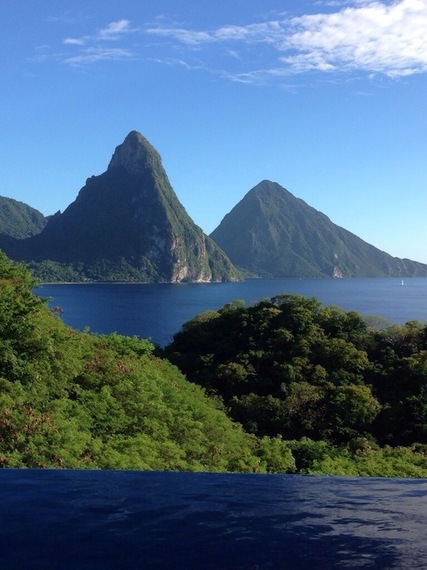 Sand, sun and a dash of adventure makes the perfect recipe for an adrenaline-filled vacation in Saint Lucia. Visitors looking for activities that are a little out of the ordinary can find endless opportunities both above and below the sea from zip-lining through the rainforest, snorkeling among the coral or bouncing around forest roads on an ATV. The island's rugged natural landscape, diverse eco-systems and crystal-blue waters offer a huge list of options for the adventurous travelers. Here a 5 of my favorites:
1. Hiking Climbing Gros Piton is strenuous and should only be undertaken by very fit and experienced hikers. You'll climb over large rocks during the first half of the trail as it starts gradually in a gentle slope, The second half involved a steep ascent to the summit which is approximately 3 to 4 hours round trip and 2,619 feet above sea level. The Petit Piton is even more difficult but more exciting in terms of view form the top.
2. Scuba Diving Views of Saint Lucia are just as amazing below sea level. Divers can indulge in colorful coral reefs and abundant marine life at popular spots like the Key Hole Pinnacles. Or get carried away by the currents at Superman's Flight, the drift dive named after the movie, located at the base of the Petit Piton. A total of 23 diving locations can be found just off the shoreline island wide. For a less extreme alternative, SNUBA excursions ease divers into the water and descend no more than 20 feet.
3. Zip-lining serves up a healthy dose of adrenaline, especially in Saint Lucia. Utilizing zip cables extended as high as 150 feet above ground, visitors are transported through lush foliage for panoramic views of the rainforest, the city of Soufriere, or the Pitons at one of three zip-line locations on-island.
4. Jungle Biking is not for the faint of heart. Visitors interested in kicking cardio into high-gear can head to Bike Saint Lucia at the Anse Mamin Plantation on the Anse Chasanet Resort. Custom trails accommodate both rookie and seasoned riders using specially designed Cannondale suspension bikes. A skill course training area is available for those new on the scene or seeking a quick refresher. Be sure to stop in at the luxurious Jade Mountain while you are there for the most incredible views of the Pitons.
5. Rainforest Crossing This is a strenuous hike but possibly the most rewarding as well. Begin at Edmond Forest reserve and proceed across the Forest Reserve on the Old French Road trail where you'll encounter Mahogany and Blue Mahout tress with eventually meld into the lush, natural rain forest and banana plantations.