Five adults in Pennsylvania have been accused of abusing five children by shooting them with BB guns and forcing them to watch the adults have sex, among other heinous accusations.
In court documents obtained by the Delco Times, the abuse ranged from "being punched, slapped, thrown over a bannister" to being "shot repeatedly with BB guns all over their bodies, some shots leaving marks, scars and causing at least two of the children to bleed."
Darby residents Shakia Jackson, 31; Daryl Carter, 24; Mark Isom, 22; Danielle Hammond, 22, and William Wade, 23, all face charges including endangering the welfare of children, assault, forced sexual intercourse with a minor and corruption of minors, Philly.com reported.
Carter and Jackson were both arrested last month following an initial investigation by the Children and Youth Services of Delaware County. On Nov. 7, Wade was arrested.
The two accused women are the mothers of the five children, who range in ages from one to 10 years old, according to Penn Live. Jackson is the mother of four of the children, while Hammond is the mother of the 1-year-old victim.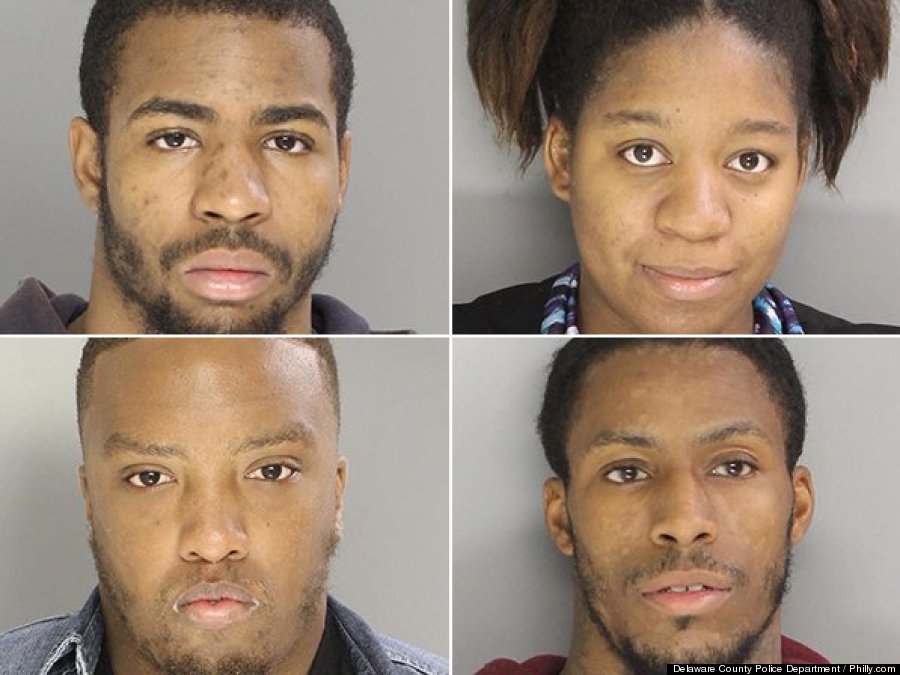 From left to right: Mark Isom, Shakia Jackson, William Wade, Darly Carter. Not pictured: Danielle Hammond
According to police records, Wade and Carter are accused of holding Hammond down and forcing Jackson's 2-year-old child's penis into her mouth, 6ABC reported.
When investigators asked the adults why they shot the children with BB guns, Jackson allegedly told them: "She and the other adults were only playing and the children wanted to be shot."
One of the children told detectives that it "really hurt."
The children were also forced to watch the adults engage in sex acts, police allege.
Delaware County District Attorney Jack Whelan told the Delco Times last Thursday that it was an "outrageous situation."
"When you read the affidavits, you just start shaking your head," Whelan said. "You have to ask yourself, 'How could this happen?' It's hard to believe what kind of world these children lived in."
Hammond, who is not pictured, was released on a $10,000 unsecured bail. The other suspects' bails range from $100,000 to $250,000.
A preliminary hearing is set for Dec. 10.
Calling all HuffPost superfans!
Sign up for membership to become a founding member and help shape HuffPost's next chapter