Not all African buses break down, arrive days late, overwhelm you with dust and heat, or underwhelm you with esoteric notions of comfort and service. Far from it. But then, if you get one of those, you'll miss out on some of those more treasured moments that, depending on your mood, will elicit either a delighted "wow," or a doleful "why the hell did I ever leave home in the first place" -- often serenaded by rollicking evangelical hymns and repeated calls upon ''Our Savior.''
An evangelical preacher beams up onto our clapped-out bus, energetically helping us to "travel with Yahweh," as we leave the Democratic Republic of Congo's capital for Matadi downstream.
The passengers, portly women mostly, are amen-ing and hallelujah-ing for all they're worth, whooping in praise of God as if rooting for the home team at a sports match. In French and Lingala, the preacher prays against "crashes, sorcery and satanic attacks." More amens, more hallelujahs.
Leading a rousing hymn that sounds suspiciously like She'll be coming round the mountains when she comes, he bounces up and down, raising his right hand Heil Hitler-style.
Now comes the pièce de résistance: "I bless you, and thank you!" He moves down the aisle, fleecing his flock of 50, 100, 500 franc notes (five, ten or 50 cents), then alights at a suburban stop to bring the Lord closer to some other poor traveling flock.
We ride on. The driver tries to overtake a massive double Maersk tractor-trailer on the country's main highway -- called a narrow lane elsewhere -- drawing parallel at 50 m.p.h. to a blaring African beat from his tape deck, and continual blasts from his horn.
The quarry speeds up. So do we. The lane bends in a blind curve. So do we. We're heading for an apocalyptic full frontal with whatever's coming in the opposite direction, when my seat mate, a large aristocratic lady with enormous pouting lips and huge false eye lashes, starts a mutiny.
The lips form an elongated O, and she lets fly at our driver to stop playing chicken with our lives. Everybody's now screaming blue murder. We've a riot on our hands. Finally persuaded, he drops back, Maersk draws ahead -- and another Maersk comes swinging towards us within a hair of our flank.
We ride on. A truck draws across our path. The driver overtakes, jumps out and we have a new Congo war on our hands. Curses fly, fists prepare for take-off. Hauling up her dignified bulk, hot lips descends the steps. The lips form a giant O. Barks follow. The foes slink back to their steering wheels. It is often said that if women were in charge of Africa, there would be no wars.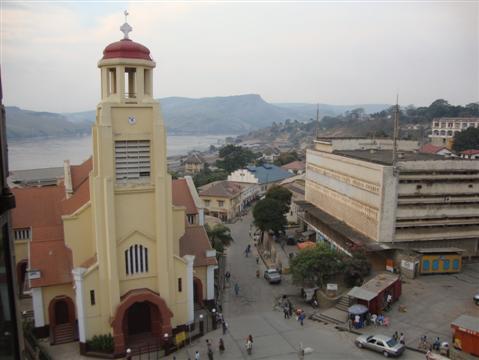 Matadi church with Congo River behind
We ride past rough and ready towns, an overturned van and sundry other wrecks. At every stop kids run up selling packets of tissues to mop our sweat. We arrive after eight hours, hot, dusty, uncomfortable -- but still progress on the month it took Conrad to do likewise in reverse on the Congo River in Heart of Darkness.
The minibus for the 12-hour ride from Jos in central Nigeria to Lagos is a gospel-mobile. The dashboard screams: "Satan, proceed no more," evangelical hymns blast from the tape deck, and the driver conducts us ambidextrously, frequently turning round to make sure we're praising the Lord.
The Lord may be my shepherd, as David the Psalmist so rightly noted, but I do wish his latter-day follower would keep his effing fingers on the steering wheel and his effing eyes on the road through this particular valley of death.
The road is littered with scores of wrecked vehicles, some still smoking. A huge tractor-trailer lies on its side, its cab crushed and what looks unmistakably like human blood trickling out of it.
Six hours into the journey, the driver gets us caught up in the motorcade of a two-star general, sirens screaming, lights flashing, escort vehicles bristling like motorized porcupines with assault weapons poking out of windows and roofs.
How he managed that one I don't know, but he can't get out of it, and the Lord is now shepherding us along at 100 m.p.h., giving a whole new meaning to "God speed."
After about an hour of sheer terror the general and entourage turn off, we disengage, decelerate to a more sedate rate of recklessness, swing past the vast scabs of Ibadan's slums, and arrive in the dark, shaking like jelly.
For the third time the Jesus freaks are out to get me -- this time on the bus to Ghana's capital from its second city. A smugly smirking idiot from Christian Broadcasting Network, is looking mincingly at me from the video and belting out "O Jesus is my Saviour, Jesus touch me." The band and video audience close their eyes, join in, gesture for me to come on board.
Road works reduce us to a single line; some Jesus-touched genius decides to outflank us at the red light where the opposing line of traffic is supposed to start moving, and now he's joined by an army of trucks. The other line can't move forward, we can't move back, and we have a literal bejesus of a gridlock as the video continues belting out "Jesus is my saviour, Jesus touch me."
He's certainly not touching us here. It takes three hours to disentangle, the five-hour journey takes eight hours, and I reach Accra totally over-Jesused.
The land cruiser serving as a bus from Boké in Guinea to Gabú in Guinea-Bissau takes from six to 10 hours, and a sticker on its front proclaims: "I have God at my side." I have a screaming lunatic of a driver at mine. We leave at noon, but after 20 minutes enormous bangings come from steerage in the back. We have a mutiny on board.
The vehicle's so crammed that two teenagers have to cling to the outside. They want out and their money back. After half an hour of screaming, the driver's forced to give in, and we're off again.
By late afternoon we've covered just 38 miles of the 220-mile run. We stop every few miles at rivers for the driver's apprentice to fill the radiator, then run down to refill the bottles.
The vehicle's making terrible noises. It must be 7 p.m. when we reach Koumbia. The driver says he must see some friends "for a few minutes" and there's a second mutiny. Despite his screams, we say he'll do no such thing. But he gives us the slip, and it's 90 minutes before he returns.
Fifteen minutes later the brakes die. He sends the apprentice back with the brake pump and announces that we're grounded for the night. The full moon, straw huts and huge trees against the looming rocky outcrops would in other circumstances be enchanting. I suggest he drive on slowly as the ground is flat. He spends the next hour screaming at me.
At 4 a.m. the apprentice returns with a laughing mechanic, who spends the next six hours laughing while vainly trying to mend the pump. At noon the driver says he can get the pump fixed "in a day or two." We mutiny. He screams. But he's persuaded to do what I suggested 16 hours earlier.
At a ferry crossing there's no way the brakeless vehicle can descend the slope without careering right off the primitive craft into the water. We're only 15 miles from Sareboido, the last town in Guinea. Our luck at last turns. On the other side a bus that broke down a week earlier is almost repaired. But a whole new problem erupts: our raving driver doesn't want to pay the new driver his share of the trip.
They sit down and "negotiate." Two hours and many screams later, they reach an accord, we cross and move off in the new vehicle. Fifty yards on we have a puncture. It's almost dark when we arrive in Sareboido, 30 hours after leaving Boké.
From Sareboido to Gabú

There's still a van going on to Guinea-Bissau, chickens stacked on top, squawking and cockadoodling away in baskets high above us among the incredible overload of luggage.
One passenger kills his future meal, sticks the corpse back up, and now we have blood dripping down the windows, and vultures circling overhead. After a few miles, a couple of white chickens half-free themselves, and their wings appear dramatically flapping over the windscreen as we crest a hill.
The driver gets out to secure them, leaves the handbrake off, and now we're rolling down onto him. Fortunately a bystander jumps in and slams on the brakes.
It's pitch black when we reach the frontier. The Guinean official has only failing torchlight to read my passport and write down details. He takes forever. The Guinea-Bissau official has enough light but his glasses, or literacy, aren't up to scratch. He calls over a colleague for help, again taking forever.
Now we wait over an hour while the man with the huge amount of luggage "negotiates" the size of the bribe he'll pay. At last they agree.
At midnight we reach another check-post and Mr. Luggage "negotiates" with a new batch of "Zaza," as they call officials here. The Zaza demand a whopping 30,000 francs (more than $60). If you don't pay, the Zaza can take literally days going through each piece of luggage. Mr. Luggage makes a counter-offer. The Zaza retire to consider. At about 1:30 "negotiations" reach a happy conclusion.
I reach Gabú 38 hours after leaving Boké -- and a hotel whose rowdy nightclub is still throbbing way after 2 a.m.