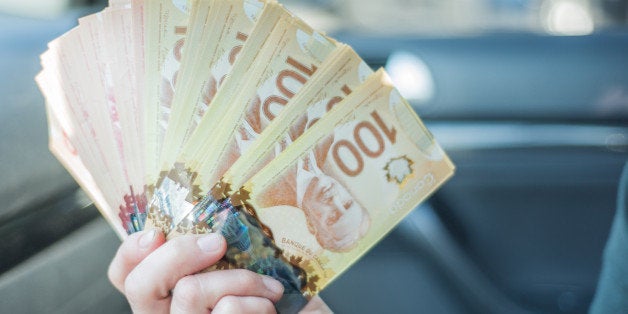 It's no secret that browsing around Kickstarter.com offers tons of great lessons about business pitches, marketing, content, investing, and more. It's a plethora of business plans and ideas, and you'll always see examples that show both the good and the bad. Even if you're not thinking about launching a Kickstarter or funding a Kickstarter campaign, I find that looking at the "almost-funded" campaigns is still a worthwhile venture.
Not only is it interesting to see what people are designing and how they're marketing, but by looking at those that are almost-funded, or in the same situation in the Kickstarter process, you can start to see trends and similarities, regardless of industry (not to mention it can be more fun to help fund those that are almost there if you're into that sort of thing).
All of the numbers below are the funds as of November 18, so check out 5 of the most recent almost-funded pages and what makes them so great below:
Funded So Far: $14,435, of pledged $15,000 goal; 93% funded
What Makes Them Great: Relevancy
Their idea helps improve two very current issues -- water shortage and the need for a sustainable solution, and pet food recalls due to processed ingredients -- while still offering something tangible for backers. The team managed to use this to their advantage.
The key to any good business is relevancy and market. This business idea seems to put a focus on both and they succeed at getting their point across through high-quality video, images, clear and concise copy full of statistics, and most importantly in their case, infographics. To give you a taste of their data and their explanation as to why their product is important, just three of their main points they outline include:
Made in the USA: We are tired of pet food recalls, contaminated products, and the low standards for quality that is the status quo for the pet industry. All of our ingredients are sourced from the USA, and we manufacture and package here as well.
High nutritional value. Our treats are 23% protein, and cricket powder has 28 times more Omega 3's than beef.
Beef is not drought friendly. 2,000 gallons of water is needed to produce one pound of beef, but only 1 gallon of water is needed to produce 1lb of cricket protein.
The combination of statistics (which were shown in an infographic) shows what a relevant product they are and shows that they've done their research, which is likely why they're an almost-funded business.
Funded So Far: $43,581 of pledged $50,940 goal; 85% funded
What Makes Them So Great: Video
This video captures your attention from the very first frame. The content of the video is clear and informative, but it's really the visuals in the video that stand out to me. It's different than the videos you see in most Kickstarter campaigns, which I like, but it also takes advantage of how cool 3D printing can really look. It shows how the product works and it does all this in just 1:10.
If you scroll down the page of the campaign, there are interactive images that you can spin around to see how the scanner works. Being able to see these scans and spin them around gives you the opportunity to feel like you're working in a fancy design lab. It's so much fun, so I fully expect this almost-funded campaign to meet their goals soon.
Funded So Far: $1,995 of pledged $2,000 goal; 99% funded
What Makes Them So Great: Timing.
This business timed their campaign perfectly. Timing is everything when it comes to business success, so whether or not this game has anything to do with Donald Trump, his tagline on a game coming out around election time is great for clicks.
If you look at their campaign, they explain the game through images and even have "stretch goals" at the end of their pitch (which is something you don't always see with games). If they reach their goal of $2,000, then they will offer extra cards if they reach $5,000. It's a good cushion to put on your campaign to guarantee you get funded while still enticing others to back the project. The game pokes fun at the elections and brings a sense of humor to one of the most talked-about candidates, which is likely a big reason this is almost-funded.
Funded So Far: $69,353 of pledged $71,990 goal; 96% funded
What Makes Them So Great: Long-Form Content.
This campaign also timed their item well in terms of the holidays and they also capitalized on our love of the "smaller the better" electronics so relevancy and timing are at play, but they were also thorough with their content. Unlike some campaigns full of infographics, they managed to make long form content work in their favor.
Kickstarter is a risky place to get into the nitty gritty of a product, but when you're working with electronics that is necessary. This campaign still used Gifs and images well, but they wrote most of their copy in the form of a Q & A, and they went through how the technology works. Below is an example from the campaign:
Where can I use HeLi-on? That is fully up to you. We like to take it with us on camping, festivals, to work, to the beach, sailing, skiing, and many other places. The size of the HeLi-on allows it to easily slip into your pocket or purse - never leave home without it.
What is the power rating of the solar panel? The solar panel will have a power rating of 3 watts (tested under standard conditions). We have constantly improved our printed solar cell technology and will optimize the size of the panel for this power rating.
What is the lifetime of the solar panel? Under proper use, the panel will last years. We have tested the panels outdoors under Danish weather conditions (sun, rain, humidity, frost) and we only see marginal degradation for our two-year constant exposure tests. With HeLi-on, degradation is not an issue, since the solar panel is protected inside the shell most of the time.
This type of layout seems necessary for this type of product to be fair, but I highly recommend checking out the writing on this one if you're thinking about marketing tips for your product.
Funded So Far: $13,685 of pledged $15,000 goal; 91% funded
What Makes Them So Great: Credibility
So what really makes this campaign great is a combination of really everything on this list. Their video is well done and they created great videos to show you how the product works and why it matters. Their videos go down the page showing you all the different ways you can use the tool and how it differs from what you're used to hearing.
I added "credibility" because one of the co-founders is a professional musician and the other is your average guitar play--both who likely relate to their two audiences. They have a great bio that explains why they know how successful the product can be, so it's a win for guitar players everywhere. 20 years experience performing in 15 different countries with years worth of developing? Sounds good to me.
If you want to get technical, all of the campaigns above touch on all of the five points: relevancy, content, timing, video, and credibility, but I chose to point out what stuck out the most in my mind. There are lots more Kickstarter campaigns out there doing cool things, so if you know of a campaign that's almost funded that should be added to the list, let us know in the comment section below.
Writers Note: I'm not affiliated with any company on this list.
Calling all HuffPost superfans!
Sign up for membership to become a founding member and help shape HuffPost's next chapter