Modern libraries that are far from those dingy book crypts from your research paper nightmares!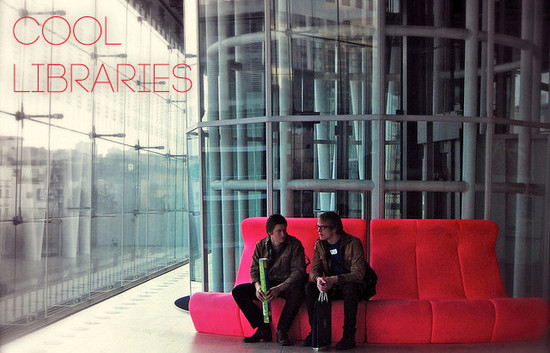 Photo by: japanese_craft_construction
To safeguard libraries from analog death, modern book houses are spruced up with crazy cool architectural cues and new forms of media to keep you people comfortable and entertained while being informed. Don't go moaning and groaning about visiting a library while you're traveling just yet -- here are five around the world where books are bottom shelf stuff.
DOK: Library Concept Center
Delft, Netherlands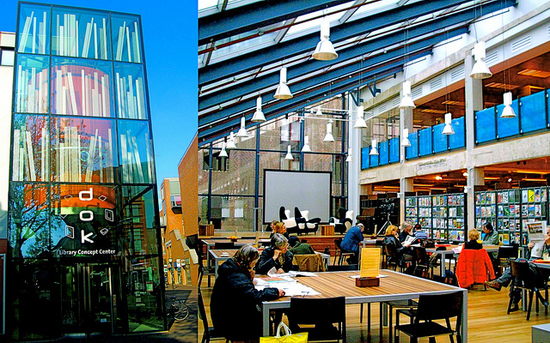 Photo by: sirexkat & Fiona Bradley
DOK is dubbed the most modern library in the world, but the people who run the place like to think of it as a library concept center-like how a library could and should be. You know, with video games, iPod listening pods, comfy chairs, and not a single shusher to ruin your brainstorm sesh. Seriously, this place is the most advanced library we've ever encountered -- if your phone's bluetooth is on, you'll get a welcoming "what's up" text from the staff when you walk in. Circulating LCD information screens (which run off of Nintendo Wiis) grab your attention from the entrance and guide you in the right direction. There's a cafe, a playable piano, toys, silent and chatty sections, a graphic novel room and art galleries all over. Did we mention that there are books, too?
Bishan Public Library
Bishan, Singapore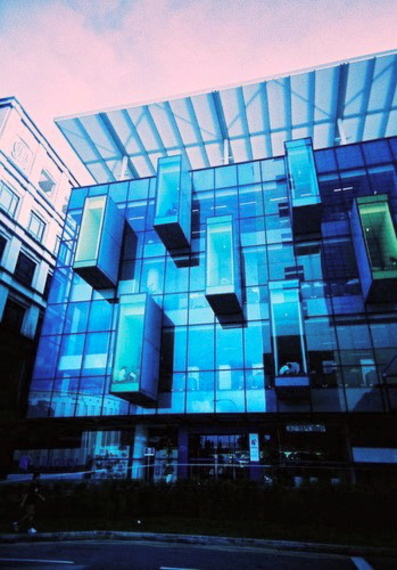 Photo by: Clara T S H
Libraries are like information ecosystems, so it's only right that the public library in Bishan was designed to look like a treehouse. Its glass structure lets in natural sunlight which filters through colorful windows and creates a pretty trippy ambience, perfect for a break from hectic traveling. Located right off a major metro stop, the library has a cafe on its first floor. Given its atrium setup, things can get pretty loud by library standards. Search for silence in one of the library's many private pods, which are scattered abundantly and jut out from the building like books off a shelf.
Library of Birmingham
Birmingham, U.K.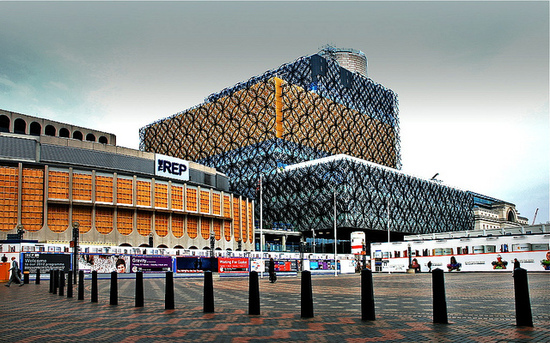 Photo by: brianac37
Europe's largest library is described by its designer as a people's palace, and its purpose is to make library visits not suck so much. That slinky-wrapped looking exterior will definitely draw you in, and the panoramic cityscape views of Birmingham from inside will free you from library claustrophobia. For some air, head out to one of its several terraces, or even to the rooftop garden. Looking for total entertainment immersion but too lazy to read? There are art galleries, multimedia sections (think music, movies and games) and even a performance stage which holds regular events. The Library of Birmingham is still focused on promoting learning and education-like any library should be-but it's smart enough to know that we sponge information differently than dudes from the curly white wig days did.
Central Library of Vancouver
Vancouver, Canada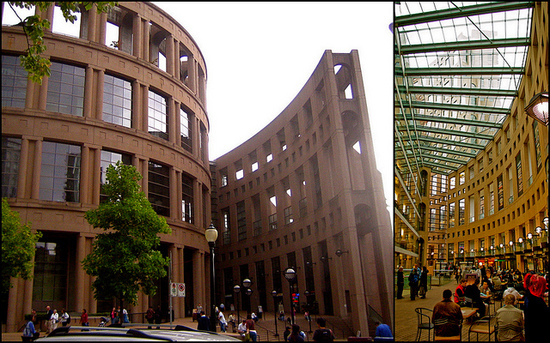 Photo by: rick & footloosiety
Central Library is the biggest branch off the mindfuckingly huge Vancouver Public Library tree (which consists of 22 total branches). Central is part of Library Square, the most expensive project Vancouver has ever undertaken, successfully created a peaceful environment for people to learn, relax and shop. Library Square takes up an entire city block, looks like Rome's Colosseum and houses the seven-story, all glass, Central Library as its centerpiece. The library itself isn't incredibly revolutionary, but as a building within a building, its credibility gets multiplied. Plus we like the thought of cruising through cafes and shops during study breaks.
Sendai Mediatheque
Sendai, Japan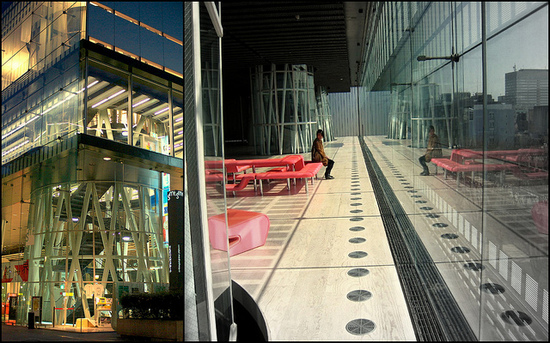 Photo by: sandman_kk & yusunkwon
The Sendai Mediatheque wanted to stay away from boring ass library stereotypes, so it slashed the library tag off its title in favor of "mediatheque." This place definitely transcends traditional libraries, and was made entirely transparent to communicate Sendai's clear vision for the future. The first floor has a cafe and shops, and the seventh (top) floor has a small cinema which screens regular films. In between top and bottom, you'll find art galleries, more multimedia selections, small relaxing rooms and a vast collection of ancient artifacts (i.e. books) on dusty shelves. Call it whatever you want, but this building in Sendai was one of the first to embrace the future of libraries.
Unlike the miserable nights you've spent studying in libraries, these places are actually loads of fun and great spots to check out along your travels. Libraries are changing for the better but they may not be around forever, so get your ass to a cool one before these houses of free information become a thing of the past.
Related