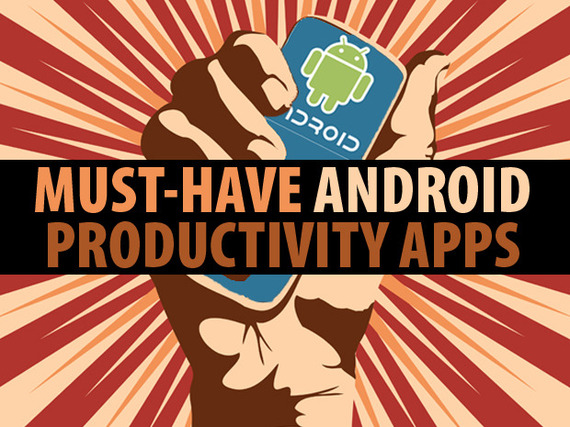 New year, new you? The power to supercharge your 2016 is already in your hands! These apps will make you a force to be reckoned with come January, so invest some time to make sure you're ready to hit the ground running.
SwiftKey is a free app which is probably the best third party keyboard you'll find. It also provides word prediction which is personalized based on your typing habits. Like competitor, Swype, it can be used as a swipe-to-type keyboard, but what really sets SwiftKey apart is its word prediction engine, which makes typing quicker than ever by not only predicting your next word, but the one after that too!
It's a must have in terms of productivity because it combs your Facebook, Twitter, and Gmail to learn your most commonly used phrases and words, cutting the time it takes for predictive text to acclimatize to you. Additionally, all your saved words, phrases and settings are saved to the cloud. So no matter which device you switch to, your sentences are written quicker than ever.
Evernote is a real jack of all trades when it comes to productivity apps. In fact, there's not much it can't do. In short, because it's open format, it's the perfect container for all your thoughts. Not only can save your handwritten notes saving you the hassle of scrambling for paper, but also it can remind you of important dates and times. It can be your recipe book and rolodex all within the same app. On top of all that, you can use its web clipper to save useful articles for when you're on the move.
Then there's the fact that Evernote is omnipresent: it can live on your desktop, Android phone, and Android Gear. There was even an Evernote app for Google Glass! It adds peace of mind to have cloud-based notes you know are going to be accessible from pretty much every device you'll encounter.
There's two things that make Evernote is a productivity essential, though: First, the excellent camera function which allows you to transform a business card into a usable, digital format with the click of a button. Not only that, but the app is intuitive enough to fill out the website, address and job title fields - making it that much easier to follow up after a meeting. Using all this data, it'll also be able to find your contact on LinkedIn and allow you to send an invitation to connect without having to leave the app. Second, the dedicated Android Evernote Widget app, which allows you customize your homescreen to include the Evernote features you use the most, whether that's capturing images, opening notes, recording audio or to setting reminders.
Recently acquired by Microsoft, Wunderlist is another free app which provides productivity benefits through a to-do list manager. Wunderlist's is a simple but effective concept: assign your workspace lists - home, work, movies to watch, etc. - and within these lists is the space to manage your action items.
While others offer list management as a service, Wunderlist stands out in terms of how it offers the most robust product as a result of its dedication to list management; it's wholly customizable to your own needs. Action items can be added easily, and within their own menu, can be given subtasks, notes, due dates, marked as important and even moved completely to another list. As is becoming the norm now, everything you do in the Android Wunderlist app is synchronized online, so whether you're using Wunderlist on your Android Wear or on your computer, you'll never be left short.
But what's special about Wunderlist is how good its Android Wear app is. Just by saying "OK, Google, make a note," you're able to dictate a new task. Keeping track of your tasks can't get any easier.
Gluru is an intelligent Android and web app that uses machine learning technology to determine the files you'll need and deliver them before you know you'll them.
While there are similar apps which do the same for your personal life, Gluru is different in that it specializes in making your business life more productive. It does this by connecting to all the data and documents you own, anywhere in the cloud, and serves them up as you need them during the day - so you're prepped for every call, every meeting and every task. Currently it syncs with some of the big names like Evernote, Google Drive, Dropbox, Google Calendar, Box and Gmail. There's also a seven day digest, a new feature to help plan and prepare for your week ahead of time.
What's great is the more you use it, the more it becomes intuitive about what you find important, ultimately allowing you the extra time to prepare for important events. For instance, Gluru works well if you're traveling for business: it'll know what meetings you have when you land, from your calendar, and will show all the important files related to those meetings on the flight over, pulled from your email and cloud storage documents.
If This, Then, That, or IFTTT for short, is one of my favorite apps, mainly because it doesn't at all feel like an app. It's a lightweight app which packs a heavy punch. IFTTT works by adding a "recipe" to your phone. These "recipes" are automated processes that trigger your phone to do something when another action happens - making your life easier in the process!
The genius thing about IFTTT is that the possibilities are endless, there's a recipe for almost everything. Just on my phone, I've got a recipe to mute my phone when the phone detects I'm at the office, and another which also automatically posts any of my Instagram photos as Twitter photos. But there's so much more you can do with it, from receiving weather reports to being able to change your Hue lights to match the album art of what you're listening to.
In terms of productivity, there's so much on offer, which makes downloading IFTTT a no brainer. There are recipes which save email attachments to your Google Drive, log your work hours in a spreadsheet on Google Drive and even to receive a fake call to get yourself out of an unproductive meeting. There's a lot of fun to be had with IFTTT!

Image credit: www.infoworld.com
Calling all HuffPost superfans!
Sign up for membership to become a founding member and help shape HuffPost's next chapter