When a nation is born, history shows it survives best when its leaders successfully articulate a shared idea of the country to its people -- not just politically, but historically and culturally. Indeed, what would the early years of American Independence have been without its national mythos -- from Betsy Ross and Paul Revere to artists like John Trumbull and John Singleton Copley?
The independence movement in colonial India was no exception, and despite its sometimes tumultuous developments over the years -- notably those arising from its fracturing into India, Pakistan and Bangladesh -- its success in casting off the yoke of English colonialism is at least partly attributable to its cultural arbiters helping define what it was to be South Asian, not British.
In celebration of Indian Independence Day on August 15 (Pakistan's is the 14), here's a look at five artists who made important contributions to the creation of a new, post-colonial and thoroughly Modern Indian identity.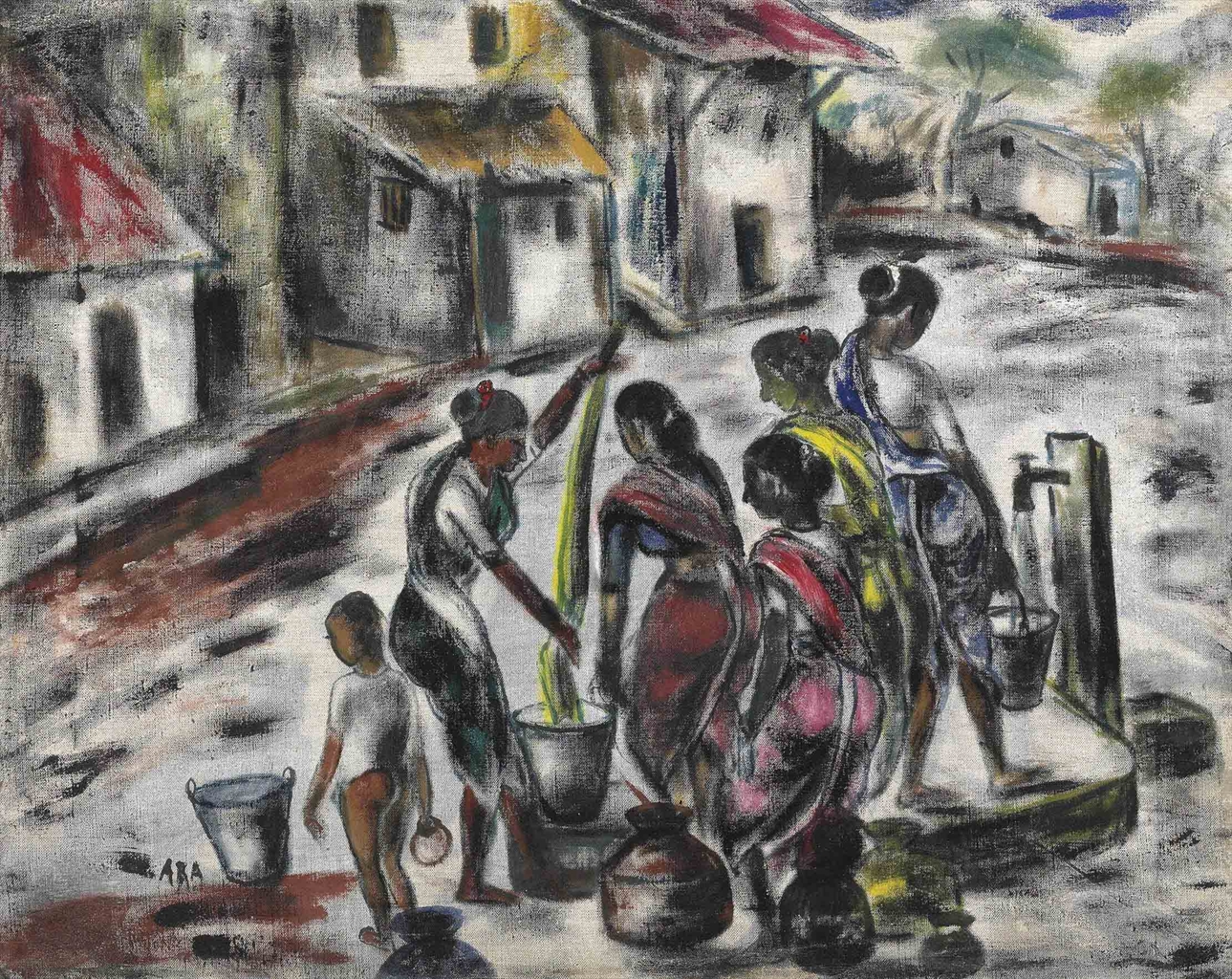 K.H. Ara, Untitled (Village Scene), Oil on Canvas
Krishnaji Howlaji Ara was a late-comer to the art world, but his impact on Modern Indian art was profound. As much or more than any Indian artist of his time, he brought a roughly-hewn and revolutionary spirit to his art in ways that were directly expressed and felt as uniquely Indian.
Ara was a hardscrabble non-conformist from the start, his politics informed by experience, not just study. Born near Hyderabad, India, in 1914, he was orphaned at age 10. He washed cars for a living. By 1930 was imprisoned for his participation in the Salt Satyagraha -- a 24-day, cross-country march led by Mahatma Gandhi in protest over British monopolies over Indian commodities. Ara was among more than 80,000 people arrested in the months that followed, and the march is viewed today as a galvanizing moment in the Indian Independence movement.
By the late 1930s, Ara had begun down his path as an artist, despite a lack of formal training enjoyed by many of his peers. Post-independence, he joined the Progressive Artist's Group in 1948 -- a group of six foundational artists who, as fellow member and artist, Sayed Haider Raza, once described it for The New York Times, wanted to "look at the world from an Indian way, not a British way."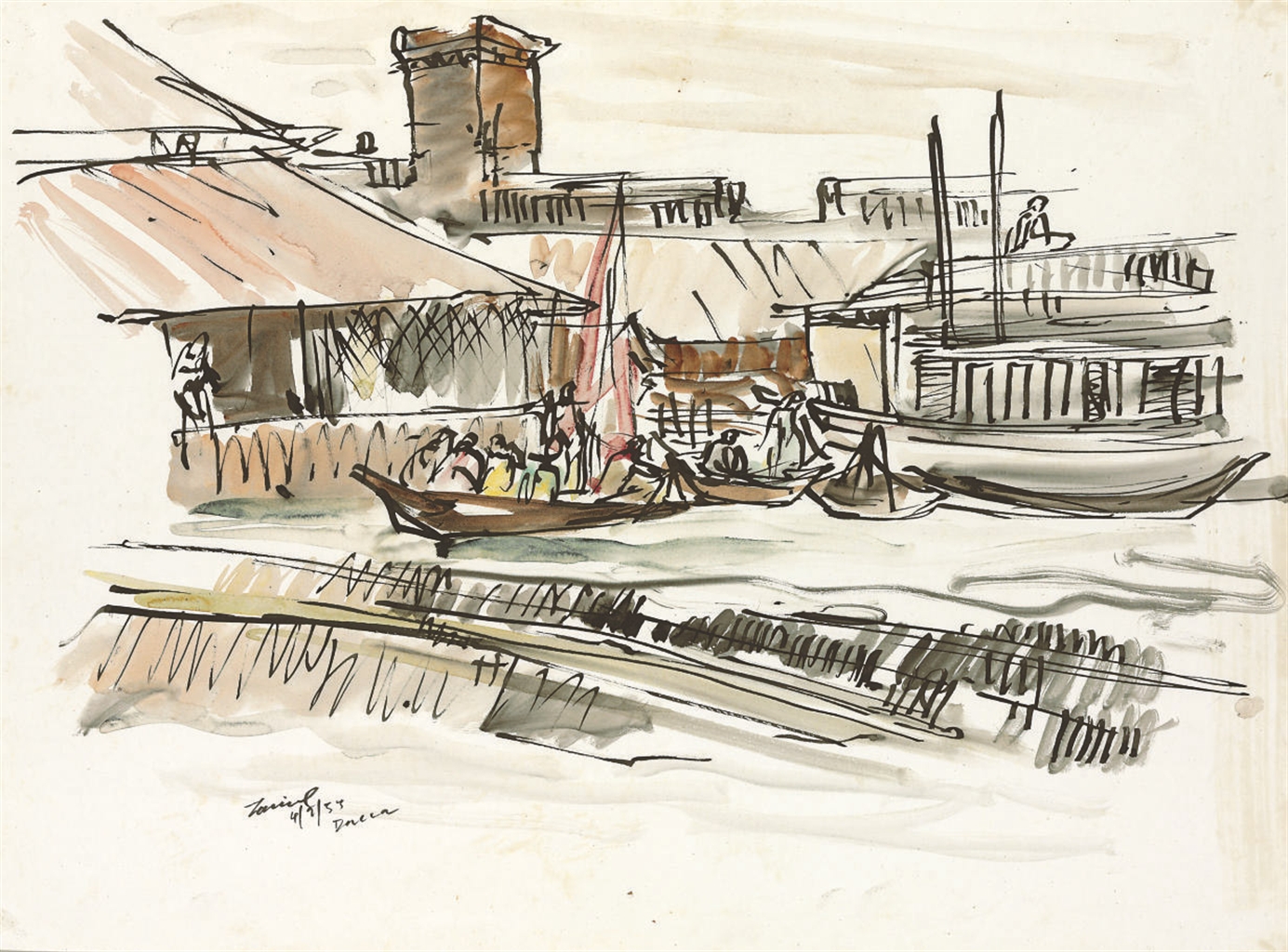 Zainul Abedin, Untitled, watercolor on paper
Zainul Abedin is perhaps the most important and foundational figure in the history of modern Bangladeshi art. But at the time of some of his early, most-beloved and most significant art and activism, Bangladesh was still decades away from creation. The South Asian subcontinent was one colony with a shared oppressor.
Probably his best-known works are a collection of sketches he made on common packing paper in Chinese ink, putting a human face to the nightmare of great Bengal famine of 1943 -- a catalyzing event in the region toward independence, just four years before Great Britain's withdrawal. Like the great Irish potato famine of the mid-19 Century, the 3 million or more deaths from Bengal famine, were largely avoidable; they were largely the result of food diversion and hoarding by the British. Abedin's work drew wider attention to the Bengalis' plight and still resonates with a deeper humanism today that transcends the specifics of its time.
Shortly after the British withdrew and Pakistan became its own country (until 1971, Pakistan comprised the modern states of both Pakistan and Bangladesh -- then called "East Bengal"), Abedin helped found the Government Institute of Arts and Crafts in Dhaka (now the Institute of Fine Arts), the first modern art institution in East Bengal. He helped put the region on the map when he represented the newly-formed Pakistan at the 1952 UNESCO art conference, and was awarded a Rockefeller Foundation Travelling Fellowship in 1956.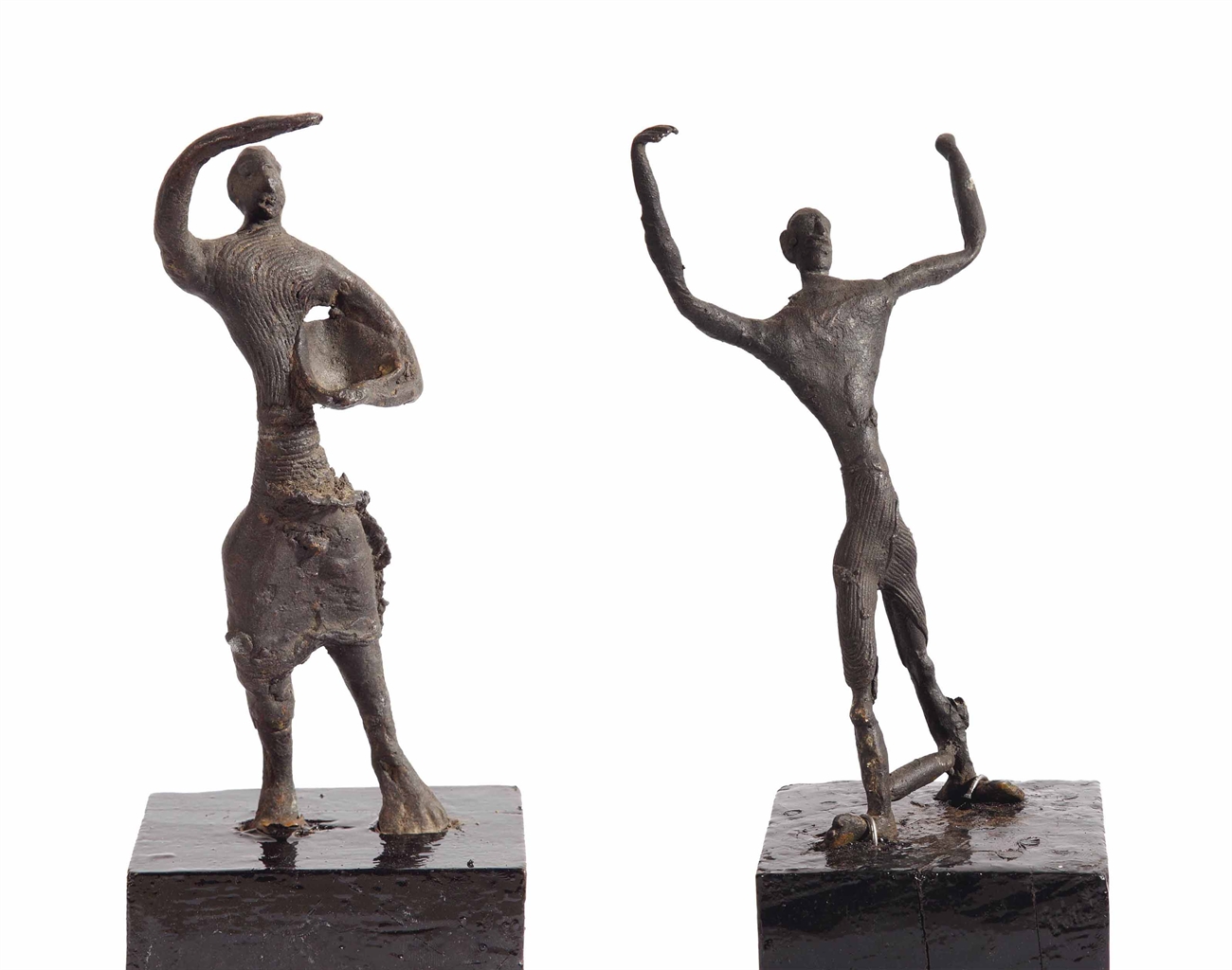 Meera Mukherjee, Untitled (Earth Carriers), bronze
Though not as active as some of these others in the pre-Independence art movement, Meera Mukherjee was in her 20s at the time of Independence and Partition, and was an inestimably important pioneer for women artists in the years immediately following -- a tradition that paved the way in what was a trandionally very patriarchal society for female artists of subsequent generations, from Zarina Hashmi to Nasreen Mohameddi, to Bharti Kher.
In 1947, the year of India's independence, Mukherjee left her hometown of Kolkata for Delhi, where she enrolled at the Delhi Polytechnic to study painting, graphics and sculpture. In 1953, she went to Munich, where she studied painting at the Hochschule fur Bildende. After a single term, she dropped painting for sculpture, the medium for which she would become best known.
Like many Indian artists of her generation, she saw what the collapse of colonial power had wrought, and was concerned with the nature of Indian identity in the context of independence, encroaching modernity, and its own deep, millennia-old cultural traditions. Her sculptural techniques drew from the "cire perdue" or "lost wax" method -- a 4,500-year-old technique practiced by traditional Bastar sculptors of Madhya Pradesh, from whom she learned directly. Still, she was innovator, and developed a process for bronze casting that derived from tradition but was totally her own.
Her bridging of past and present offered for her a deeper, more spiritual connection with the sculptural process. In that sense, her work was important not just in the history of women artists in India, but in terms of showing what was possible with art that was uniquely Indian, in a traditional sense, yet was as Modern as the sculptural work of Alberto Giacometti or Constantin Brancusi.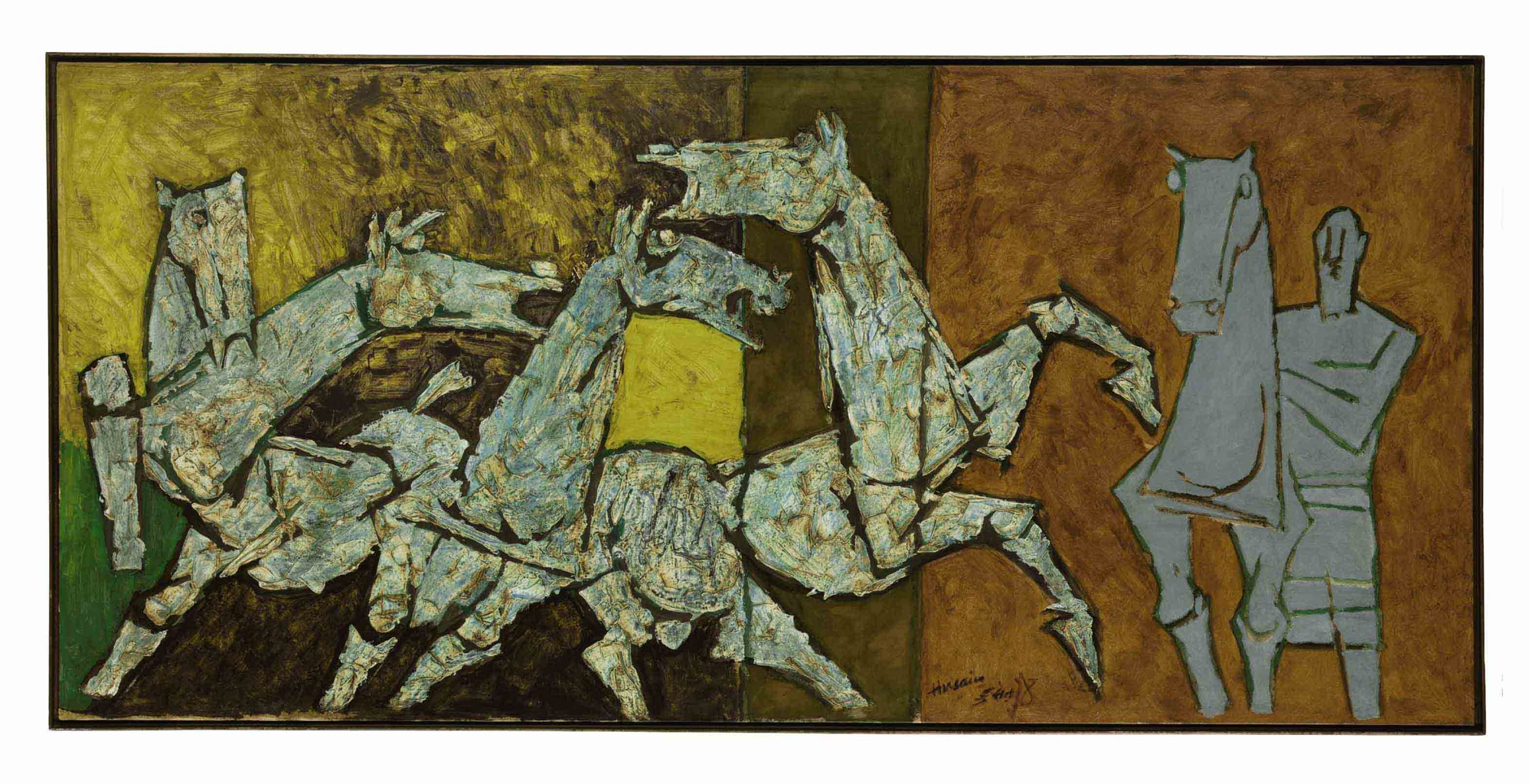 M.F. Husain, Sprinkling Horses, oil on canvas
Like Ara, M.F. Husain rose to become an undisputed master of early Indian Modernism from humble beginnings. Born in 1915, in Pandharpur, Maharashtra, India, he was a billboard painter in Mumbai before he was an artist. Over the course of his long, storied career, he managed to transcend regional constraints and stereotypes, forging a truly international level of recognition and style of Modernism that re-contextualized European movements of his time in sophisticated ways. Still he didn't ignore where he was from. The high modernism of his style -- in turns reminiscent of Matisse, Paul Klee and Picasso -- often depicted scenes and images from classic Indian history and mythology.
Along the way, he showed with Picasso and showed in major solo and group exhibitions right up till his death in 2011. But he was also very politically active. In 1947 he helped found the Progressive Artists' Group, itself a political act as much as an artistic one. Four decades later, he took the full political plunge, serving as a member of Indian Parliament from 1986 to 1982, ever championing the importance of art in social and political discourse.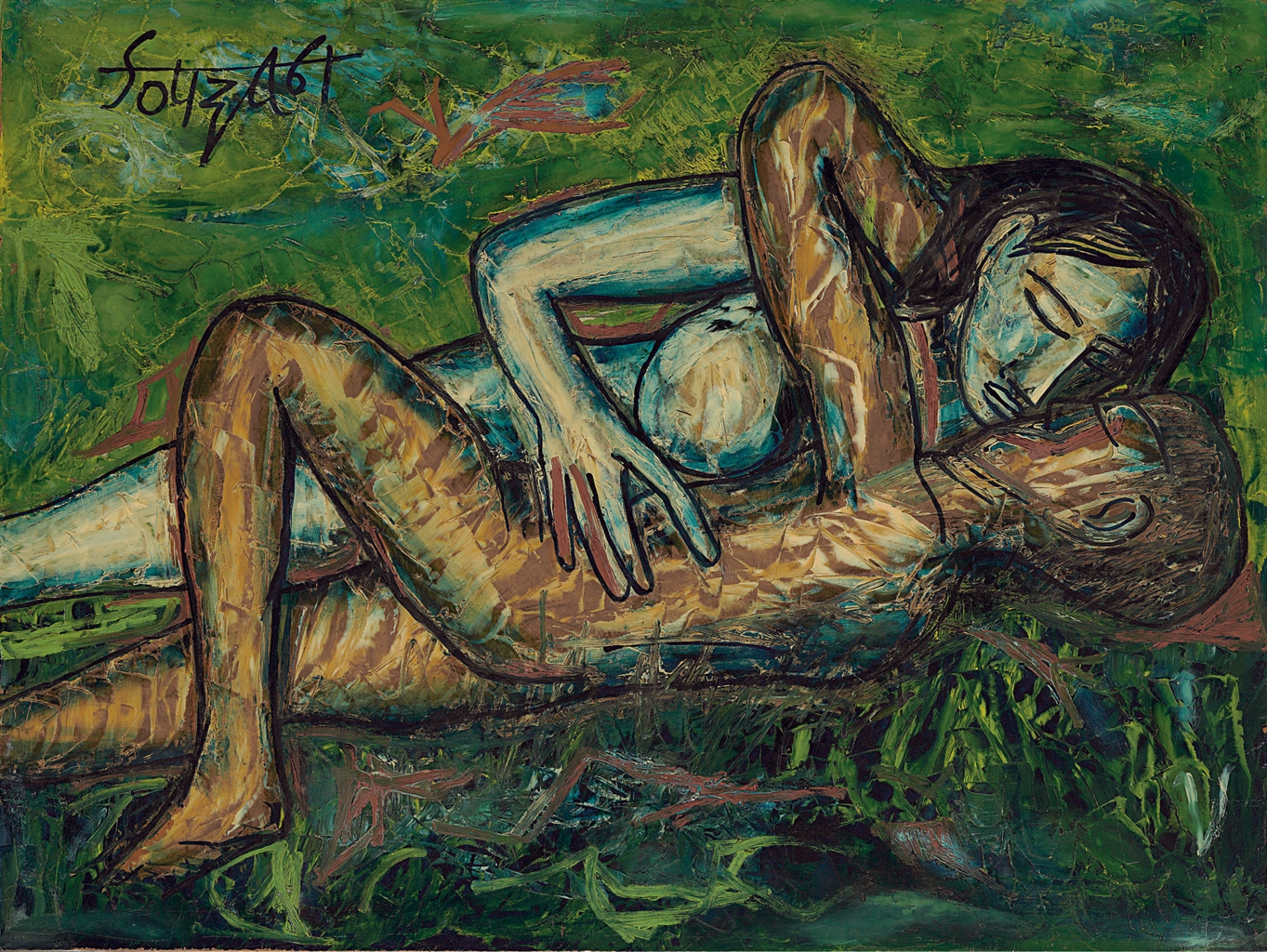 F.N. Souza, Untitled (Lovers), oil on board
"Francis Souza was my mentor," Husain once wrote. "I came into the art world because of him.[...] He is the most significant Indian painter."
Francis Newton Souza was born in Saligao, in Goa, India, in 1924, and like a lot of India's most important artists, studied at the J.J. School of Art in Mumbai. He was expelled, however, for his participation in the Quit India Movement -- a civil disobedience movement that called for the withdrawal of British colonialist during World War II, which was crushed by swift British actions, including mass imprisonments and suppression of the press.
It's perhaps unsurprising that his painting was characterized by an overt, sometimes violent sensuality that was dynamic, sometimes overtly sexual and intensely humanistic, obsessed with the body as a battleground between beauty and corruption, brutality and fragility. Like Husain, he was a founder of the Progressive Artists' Group (a group that also included seminal modernists like Tyeb Mehta, S.H. Raza and H.A. Gade, among others). Though no single artist's contribution dwarfed another's, Souza's was particularly crucial in articulating the group's identity and purpose. He wrote the group's manifesto, and, true to his rebellious history, was one of its most outspoken and influential members.
Souza's contributions to Indian art were immeasurable while he was India, but his later success as an expatriate artist were arguably just as important to the cause of Modern Indian art because they attracted such a broad, international audience. In 1949, just two years after independence, Souza left for London, where he supported himself partly as a journalist. In 1955, his solo show at London's Gallery One sold out; his recognition soared thereafter. He moved to New York, backed by the patronage of Eugene Schuster, of the London Arts Group gallery, where he received the Guggenheim International Award. Today, his work is part of the Tate Gallery in London's permanent collection, alongside the biggest names in Modern and Contemporary art history.
Popular in the Community