After a winter that included snow in unexpected places, and for Ohioans, a long and irritably still sticking its head in every once in a while, frigid season. Everyone is ready to enjoy the change in weather. Families are planning trips if they haven't done so yet, and vacation time is being assessed by many. Why not take a chance this year, and try your hand at the American Dream in Las Vegas.
Who doesn't dream of getting lucky every once in a while? Thanks to online gaming sites like William Hill, maybe the idea of spending money on travel, accommodations, and more simply to experience a Casino may have lost its luster for some, but it's still quite the experience.
John Katsilometes wrote, Casino hotels dominate the Las Vegas skyline and inside they are just as jaw-dropping, with theaters, clubs, art, restaurants, malls, and even the odd gondola ride.

The Mirage, which opened in 1989, is a tropical paradise. As a guest, you will walk through a glass atrium, enjoy the sound of the waterfall. Headliners have included Siegfried and Roy, Cirque du Soleil, and Terry Fator.
One that you should certainly not disclude, this classic Cassino is an incredible experience for any gamer in search of an incredible experience.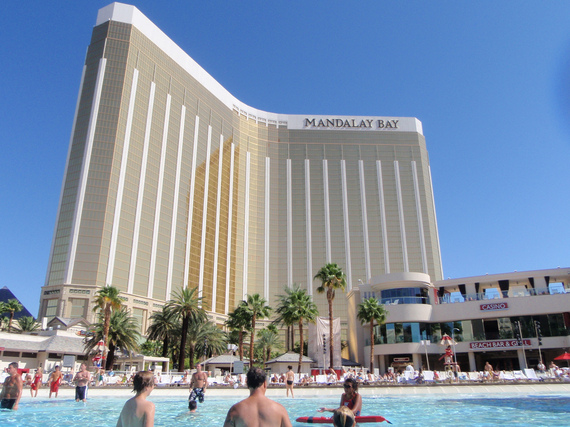 This 3,300 room mega resort is a hub for those in search of an incredible entertainment centered experience. With an events center that seats 12,000, the House of Blues, a Shark Reef, filled with sharks and exotic creatures, this is a one stop shop for a family in search of a great time!
The perfect choice for the party seekers, the Cosmopolitan has 2,995 rooms, a Marquee nightclub, 3-story party space, the Chandelier bar, a pizzeria, and Boulevard Poos, a concert and party center.
Known as the last standing haunts of the Rat Pack, Caesars Palace opened its doors in 1966. Performers that have graced it's 4,100-seat Colosseum, include Celine Dion, Elton John, Rod Stewart, and Mariah Carey.
Home to one of the city's finest sports books, Lagasse's Stadium, is the home of Lagasse's Banana Creme Pie Dessert. The Venetian-Palazzo is a great way to escape from within the city itself, thanks an elaborate entrance including gondoliers, and a waterway that cuts through a replica of St Mark's Square. From operatic performers welcoming you with tunes through a Grand Canal Shops.
Related