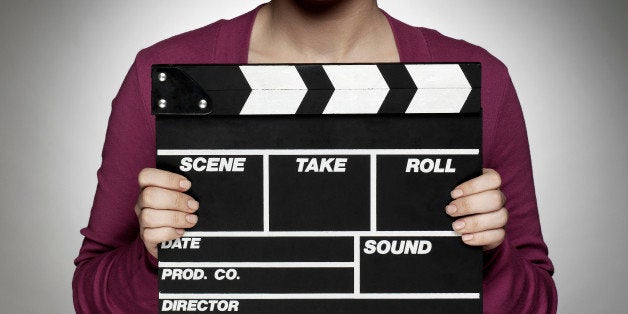 Can you feel the ground trembling under your feet? Can you hear the rumble of voices? The roar of applause? That's the Global Female Empowerment movement, baby. On the stage. In the spotlight. Headed for the White House. Women are rising up like never before. And I don't know about you, but I couldn't be more excited if it were raining chocolate-covered strawberries.
My first job, more than 25 years ago, was fashion modeling. I was a pawn in the big beauty industry conspiracy to make women feel inadequate and ugly. It only took me a year to realize that I needed to find a career that would lift women up, not bring them down. And I found that role as teacher and mentor to women in wellness.
But this isn't about me. It's about you. How much do you know about what women are doing to create a sense of solidarity and shared purpose? Are you gathering with your girlfriends to celebrate with us? Women's liberation did not die in the 70s after women got equal pay rights and reproductive protection. Feminism has been simmering in the shadows for decades and has emerged as one of the most powerful movements of our time.
Here are 5 incredible films that you need to watch right now to get you fired up about female empowerment:
Dream Girl is a documentary film showcasing the stories of inspiring and ambitious female entrepreneurs. The mission of the filmmakers is to make women's most audacious dreams attainable. It was screened at the White House as part of the lead-up to the United State of Women Summit and premiered at the Paris Theatre in New York City on June 10, 2016 to a sold-out house. From brand new startups to million dollar industries, it's time we stop telling girls they can be anything they want to be and show them what it means to be a leader.
Girl Rising is an innovative feature film about the power of education to change a girl - and the world. The mission of the filmmakers is to change the way the world values the girl and ensure that girls' education is part of the mainstream conversation. Millions have seen the Girl Rising film. Its message is spreading across campuses and communities around the world. What girls want most is to be students - to learn. And now, by sharing their personal journeys, the brave girls of Girl Rising have become teachers.
3.She's Beautiful When She's Angry
She's Beautiful When She's Angry resurrects the buried history of the brilliant women who founded the modern women's movement from 1966 to 1971. The mission of the film is to inspire women and men to work for feminism and human rights. The film has had theatrical runs in almost every state, and in many cities, sometimes running for weeks. Seeing is believing. To see She's Beautiful When She's Angry will help all women believe themselves and each other.
Miss Representation explores the way that the media sells us the idea that girls' and women's value lies in their youth, beauty, and sexuality and not in their capacity as leaders. 73% of people said that watching Miss Representation changed their opinion about the way in which women are represented in the media. Using film as a catalyst for cultural transformation, Miss Representation inspires us to challenge and overcome limiting stereotypes so that everyone, regardless of gender, race, class, age, or sexual orientation, can fulfill their human potential.
Through intimate interviews, art, and rarely seen archival film and video footage, !Women Art Revolution reveals how the Feminist Art Movement fused free speech and politics to radically transform the art and culture of our times. The film highlights the history of those brave women who were told to give up their dreams, and instead started a revolution. With the rising female empowerment movement, a review of the rocky road traveled in pursuit of gender equity could not be timelier.
Luckily, the women in my family gave me the courage, confidence and audacity to believe that I could accomplish anything. And I've never doubted that. Even when I've fallen down face-first, over and over, I could hear my mom whispering in my ear, "You can be anything that you want!"

And now I am telling you: You can run every aspect of your life. You can be free and independent. There has never been a better time to be empowered, self-reliant, and rich in every way!
What other feminist documentaries would you recommend? Sound off in the comments below.
Related
Popular in the Community