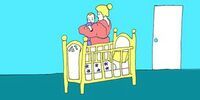 Parenting is tiring. And while we've all heard that well-meaning advice, "Sleep when they sleep," wouldn't it be nice if someone told them that? Yeah, baby, you heard me, how about you sleep when I sleep? And guess what, baby, I like to sleep at night. All night long. Can you please just get with the program?
Even if your baby hasn't gotten the memo yet (what, baby, you don't know how to talk yet? WTF?), don't worry, we've got a few tricks up our sleeve. Here's 5 baby bedtime tricks that will get you both on the road to sleeping through the night.
1. Leep Baby LED Lamp Bulb
Think of this lamp as a (totally healthy) sleeping pill for baby. Two hours before bedtime, turn off artificial blue lights (that's you, TV, computer and iPhone) and turn on the Sleep Baby lamp. This light bulb was designed to encourage the brain's production of melatonin, preparing the body for sleep and regulating natural circadian rhythm. It's also perfect for midnight feeds and changes -- bright enough to do your job, but dim enough to keep baby sleeping. $29.95, Buy it here.
2. Baby Shusher
If you've done your baby sleep homework, you'll recognize "shushing" as one of the magical "S"s from Dr. Harvey Karp's "Happiest Baby on the Block" book. But doing it yourself is for suckers. The Baby Shusher makes loud, rhythmic shushing noises that you can set at either 15- or 30-minute intervals to help calm your baby. $34.99, Buy it here.
3. Rockabye Baby Lullabies
There's a reason we adults don't listen to lullabies -- they kind of suck. Rockabye Baby lets you introduce your little one to your own favorite tunes, albeit in a baby-fied version. There's literally dozens of albums to doze off to, from Fleetwood Mac to Jane's Addiction to Kanye West. And if you're really really really tired, you can't even tell the difference from the real thing. $14.99, Buy it here.
4. Overnight Diapers
If you've ever picked up your little one for a midnight change and found he weighed double his bedtime weight, you might want to invest in overnight diapers. Sure, they're a little more expensive (hide these suckers where your sitter won't accidentally swap them into daily rotation), but they're also super absorbant, so baby can pee-pee peacefully and keep on sleeping. $10.99, Buy it here.
5. The Rabbit Who Wants to Fall Asleep Book
It's never too early to use reading as the anchor to your bedtime routine. This book one-ups all the rest: it uses a specific language pattern based on psychological techniques that helps soothe (read: hypnotize) your little one to sleep. If you've got bigger kids, try pediatric sleep expert Carolina Romanyuk's Goodnight Melanie! Good Morning Cory! which teaches your little ones why you need sleep. Buy The Rabbit Who Wants to Fall Asleep ($20), and BGoodnight Melanie! Good Morning Cory! ($14.99).
Please share your opinion below! For more original content, check out Well Rounded NY.