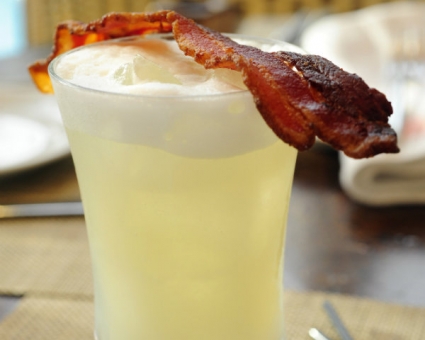 It seems like bacon is taking over the world these days. The cured pork doesn't seem to be OK with sticking to the breakfast food department and instead is creeping into some unexpected facets of our diets, and YouTube sensations like Epic Meal Time add it to everything from lasagna to nachos. Bacon is one of those food items that we can't seem to shy away from -- it just makes everything taste that much better! Whether you're adding it to your eggs in the morning or your burger at dinnertime, it seems like the perfect addition to any meal. And now, it's in your happy hour drink. (Photo Credit: FIG Santa Monica)
That's right, bartenders and mixologists have caught onto the bacon trend, and we're totally into their creative innovations. Joining the bacon game is FIG Santa Monica, which introduced two new cocktails that have us drooling, with names like "Eggs and Bacon" and "War and Peas" and creative flavors like house-infused bacon gin, honey lavender syrup, Sugar Snap Pea Karlsson's Vodka, and crispy prosciutto. And it should come as no surprise that the folks out west at the Broadmoor in Colorado Springs, Colo. have hit the scene with two bacon cocktails that we're chomping at the bit to make on our own during the holidays -- get a load of "Bacon 'n Eggnog" and the "Candied Bacon Maker Cocktail." The later uses bacon-infused Maker's Mark -- yum! And there are more drinks out there that we can't wait to get our hands on.
When bacon-infused alcohol hit the scene with products likeBakon Vodka, bartenders and mixologists across the country immediately began to realize that infusing normal liquors with the meat could create a whole new world of cocktails. Bacon is frequently featured in cocktails like Bloody Marys and now you can add a creative twist by spiking the tomato juice with bacon-flavored vodka rather than using ordinary vodka. The trend is definitely catching on and we're excited to see what other bacon-flavored drinks the pros can come up with!
More Content from The Daily Meal: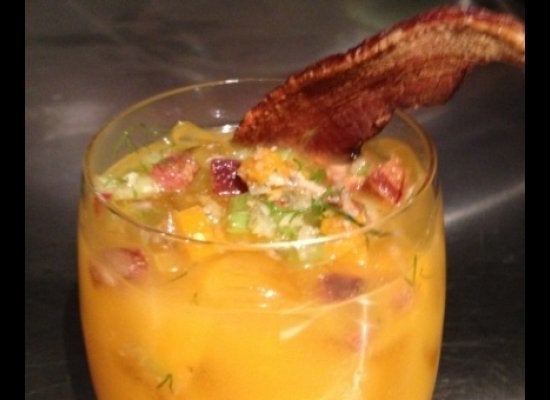 5 Bacon-Inspired Cocktails (With Recipes!)
Related