There's really no excuse for staying home when you could be traveling. Seriously, what's holding you back? Money? Your job? A significant other? There's a big wide world out there waiting to be explored.
Ahead, we're debunking five of the worst excuses for not traveling. Don't pass up the chance to have extraordinary experiences because you buy into these myths. Next time you're on the fence about whether to plan a trip, go ahead and jump over it.
So, grab your maps and travel apps and hit the highways, skyways, and rails -- right this very minute. Ready? Let's jet.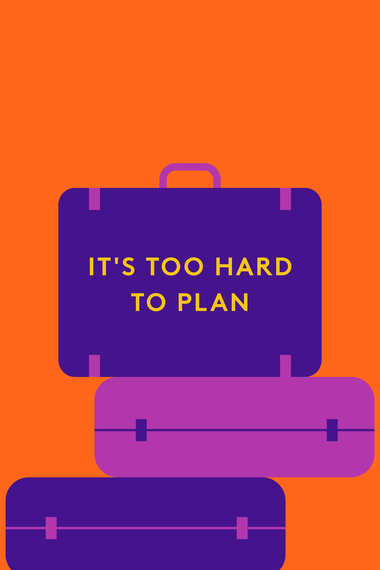 Come on, now. Don't pull the too-hard-to-plan card. Life is hard -- deal with it. Travel is supposed to be fun. Even though I'm a seasoned traveler, I often tap the talents of a traditional travel agent. Why? I'm skeptical of online reviews and a travel agent can reveal the good, bad, and ugly of a hotel or destination from a balanced, well-researched perspective. If they want repeat business, it's in their best interest to steer you in the right direction.
Also, when it comes to travel planning, I turn to TripIt. The travel app combines all your travel confirmations, itineraries, and ticket information into one central place. You can grab the TripIt mobile apps for iOS, Android, and other platforms, here. When I'm searching for flight deals, I turn to Skyscanner. It compares the best deals for both domestic and international flights across all possible airlines. Nowadays, there are countless apps and websites available to help organize travel plans. Use 'em and stop that travel-planning kvetching now.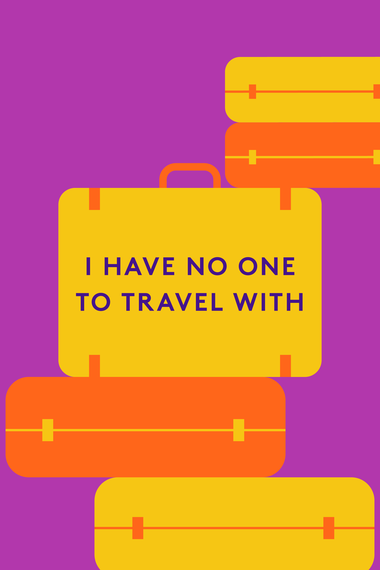 "The easiest way to meet people is to travel solo," says Sherry Ott, the nomadic solo female wanderer behind Ottsworld. The number of people taking solo trips is increasing every year, with more than half (59%) of agents polled by Travel Guard noting that they've seen more of their clients are traveling by themselves compared to 10 years ago.
"Solo travel forces you to make friends and talk to others, and it's more likely that people will approach you and befriend you when you are traveling solo -- especially other solo travelers!" Ott adds.
If you need a push to travel alone, bear in mind that just because you depart solo doesn't mean you are going to be doing everything solo. She suggests signing up for a food or walking tour as soon as you arrive to meet other solo travelers you could potentially befriend. Or, travel with one of the many companies that specialize in small group travel.
"You'll find that the majority of the group will be other solo travelers," says Ott. "The best part about making friends as you travel solo is that many become lifelong friends that you can go visit in their home country [or] city later on!"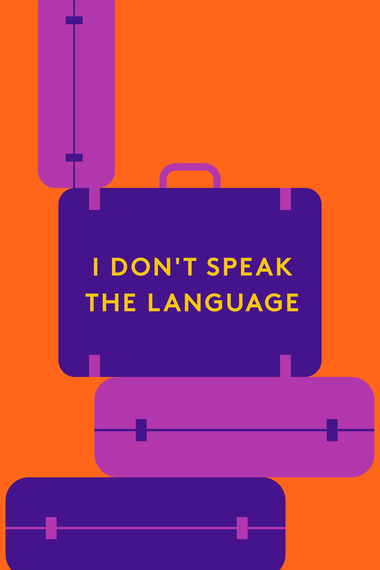 Spencer Spellman, founder of Whiskey Tango Globetrot, thinks the old "I Don't Speak The Language" travel excuse is past its time. "While technology has made travel so much more accessible, it's even more so made savvy travel so much more accessible, especially in the way of learning languages," he says. Spellman met a traveler recently who frequently uses the Google Translate app, since it can translate what you type, speak, or photograph. "There are also apps like TripLingo, which has features like a voice translator, phrasebook, audio lessons, and tip calculator, among other features," he says.
For longer trips, he's even taken language classes in the destination. "If you really want to go local, some destinations afford the opportunity to stay with a family that you're learning the local language from," says Spellman. "It doesn't get much more immersive than that."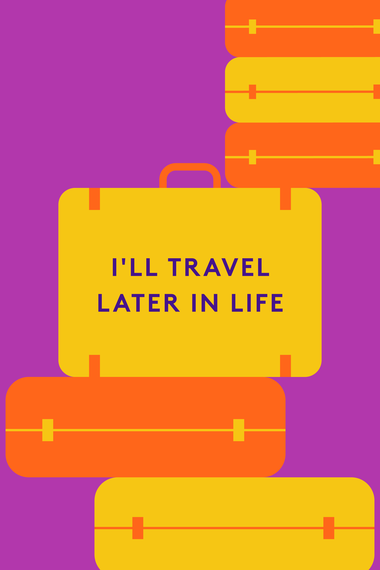 Valerie Conners, founder of the popular travel blog Passenger Conners, understands why people cling to the idea that they can put off travel now: They think they'll have more time for it later in life.
"There's no guarantees in this life -- none," says Conners. "You might get sick, injured, or find yourself in the role of full-time caretaker for a partner or relative. You have no way of knowing today where you'll find yourself in 20 years, much less two years." Any of these scenarios could hinder your ability to travel later in life, she points out. "Poof! All your future travel plans will be relegated to 'a dream you once had' status."
When Conners left her corporate job five years ago to backpack for a year around the world, she frequently encountered retirees and older travelers. "When they heard what I was doing, almost all of them said the same exact thing: 'Good for you; I wish I had traveled when I was younger.'"
In other words: Ain't no time like the present.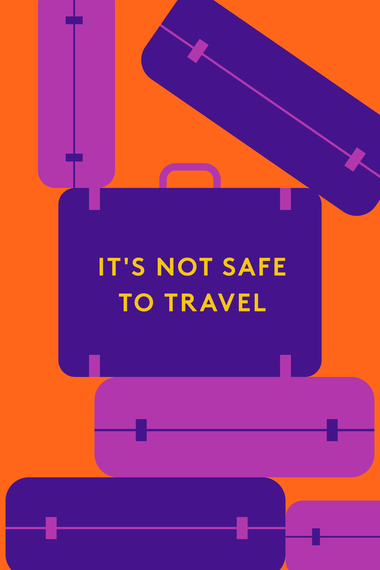 As long as you are appropriately cautious, "It's no less 'safe' to travel now than it has been at any other time in history," says Matt Villano, the writer behind the family travel blog, Wandering Pod.
"Shit happens. Everywhere. At any time. When you leave your comfort zone and explore the world, you open yourself up to all sorts of risk. AND THAT'S WHAT MAKES TRAVEL EXCITING," Villano says. And so does the prospect of learning new things, meeting new people, and experiencing new cultures, he adds.
Perhaps Joe Diaz, cofounder of AFAR Magazine, said it best in this post: "Life shouldn't stop because a group of terrorists says so."