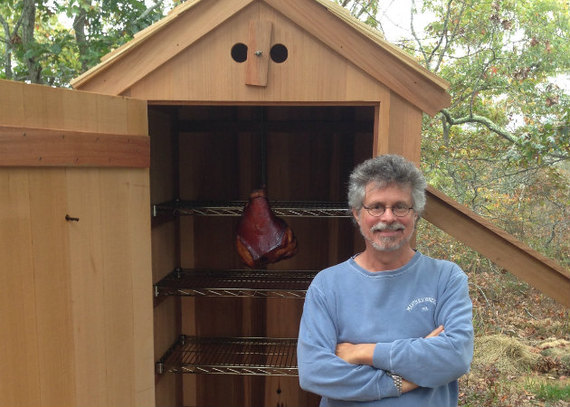 Happy New Year, everyone! 2015 was an incredible year for barbecuing and grilling. 2016 promises to be even better. Here are five trends I believe will shape the world of live fire cooking in the next 12 months.
Smoking is the new grilling. It used to be that most backyard smoking took place in the American barbecue belt. This year, thanks to the proliferation of affordable, easy-to-use smokers, smoking will go mainstream. After two decades of transforming our backyards into outdoor kitchens, we'll install smokers in their rightful place -- next to the grills owned by more than 75 percent of American families -- and we'll start smoking competition-quality briskets, bacon, and pulled pork at home.
Your grill will talk to your phone. Old-timers do it by feel: the way spareribs bend and tear when you lift the rack with your tongs. Or the shoulder blade pulls out of a Boston butt when you give it a gentle tug. This year, more than ever, we'll rely on high-tech electronics to mastermind our smoking and grilling. Airflow regulators, like the BBQ Guru, to set the temperature of a ceramic cooker to the precise degree for overnight smoke sessions. Wireless thermometers, like the Maverick ET 737, that broadcast the temperature to your smartphone. Smokers like the Char-Broil Simple Smoker with SmartChef technology can be controlled with those same smartphones. The ultimate high-tech live fire cooking machine? The new voice-activated "SmartGrill" by Lynx.
Deli dials home. Hot pastrami. Cold-smoked salmon. Kippers. Smoked ham. All used to require a trip to your local delicatessen. As more and more Americans acquire smokers, we'll start preparing these deli classics at home. One of our most popular blog posts last year focused on home-smoked pastrami. Another was on salmon candy and hot smoked salmon. And thanks to devices like the Bradley Cold Smoke Adapter and Traeger Cold Smoker, we're even attempting cold-smoked cheese, jerky, ham, and Nova Scotia-style salmon.
Lesser known steaks. T-bones? Been there. Rib-eyes? Done that. This year we'll discover some amazing lesser-known steaks. Like the terres major (a.k.a. shoulder tender or "mock tender") -- a super tender muscle cut from the shoulder second only in tenderness to a beef tenderloin. Or the flat iron (a.k.a. top blade steak) -- another shoulder cut remarkable for its tenderness, soft texture and generous marbling. Then there's the bavette (sirloin flap) -- a long fibrous steak that hangs from the steer's underbelly and is popular at French bistros. And the ultimate steak? That would be Argentina's tapa de ojo: the uber marbled rim of a rib-eye steak.
Wood-burning grills in top-flight restaurants. You know there's a revolution brewing when three tony new restaurants with massive wood-burning grills as their focal point open within 8 square city blocks in your home town. That's what's happening on Miami Beach with the recent opening of Tom Colicchio's Beachcraft at the One Hotel (fired by the largest Grillworks wood-burner in the U.S.), Klima, with its charcoal-burning combination Josper grill-oven from Spain, and the soon-to-open Los Fuegos by South American grill master Francis Mallmann. Elsewhere in the U.S., check out Parts & Labor in Baltimore, OX in Portland, Oregon, and Aestus in Los Angeles.
SIGN UP for Steven Raichlen's UP IN SMOKE newsletter to learn more about barbecue!
Steven Raichlen is the author of the Barbecue! Bible cookbook series and the host of Project Smoke on public television. His web site is BarbecueBible.com.