I used to dread swim season. I hated putting on a swimsuit, and spent so much time and energy worrying about what other people would think of how I looked.
"If I could just lose some weight and change my body, I'd feel so much better!" I told myself.
But it wasn't that my body that needed to change. Rather, I needed to change how I felt about my body. Even though I've actually gained weight over the past 10 years, I feel way more confident in a bathing suit now than I ever did then. Now, I can't wait for beach and pool days!
I'm choosing to love my body harder than ever before this swim season, and I think you should too! So I've rounded up five essential suits for plus size women looking to have the best summer ever!
1. The Swim Siren's One Piece!
Every woman needs a one-piece bathing suit that makes her look like she rolled up to the pool in a giant clamshell. The Profesora White Swimsuit from the Ashley Graham x Swimsuits for All collection has flattering cut-outs, blingy, bust-enhancing lace-up detail, and beautiful lines that hug your curves and make you feel like a mermaid! To some, a white swimsuit sounds like nothing short of a nightmare. But this white material is completely wearable AND figure-flattering, despite the fashion myths we've been taught (such as, "dark colors are more slimming").
2. The High-Waisted Bikini!
The Waiola Plus bikini from Adore Me just might be the perfect bikini for plus size women! The show-stopping cage neck design is super supportive. The bottoms cut right at the smallest part of the waist, and provide just a tiny bit of compression for a very flattering effect. And let's be honest, the lower tummy is pretty much no one's favorite area of their body, regardless of size. So having a little coverage in this area while still being able to feel sexy and youthful is a huge plus!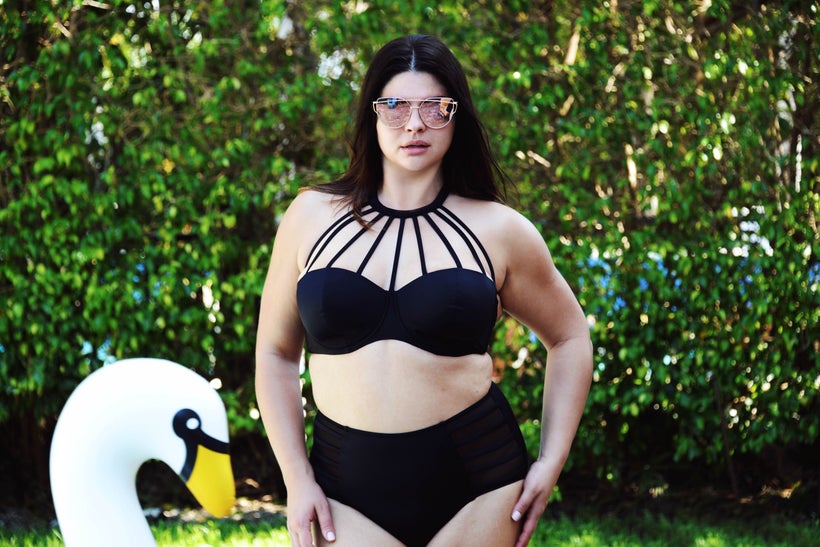 3. The Skin Tone-Enhancing Head Turner!
No matter what your skin tone, there is a color out there that matches it perfectly and will make your unique beauty shine. For me, the Victoria one piece in "Creamsicle" from Becca Etc. swimwear is just that! While previously, I may have shied away from a light-colored swimsuit, because "dark colors are more slimming," I loved how this color made my tan pop. The lace-up detail around the bust is also super flattering, without being overly revealing.
4. The Curve-loving Bikini!
Whether you're a size 6, a size 16, or a size 32, you deserve to feel like a million dollars and rock your beautiful curves! Thankfully, in 2017 there are a plethora of options available to women of all sizes who want to rock their curves in a skimpy, curve-loving bikini. The Beach Babe Marble bikini from Swimsuits for All is my fav pick. I definitely felt supported enough to go anywhere and take on any activity in this suit, from sunbathing to beach volleyball to diving off the high dive. This bikini was definitely designed with the active, curvy woman in mind!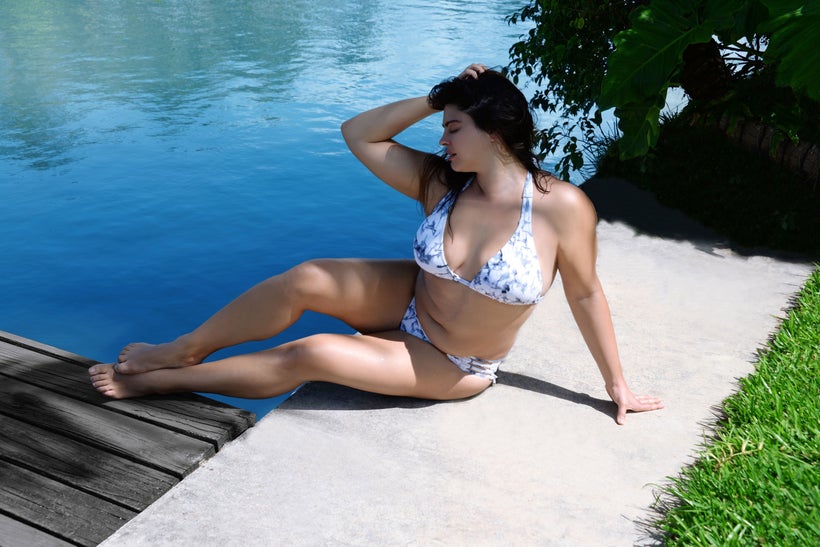 5. The Flirty, Sexy Swim Dress!
"My upper thighs are my favorite part of my body!" Said no woman, ever.
But thankfully, there are some sexy options out there for women that would prefer a little more coverage on that area of her body, like this swim dress from Always for Me. And even if you're like me, and tremendously body positive, there are still times when the swim dress might be a great option! Such as when you're around children, or at a multi-generational gathering with older relatives who have more conservative views, or a work event that involves being in a swimsuit.
I wear the swim dress here with pretty minimal styling, but this suit is great because it's basically a pool-friendly little black dress that you can dress up, dress down, or accessorize depending on the occasion, and your personal aesthetic!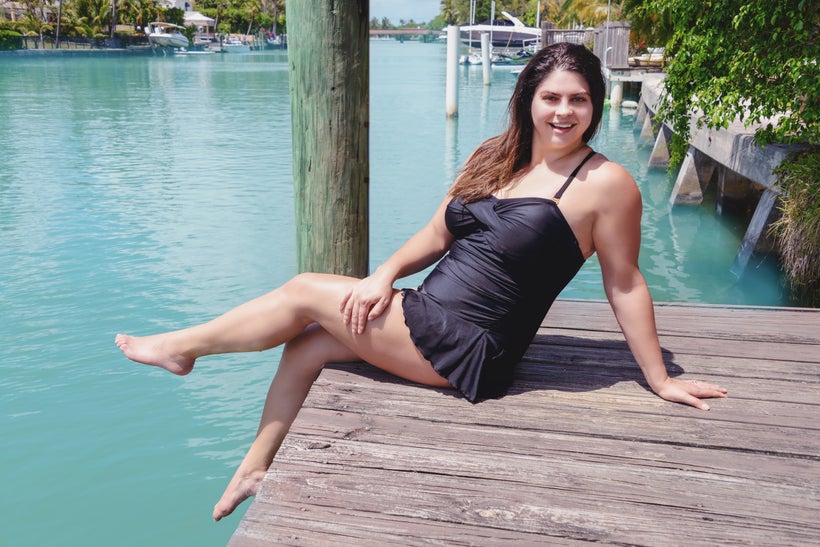 No matter what style you choose, the most important thing to looking good in your swimsuit this summer is to love your body harder than ever before!
For more inspirational content like this, and to receive a weekly dose of Body Love, visit melparrish.com and sign up for the #healthyatanysize community.
REAL LIFE. REAL NEWS. REAL VOICES.
Help us tell more of the stories that matter from voices that too often remain unheard.
This post was published on the now-closed HuffPost Contributor platform. Contributors control their own work and posted freely to our site. If you need to flag this entry as abusive,
send us an email
.