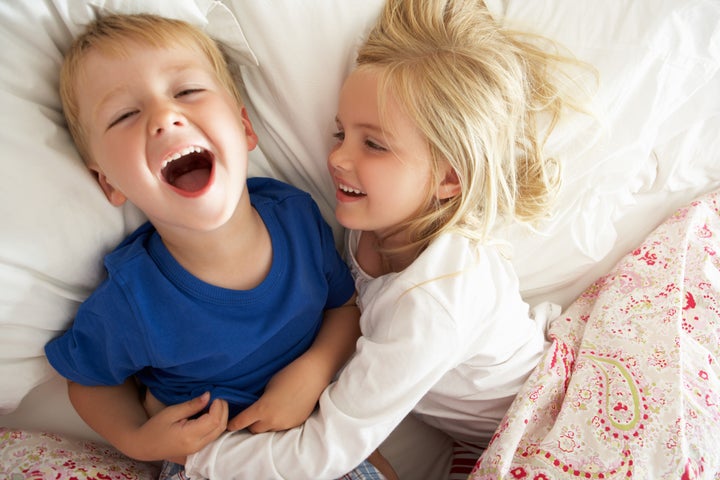 Little brothers: the quintessential pain in the ass. Ask my daughter and she will tell you there are exactly 0.00 benefits to having a little brother. As someone with two older sisters and no brothers, I beg to differ. As I watch the dynamic between my daughter and son, I see all the ways that cohabitating with this crazy little male creature benefits her... whether she's willing to admit it or not.
It makes her an even tougher cookie. It's old news that boys are more physical than girls, and being a mother to both, I bear witness to this truth every day. Even when my kids are playing happily, my son will happily kick my daughter with enough force to bruise her... with zero malicious intent. With this loose cannon under our roof, she's learned to be on alert at all times, brace herself (also at all times) and handle pain like a true champ. And while she loves to look pretty, she is in no way "prissy." There is a special brand of mischief my daughter is now privy to thanks to her little bro; she's not scared of or grossed out by dirt, bugs, bodily secretions, etc. After being forcibly exposed to such things by her little brother, she sees they're actually quite fun.
There's endless entertainment. As infuriating as having a little brother can be, it's also like living with a mini SNL cast member; a young Will Ferrell at his slapstickiest. (I'm pretty sure my son has screamed "Mom, the meatloaf!" at me, and he's never even seen Wedding Crashers.) Farts, burps, poop, boogers...it's all up for discussion at any moment. My daughter doesn't want to give her brother the satisfaction cracking up at his antics, but when he asks what we think robot farts sound like (complete with sound effects) in the middle of dinner, not a one of us could stop from LAUGHING OUT LOUD, especially my daughter.
She gets insight into the male mystique. Ok, so I know male mystique is not an actual thing. Still, at 8, my daughter is beginning to understand the workings of the male mind, which is a lot more than I knew when I started dating. She knows if her brother or father are hungry, WE ALL SUFFER, so she will make her brother a bowl of cereal in the morning if they are both up before us. She also possesses a comfort talking to and interacting with boys -- about "boy stuff" -- that her brotherless peers do not. She's got every boy in her class eating out of the palm of her hand because she can recite all the Pokemon point values, and she has her brother to thank for that.
She gets ample sights of the male physique. To put it bluntly, my daughter's seen more penis by 8 than I did by 18. By a loooong shot. (No pun intended.) While this may seem a dubious "benefit" (I don't want her to be too comfortable with the male physique), this constant exposure will likely be spare her from the abject terror I felt during my first sexual encounters.
She is loved by a male that's not her dad. Through all the bickering, Lego throwing and stuffie stealing, my son still adores his older sister. Adores her in that pure, guileless way that boys can love a girl. He is her champion, and wants her to be happy (most of the time). She knows her dad thinks she's the bee's knees, but to have this other dude love the crap out of her and think she's the coolest, smartest chick he knows is an extra self-confidence boost she'll take with her into adulthood... whether she'll admit it or not.