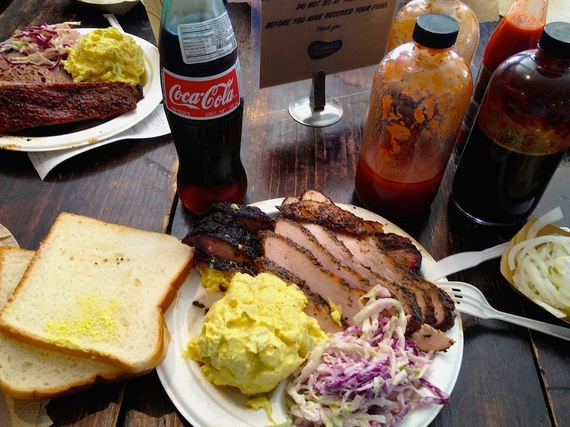 The great debate over who has the best barbecue is a hot topic for aficionados. While some prefer Texas brisket, others swear by sweet and tangy Southern-style ribs. Our vote? We love it all! However, we do have our favorite places when it comes to pigging out on plentiful helpings of juicy, tender meat. Check out GAYOT's 5 Best Barbecue Restaurants to find sanctuaries of slow cooking from Kansas City to Atlanta.
Pitmasters pile wood-smoked meats onto slices of white bread painted with sauce at Arthur Bryant's Barbeque in Kansas City. All the bases are covered when it comes to traditional sides: Creamy coleslaw made from finely shredded cabbage, meaty beans and fresh-cut, peel-on french fries.
Atlanta's Fox Bros. Bar-B-Q hits high marks in all genres of barbecue. With a moderately spicy rub, the meaty ribs showcase a slightly pink "smoke ring" below the surface crust -- a tell-tale sign that they've been cooked low and slow over a wood fire.
At Franklin Barbecue, brisket is slow-cooked for a full 18 hours at a low temperature. The result is seemingly impossible tenderness. Those in the know realize that long lines are an everyday occurrence, and if you're not queued up before noon, odds are that the food will be sold out before you order.
A major pig-out awaits at DC's Hill Country. Fill up on flavorful ribs, a selection of sides to keep your barbecued meats company and ultra-creamy banana pudding.
In 1925, Bob Gibson nailed oak planks to a large sycamore in his backyard and started cooking barbecue. Now the fourth generation of the family continues to delight diners at Big Bob Gibson Bar-B-Q in Decatur.
Related