Even though it is located in the North East, New York City can have some oppressively hot days and nights that can only be escaped by either retreating into the confines of a room with the A/C on full blast or by heading to the Hudson or East Rivers to bask in the rivers' life sustaining breeze. Most New Yorkers try to avoid staying indoors as we spend most of winter there hiding from the elements so the only real option is to head to the river. New York City is full of hidden and mostly unknown riverside bars that are perfect for any hot summer day or night. Below are 5 of the top bars that only the most seasoned New Yorkers know about and are sure to improve any summer day.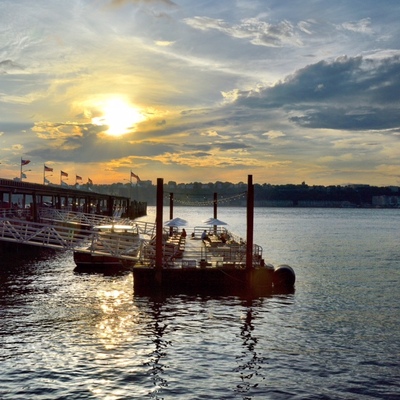 Boat Basin - West 79th St. New York, NY:
Located right underneath the West Side highway this bar is probably as low key a restaurant/bar you are going to find anywhere in the Upper West Side. It resembles more of a Florida dock bar than Manhattan hot spot, serving up cold beers and margaritas in an all open air environment. The food served here is simple, sticking to all the classic cookout foods like burgers, dogs, and sandwiches served to you in mostly plastic patio furniture. The laid back atmosphere, huge outdoor space, and relatively cheap drinks are all selling points but the top reason to visit might be the amazing view you get of the Hoboken skyline which makes sunset the absolutely perfect time to go visit Boat Basin.
North River Lobster Company - Pier 81 W 41st St. New York, NY:
Another low key bar located on the banks of the Hudson that has beautiful views of the New Jersey shore but lacks the crowds that you normally see with similar locations like the Frying Pan. The bar here is about the size of a ticket taking window and is easy to find as the walls around it are full of ocean buoys. The seating here is rather unique as they dock floating in the water connected by a walking plank which gives you a perfect place to catch a sunset. One of the unique aspects of this bar is that it also has a boat which casts off ever hour and a half whose main feature besides the free ride is amazing seafood like peel and eat shrimp, fried shrimp po' boys, or lobster rolls. So not only can you get a cold beer and soak up the last rays of sunshine on a perfect summer night but you can also get a tour of the Hudson river on a boat while eating some delectable seafood.
Crows Nest at the Water Club - East River 30th Street New York, NY:
Located on the East River right in midtown, this is a small area within a fantastic restaurant. Located on the upper deck of the Water Club, this outdoor location is a perfect spot to take in amazing views of the Manhattan and the Brooklyn/Queens coastlines while sipping on cool summer drinks. Only open during the summer season, this bar features a casual outdoor menu which is in contrast to the more formal dining found below at the Water Club. If you are looking for a casual yet classy place to grab a drink in midtown during the summer, than this is your perfect spot.
La Marina - 348 Dyckman St New York, NY:
The only location located in the upper end of Manhattan, this Washington Heights location has great views of the George Washington Bridge and the Pallisades Park in New Jersey. There are several different areas at La Marina where you can catch river views and grab a drink to watch the sunset over the GW Bridge. Day or night this is a great place to relax and enjoy some time next to the Hudson River and is far enough away from central Manhattan that most tourists won't venture this far. Also, with $5 happy hour drinks, it becomes an affordable place to grab a cocktail especially by New York standards.
Anable Basin Sailing Bar & Grill - 4-40 44th Dr, Long Island City, NY:
The closest thing you are going to find to a snack bar in all of New York City and couple this with the fact that this bar is off the beaten track and has one of the more perfect views of the Manhattan skyline makes a trip here completely worth it. Serving a very simple menu of items like burgers, hot dogs, and corn makes this location about as casual as you are going to find in the city. The seating is basically simple picnic tables lining the Queens side of the East River but what this bar lacks in decor in more than makes up with a view. Being able to look almost unobstructed of the Manhattan skyline while sipping on a cold beer makes this the perfect place for any summer night.
Related
Popular in the Community