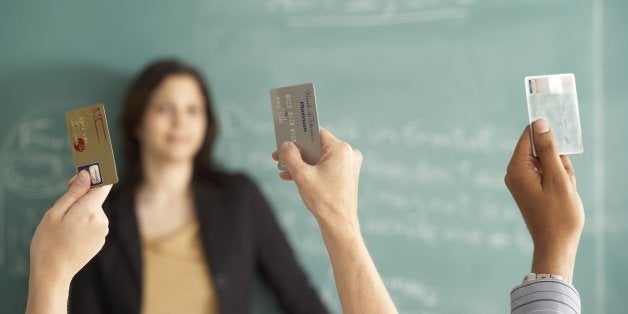 When you toss your cap in the air on graduation day, the world feels like it is at your feet. You're ready to enter adulthood armed with a degree from college, you've got a few job prospects and life feels pretty sweet. That's until you go to buy your first car and realize that the one thing you didn't do in college was build yourself a solid credit record.
College students have it rough these days. Not only are they graduating with massive amounts of student loan debt, but also they are nowhere near prepared for the financial responsibility of living life. In fact, many millennials have sworn that they will never get a credit card, but that kind of logic doesn't yield a strong financial future.
Most Millennial graduates who have their first job are concerned about just paying bills, but those that are on the lookout for credit card options are demanding features similar to their "adult" card counterparts.
According to Matthew Goldman, CEO of Credit Card Optimizer at Wallaby Financial, "New graduates are more concerned than ever about finding credit cards that offer reasonable fees and a strong rewards program."
These five cards all offer just that -- reasonable fees and strong reward options.
1. Journey Student Credit Card from Capital One - This is a solid card for new grads that offers 1% cash back on all purchases, plus a 25% bonus on the cash back you earn each month you pay on time. There is no annual fee with this card and no foreign transaction fee. Great for those wanting to travel to Europe after college.
2. Citi ThankYou® Preferred Card for College- Citi is known for it's ThankYou platform, and on this card you can earn 2,500 ThankYou Points after spending $500 within the first 3 months of opening a card. If offers a competitive 0% APR for the first 7 months, not to mention the opportunity to earn 2 ThankYou Points per dollar spent on purchases for dining at restaurants and entertainment.
3. Discover it for Students- Discover has been a great mainstay in offering credit cards for new grads, and this card certainly delivers. You can earn 5% cash back in categories that change each quarter, double cash back on earnings the entire first year and 0% APR for 6 months on purchases.

4. BankAmericard Travel Rewards Credit Card- If you ask any millennial what they want to do right out of college, the answer is always travel first. Millennials want to enjoy life, not wait until they are retired to see the world. This card offers benefits like online exclusive 10,000 bonus points if you make at least $500 in purchases in the first 90 days (hello $100 credit towards travel), 0% APR for the first 12 months, 1.5 points for every $1 you spend and no silly foreign transaction fees.

5. BankAmericard Cash Rewards Credit Card for Students - Cash is still king, and with millennials known as the "saver generation," they can certainly appreciate this card. This card is a solid option for new grads offering 1% cash back on purchases, 2% cash back at grocery stores and 3% on gas for the first $1500 in combined purchases each quarter. As a bonus, enjoy a 0% introductory interest rate for 12 months.

Goldman's advice for new grads, "Find a card with no annual fee and make sure you understand how to use the card properly. Since this is your first card, use it to charge predictable monthly expenses like your cable bill, cell phone or Netflix monthly fee. They are easy to pay off, and have the added benefit of creating a positive credit history."