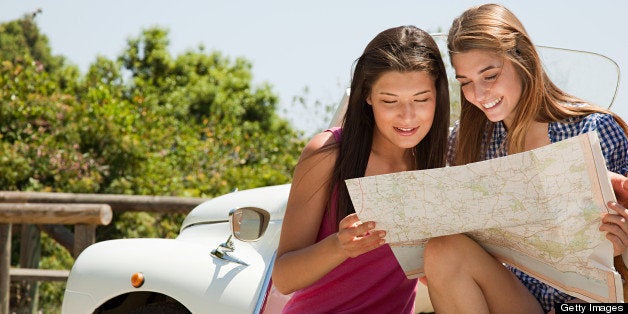 If you travel often, you understand that the world is mostly safe and that people are mostly good. If you don't, well, it's easy to hear sensational stories about rape and murder abroad and convince yourself it's safer to stay home in bed.
Women are particularly prone to this, mainly because we have added concerns about our health and safety abroad.
As the founder of Go! Girl Guides, which publishes travel guidebooks made just for women, I am constantly asked by traveling ladies to recommend the safest and most female-friendly destinations in the world.
While it's true that bad things happen even in the safest corners of the globe, by and large these countries top our list for female-friendly hotspots.
New Zealand: In addition to being one of the most visually stunning destinations on the planet, New Zealand is also one of the safest. The land of the long white cloud is full of friendly people, in a paradise where sheep outnumber the locals and hitchhiking is a widely used method of getting from one place to the other.
Check Out: Wellington (north island) if you like cities, and Mt. Cook (south island) for jaw-dropping natural scenery.
Thailand: Thailand is one of my favorite places on the planet, not only because of it's beauty and culture, but because women here are running the show. Many hostels, bars, restaurants and tour companies are owned and operated by women, which is refreshing to see. The government also does its part -- in Chiang Mai, for example, the Thai government operates a rehabilitation program for female inmates that teaches them skills in massage so that they will be able to find work upon release. If you're heading to Thailand, be sure to check out our guidebook on the country!
Check Out: Northern Thailand, including the city of Chiang Mai and Pai, a small hippie mountain town.
South Korea: The education system offered in South Korea is impressive, with a 2010 UNESCO study showing a literacy rate of more than 98 percent for women over the age of 15. That, combined with the fact that it's a relatively safe and easy place to travel, makes South Korea high on our list. And it's not just us -- thousands of expat women call South Korea their home, working as English teachers who help to mentor tomorrow's generation of women.
Check Out: Seoul, for one of the world's most interesting cities, and Jeju Province for gorgeous beaches. If you're looking for ancient culture, don't miss Gyeongju.
Iceland: Iceland ranked No. 1 in a recent survey by Newsweek and The Daily Beast, which examined the laws, health rates, education level, employment and amount of women in politics in 165 countries. The natural scenery is stunning, and there are only 300,000 residents in the small country.
Check Out: South Iceland, for the otherworldly glaciers, volcanoes and waterfalls.
Canada: Canada is consistently ranked as one of the happiest countries in the world for women to live. It's beautiful, has a low crime rate, and offers free health care, which is especially important for women.
Check Out: Vancouver, a fun city with friendly people. The islands off of Vancouver are also gorgeous, and make for a fun weekend getaway on the ferry.
Popular in the Community