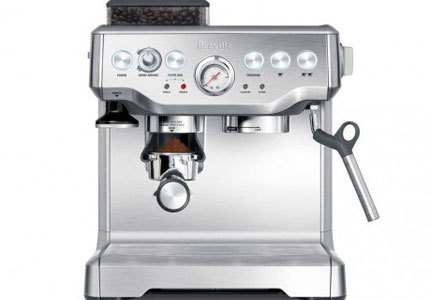 A hot shot of espresso is a great way to start your day, but the long lines and high prices of coffee shops can be a buzzkill. With GAYOT's 5 Best Espresso Machines, you can enjoy great espressos, cappuccinos, macchiatos and more from the comfort of home. While picking the perfect machine can be a daunting task, we've significantly narrowed the field with this list of smart and sophisticated espresso makers.
Breville BES860XL Barista Express
This top-of-the-line espresso machine is one of Amazon's most-wished-for models. It is well built, easy to use and comes with enough bells and whistles to satisfy even the most demanding coffee connoisseur. The different sets of filters accommodate all levels of experience. If you are an espresso-making novice, start out with the dual-wall, pressurized filters, which regulate the pressure for you and optimize extraction. If you're a skilled barista, use the single-wall, non-pressurized filters so that you can play with different grind sizes and amounts.
Nespresso C100-US-AERO Essenza
When it comes to taste, the Nespresso C100 really stands out from the crowd. Consumer Reports ranks this machine highest in its class, while the C100's many fans say it produces an unusually balanced, strong espresso. Although it's moderately priced for a pump-style model, you do have to invest in the Nespresso coffee capsules. The good news is that there are tons of flavors and the capsules keep mess to a minimum.