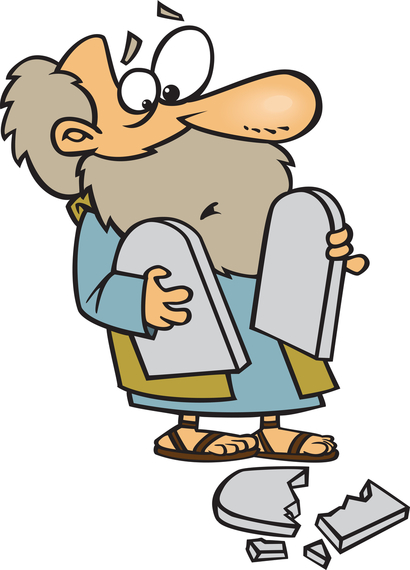 "Last Jewish Comic Standing," was what our family named a game we came up with for our guests to play at our son's Bar Mitzvah reception.
Each guest pulled a classic Jewish joke written on a piece of paper and told the joke to the crowd.
To prepare for this competition my wife, two sons, and I spent over six months reading every Jewish joke book we could find, including many now out-of-print, to cull only the very best Jewish jokes for the game. We were on the lookout for Jewish jokes everywhere. My son found a few howlers from his Torah portion in Leviticus, but they didn't make the cut.
The joke competition was fierce. It turned out, not all of the delivered people had excellent delivery. But love and nachas -- that was abundant. Now that the competition is long over, I am happy to share the winning five best Jewish jokes ever.

Not a very scientific process, you say? Okay, let this be the peer review. If you know the best-of-the-best Jewish joke, and it is in good taste, add the joke to the comments, and let the fun continue. L'Chaim.
A Jewish father was very troubled by the way his son turned out and went to see his rabbi about it.
"Rabbi, I brought him up in the faith, gave him a very expensive Bar Mitzvah and it cost me a fortune to educate him. Then he tells me last week, he's decided to be a Christian. Rabbi, where did I go wrong?"
The rabbi strokes his beard and says, "Funny you should come to me. I too, brought up my son as a boy of faith, sent him to university and it cost me a fortune and then one day he comes to me and tells me he wants to be a Christian."
"What did you do?" asked the man of the rabbi.
"I turned to God for the answer," replied the rabbi.
"What did he say?" asked the man.
He said, "Funny you should come to me..."
Marilyn Monroe, on being served matzo-ball soup:
"Isn't there any other part of the matzo you can eat?"
Two kids are in a hospital each lying on a stretcher next to each other outside the operating room. The first kid leans over and asks, "what are you in here for?"
The second kid says, "I'm getting my tonsils out. I'm a little nervous."
The first kid says, "You've got nothing to worry about. I had that done when I was four. They put you to sleep and when you wake up, they give you lots of jello and ice cream. It's a breeze."
The second kid then asked, "What are you in here for?"
The first kids says, "a circumcision."
The second kid replies, "Whoa, good luck buddy. I had that done when I was born and I couldn't walk for a year."
My wife and I did the Jewish divorce custom where we took a broken glass and we put it back together. --Myq Kaplan
A Jewish man took his Passover lunch to eat outside in the park. He sat down on a bench and began eating.
A little while later a blind man came by and sat down next to him.
Feeling neighborly, the Jewish man passed a sheet of matzo to the blind man.
The blind man ran his fingers over the matzo for a few minutes, looked puzzled, and finally exclaimed, "Who wrote this crap?"
Related
Popular in the Community