Even the most baller fashionistas can benefit from saving a little cash to put right back into their next swagalicious purchase. In honor of #FOMO (fear of missing out), check out these awesome pocket-friendly apps for the lowdown on the latest fashion steals and deals. Your closet and your bank account will love you for it!
Looking for the hottest sales and discounts from your favorite brands? FashionClyp makes it easy to connect with real-time offers and valid coupons on-the-go. With its geo-store tracker, you'll have access to personalized coupons near you, no matter where you go. Choose from all of the top brands including Macy's, Victoria's Secret, Lacoste, Neiman Marcus and more. It's free to download and you can filter your search by brand, local map and coupon offers. What I found most interesting is that it's goes as far as giving style suggestions on products for men, women and kids -- which makes it easy to browse, shop, and save money for the entire family.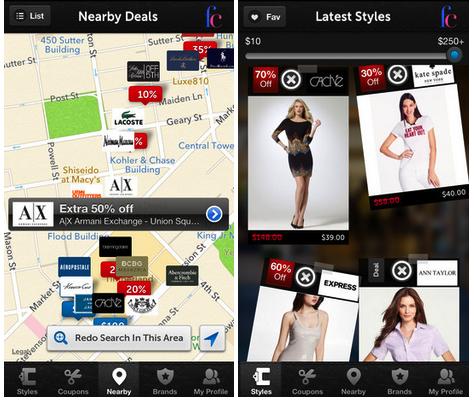 Tophatter is the first app to combine e-commerce with a live social experience -- turning your mobile device into an auction. Buyers are able to seamlessly bid on items and chat with sellers on an interactive chatroom-style platform. Displayed as bouncy avatars, buyers and sellers from around the world gather for live auctions that are fast, fun and feature amazing items at affordable prices. Bid from anywhere, anytime via your smartphone, tablet or computer and if you're the luckily winner, pay directly through the app's secure checkout system.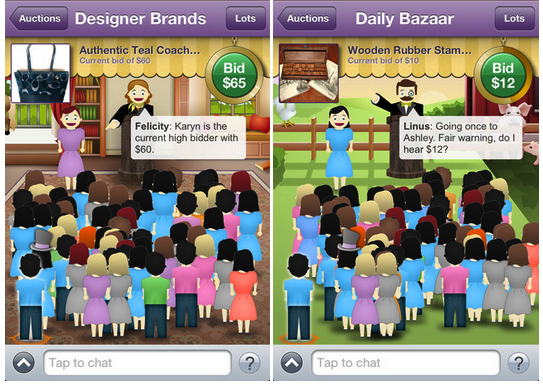 Do you have one of those friends who goes shopping and snaps a bunch of photos to fill you in on their newest fashion finds? Think of Snapette as that friend, times a million!
Snapette is filled with user-uploaded glitzy and glamorous must-haves that are uploaded by users while they are shopping. The best part about it is that each photo is linked to a location and store so that you can easily find the same product near you. The app aims to make it more engaging and simple to discover new products without having to go into an actual store. Additionally, you get a real-time view of what millions of other fashionistas are finding stylish in major cities all over the world. Snapette users get access to exclusive sales from partnering brands including Vince Camuto, Gypsy Warrior, Lanvin, Givenchy and others.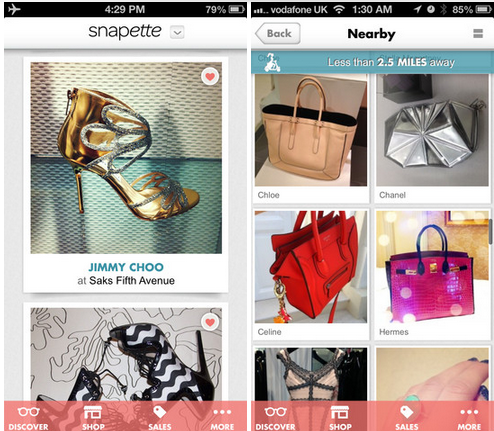 Named one of InStyle's "Best of the Web," HauteLook (a Nordstrom company) has been downloaded by more than one million people with March 2013 being the first day that mobile sales surpassed their web sales! The app features flash sales on high-end clothing, accessories, beauty items, children's apparel, toys and home décor discounted up to 75 percent off. It's a free members-only subscription that engages its loyal fans with email alerts on upcoming sales and spotlighted designers. New sale events start every morning at 8 AM PST.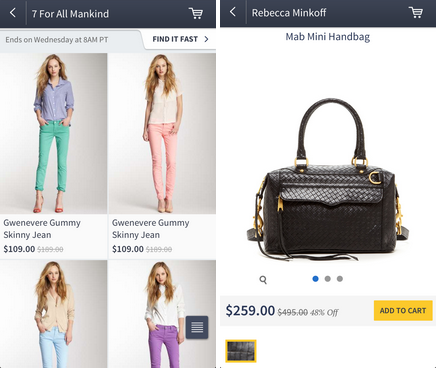 TikTakTo is an app with super deal-hunting powers. Don't believe me? They have nearly 10,000 new offers swarming in each day on over 12 million products to-date. The website launched less than 3 months ago and already has 60,000 registered members. They are both online and geo-locally, and if that wasn't good enough, they feature trends for fashionistas to make it easier to surf through the deals and see what's popular amongst other smart shoppers. The company has partnered with some of retails most prominent websites including Groupon, Living Social, Hotels.com, and others to create a bargain-lovers discount paradise.