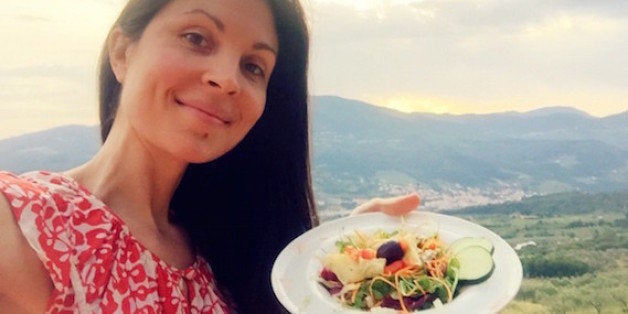 Traveling to Europe as a vegan might seem daunting, but it's actually quite fun and relatively easy. Yes, gourmet cheeses and meats are abundant there, but then again so are mouth-watering plums, pears, olives, sun-dried tomatoes, truffles, artichokes, and freshly made pastas and breads. You can even find vegan cheese shops and indulge your senses in the best dairy-free gelato on Earth. In fact, like the United States, the more you look, the more you'll find a multitude of plant-based goodies and accommodating restaurants.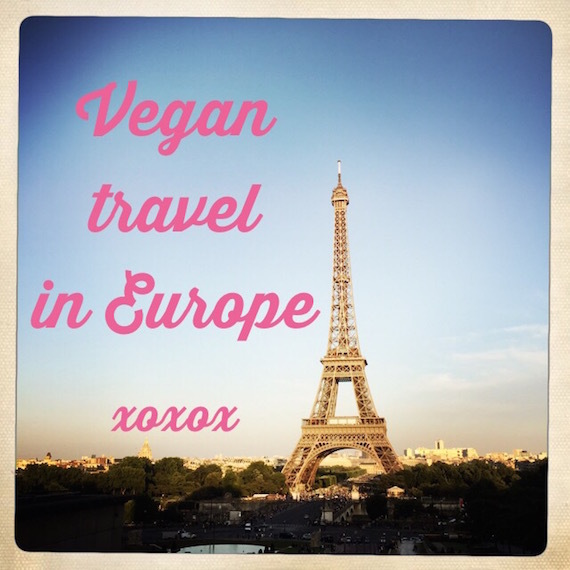 This year I took my three and a half year old on his first trip to Europe. We traveled to France, Italy, and Spain and it was a total dream-come-true! He and I are both vegan, my mom is vegetarian, and the rest of our friends and family who joined us eat like omnivores. What I've found is that no matter who travels with you all you need for the most memorable meals is a little planning:
1. Research the website HappyCow.net, and their app, to scout out vegetarian and vegan restaurants, bakeries, gelatarias and markets. Choose a variety of places that are close to where you'll be staying and the museums and monuments you plan to see. Since cell phone Internet can be limited or unreliable (even with an international plan) print out the HappyCow listings in advance. Our printouts made all the difference in locating healthy restaurants in three different countries. They even kept us cool in Florence as we fanned ourselves in the blazing heat and waited to see Michelangelo's iconic statue of David. Just remember to recycle the paper when your trip is over.
2. Bring a sizable meal on the plane and look into which airlines offer vegan entrées. A typical, vegan, airline meal might include pasta with a marinara sauce, a salad, a cup of fruit, and a roll.
3. Learn key phrases and words to communicate with others that you're vegan or vegetarian. For example, "Sono vegana" means, "I'm vegan" in Italian. Google Translate is a great app to assist you with a myriad of languages. This is especially helpful if you want to do a lot of sightseeing, explore outside of major cities, or travel with people who aren't vegan. It's very unlikely with those scenarios that you'd be dining at vegan restaurants for every meal. Of course, many Europeans do speak English, but most locals appreciate it when tourists try and speak their native language. Also, using some key vocabulary will help you avoid frustrating situations when eating at restaurants that do serve animal products. For instance, you might accidentally be served a dish with cheese, egg, or fish sauce if you don't clarify in advance. Remember, whether in the states or abroad there's still confusion over what a vegan diet includes and excludes. I once had a chef in Palm Springs, who had items on the menu marked as vegan, try and talk me out of ordering pasta because he thought that vegans never ate gluten. So, politely vocalize a list of what you don't want. Something to the effect of "I'm vegan. So, I'd like some food without any meat, fish, milk, butter, or cheese please." Sometimes people forget about butter so that's a good one to specifically mention when rattling off a list. You can also offer suggestions on what you could eat. For example, if you'd like pizza, request it with tomato sauce, lots of veggies, mushrooms, and garlic. Reiterating "no cheese" as graciously as possible will help.
4. Pack healthy snacks. No one likes being "hangry" (so hungry you're angry.) So, put some snacks, like health bars, in your suitcase or grab them at nearby markets. Personally, I love having a stash of protein-packed watermelon seeds by Go Raw. Speaking of protein I highly recommend bringing a brown rice or hemp protein powder along with a travel-friendly personal mixer. If you have a vegan kid, you might want to give him or her a protein drink each morning and at the end of the day. Despite lingering cultural concerns, consuming enough protein is pretty easy on a vegan diet. However, it's a good idea to cover your bases when traveling, especially if you or your kid(s) are "picky" eaters in any way. And don't forget, protein can help your muscles recover efficiently from the all-day walking you'll probably be doing in Europe.
5. Stay at places that have a full kitchen or at least a mini fridge. With a kitchen you can save money as well as stock up on nondairy milks/yogurts, fresh produce, vegan spreads, veggie burgers, etc. Whether my group of friends and family was in bustling Paris, quaint regions of Tuscany, or magical Barcelona, everyone appreciated a few "home-cooked" meals in the Airbnb gems that we had booked.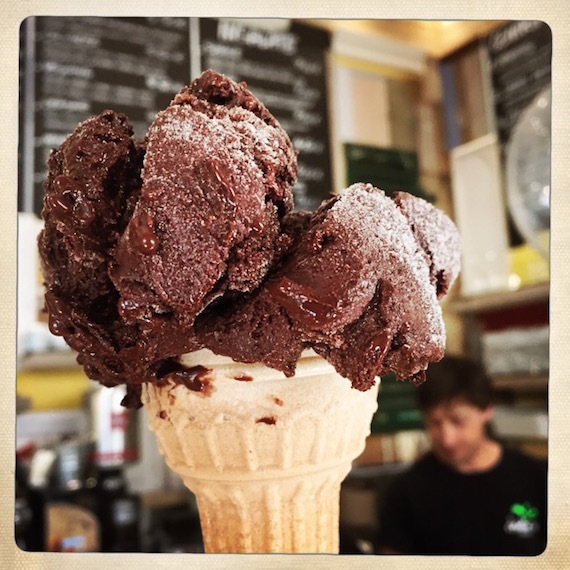 In addition to my five best tips that serve as general guidelines, here are my top picks (including photos) for eats and sweets in the European cities I visited this year.
Of course, if you'd prefer having someone else organize your vacation in Europe there are a growing number of tour companies that cater to vegans.
Like anything else in life, just remember you don't have to be "perfect" when it comes to adopting a vegan diet or traveling as a vegan. Just do your best and enjoy the journey!