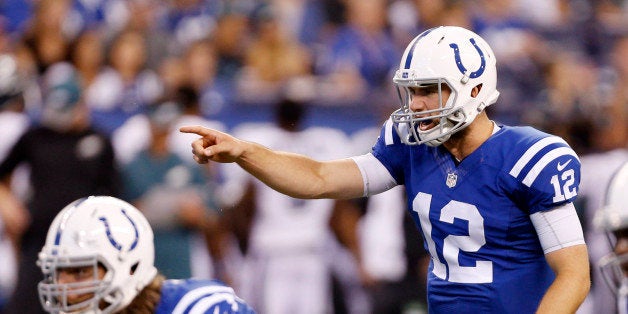 After months and months of waiting, the highly-anticipated 2016 NFL regular season is approaching. There have been a number of offseason roster changes to take into consideration heading into the new year. For the first time since 1997, Peyton Manning will not suit up, as he rode off into the sunset following the Broncos' Super Bowl victory. Polarizing cornerback Josh Norman was franchised by the Carolina Panthers, then he wasn't, was released, and signed a lucrative deal with the Washington Redskins, where he will be able to match up with arch-nemesis Odell Beckham Jr. for a minimum of two times this season. Veteran running backs Matt Forte and Arian Foster have new homes with the New York Jets and Miami Dolphins respectively. The 2016 NFL Draft featured two quarterbacks, Jared Goff and Carson Wentz, going first and second overall. Super Bowl winning backup quarterback Brock Osweiler was given a busload of money to appear under center for the new-look Houston Texans, while Indianapolis Colts star Andrew Luck was given the largest contract in NFL history.
On the negative side of things, there have been drug suspensions (of the abuse and performance-enhancing variety) as well, but unfortunately that comes with the territory in the NFL. Most shockingly, the New England Patriots will have to call an audible and play the first four games of the year without superstar Tom Brady, as his final appeal off of a long and complicated Deflategate saga was struck down by a U.S. Appeals Court judge.
All-in-all, it's been a very exciting offseason. Now the question is whether or not the offseason developments will translate into an incredible regular season. As always, the answer is a resounding "yes".
Here are five bold predictions regarding the upcoming year.
1. Andrew Luck Will Have More TD Passes Than Jay Cutler and Matt Ryan Combined
Let's not beat around the bush. Last year was an absolute disaster for Luck. After breaking out at an elite level in 2014, a year in which he threw for 4,761 yards, 40 touchdowns and 16 interceptions, the Colts' franchise quarterback played just seven games and threw 15 touchdowns and 12 interceptions. In those seven games, his rating was 74.9, compared to 2014's 96.5 mark. It was clear that he was playing at less than 100 percent for at least a couple of his seven starts, but nonetheless, he struggled. In order to put more of the emphasis in his hands this season, the Colts have moved from a two wide receiver, two tight end primary formation on offense (likely due to the departure of tight end Coby Fleener) to a three wide receiver, one tight end look. This will allow Luck to spread the ball to more elusive and more dangerous playmakers and will place much of the offensive burden on his shoulders and away from veteran Frank Gore and the running game. That being said, look for numbers like 2014 to become a reality once again for Luck, who knows he needs to live up to his massive contract and perform like an elite quarterback for his team to win games.
Cutler threw 21 touchdown passes last season with relatively no weapons other than Alshon Jeffrey and Matt Forte on the field. While he will gain second-year wideout Kevin White, who missed all of last season, the loss of Forte places major questions on Jeremy Langford and the rushing attack. Pro Football Focus ranked the Bears' offensive line 30th out of the 32 NFL teams heading into the season. That doesn't exactly translate to optimism for Cutler and the Bears offense.
With Ryan, at this point in his career, you pretty much know what you're going to get. Last year, he tossed 21 touchdown passes. Over the past three seasons, he's averaged 25 scores. Julio Jones is the only real formidable and dependable threat in the passing game and with more emphasis on Devonta Freeman and the running game, don't expect Ryan to go off in 2016.
2. The Green Bay Packers Will Go 14-2 And Be The NFC's Top Seed Heading Into The Playoffs
Now that Teddy Bridgewater is out for the season with a torn ACL, the Green Bay Packers' schedule just got a whole lot easier. Despite Minnesota's solid defense, the Packers should now have no trouble going 6-0 in the NFC North Division. Looking outside of their divisional schedule, the Pack actually have quite a difficult schedule, but are currently favored in all 16 games this season.
Opening the season in Jacksonville against the Jaguars is no joke and meeting the Giants, Cowboys, Redskins, Texans, and Seahawks among others, Aaron Rodgers and Green Bay will get the job done, especially since Jordy Nelson is back and healthy and Eddie Lacy is back to looking and playing like his old self. If last year taught Green Bay anything, they learned that their defense can play similarly to some of the other top squads in the NFC. The Panthers caught fire and finished 15-1 in 2015. This is Green Bay's year to make a similar run.
3. Robert Griffin III Will Throw More Touchdown Passes And For More Yards Than Kirk Cousins
Ahh, the RG III prediction that will undoubtedly either make you roll your eyes or agree with me. There's really no in-between when it comes to this polarizing player. While I definitely don't always look at preseason performance as a determinant of regular season success, it was nice to see Cleveland's head coach Hue Jackson, who is opting to call offensive plays for his new team, let Griffin loose. In many ways, the Washington Redskins tried to limit Griffin, especially when it came to high-risk plays. From what was shown in the preseason, Jackson will not be afraid to let Griffin air the ball out and also run with the ball in certain situations. With Terrelle Pryor emerging as a legitimate deep threat, and fellow former Baylor wideouts Cory Coleman and Josh Gordon (once he returns from suspension) on the field, this offense actually has a chance to be pretty good. Out of the backfield, Duke Johnson Jr. is a pass catching threat as well, which will give Griffin yet another option. The big question mark is whether or not the offensive line will give him enough time to make a ton of plays happen. It's hard to ignore the clear Baylor connection between Griffin and his two wideouts. Will that spread style of play be featured? I think it will and I believe it will be like something we've never seen in the NFL yet.
Regardless, I'm not really excited about the Redskins offense heading into 2016. I'm not a believer in Kirk Cousins yet and as we have seen, the second full season of a quarterback's career can be a troublesome one. Defenses have a full year's worth of game tape to study. Tendencies are picked up. Looking at Washington's roster, other than Jordan Reed, who are you incredibly excited about in the passing game? Redskins fans might be wondering "what if" after seeing RG III out-perform Cousins in 2016.
4. The San Diego Chargers Will Be The Worst Team In The NFL
Not much is expected of the Chargers in 2016. At least the Joey Bosa debacle is over, but they likely won't see their prized No. 3 overall pick in gametime action until he proves himself in practice and in situational designed packages. Of course, this prediction isn't based on the success of one player. While Philip Rivers is a sensational quarterback, he will, yet again, have to deal with a complete lack of a rushing attack. That makes his job way more difficult than it needs to be.
Defensively, there are a whole lot of questions. Not having to face a healthy Peyton Manning and the Broncos twice a year will benefit them in their division, but the Kansas City Chiefs and Oakland Raiders are both poised to be solid, playoff-caliber teams this year and right now, I'd rank the Broncos ahead of them despite the major question mark at the quarterback position. Luckily for San Diego fans, they will be able to celebrate earning the No. 1 pick in the 2017 NFL Draft.
5. Just Four Of Last Year's Playoff Teams Won't Be Postseason Contenders In 2016
Only the Broncos, Bengals, Vikings and Redskins won't be back in the playoffs this season. The Texans, Steelers, Seahawks, Packers, Chiefs, Patriots, Cardinals and Panthers will all be back in the hunt. Look for the Raiders and Jaguars to have breakout years in the AFC and the Saints and Buccaneers to make playoff appearances in the NFC.
What do you think of these predictions? Let me know in the comments below!
REAL LIFE. REAL NEWS. REAL VOICES.
Help us tell more of the stories that matter from voices that too often remain unheard.