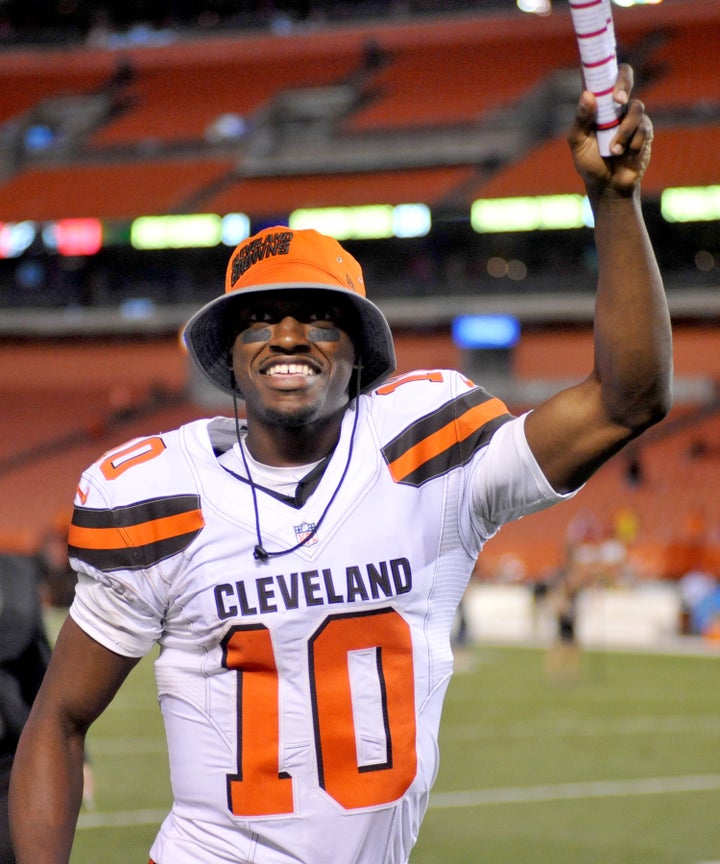 Football is back, which means the 24/7 NFL news cycle is about to take hold!
First things first, has the NFL ever had such top-heavy talent at quarterback? Peyton Manning is gone, yet we hardly flinched. The always polarizing Cam Newton is ready to build on his first MVP season, Russell Wilson comes off the greatest stretch in league history, Drew Brees is timeless at 37 and Aaron Rodgers has his full supporting cast healthy. And we know Andrew Luck is armed and ready, as are young guns Jameis Winston and Derek Carr.
But quarterbacks are just one part of the equation in 2016. The rooks are always entertaining ― just take last year for example ― and who can forget about the league's never-ending coaching carousel?
With that in mind, here are five bold predictions as we get set to kick another NFL season off.
Rex Ryan Won't Last 16 Games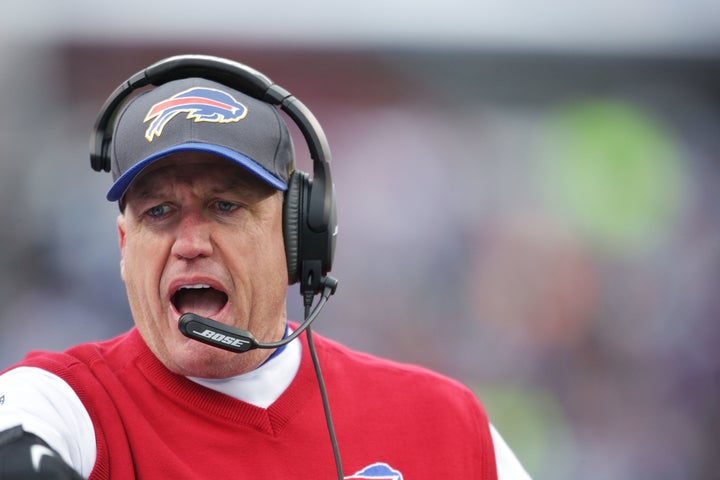 We could go with San Diego's head man Mike McCoy here, or perhaps the Rams' Jeff Fisher, but Ryan ― who enters his second year in Buffalo ― faces tremendous scrutiny after failing to compile a quality defense in 2015. Remember, the Bills put together elite numbers in 2014 on that side of the ball, only to falter when their defensive-minded head coach came on board. The Bills ranked a measly 19th in total defense and just 15th in points allowed per game. Ryan, as we know, tends to wear his teams down, and last year seemed to be no different.
Quarterback Tyrod Taylor flashed moments of stardom, but failed to eclipse the 200-yard mark in Buffalo's final two games. Star running back LeSean McCoy can't stay out of trouble, and the super talented second-year man Karlos Williams ― who was slapped with a four-game suspension after violating the league's substance abuse policy ― was just released. Surely it's not fair to put that on Ryan, but the general lack of discipline of his teams has always been an issue. The outspoken head coach signed a five-year contract, but don't expect the front office to be that patient: The Bills haven't been to the playoffs in 17 years, the longest streak in professional sports.
Ben Roethlisberger Breaks Single Season Yardage Record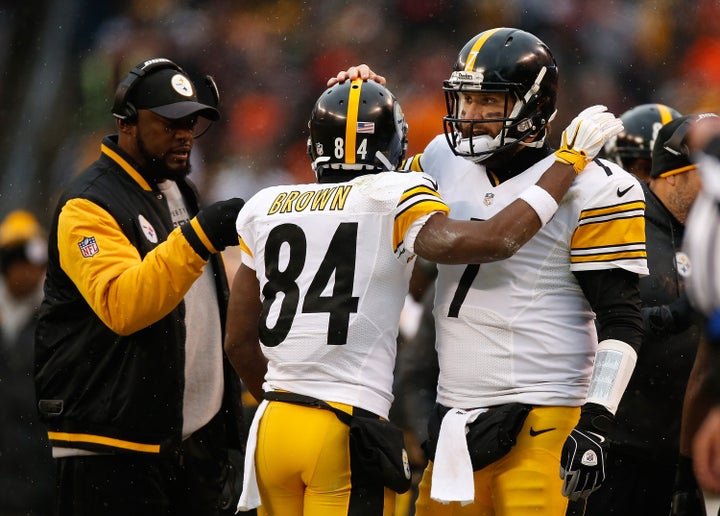 The 34-year-old Roethlisberger nearly amassed the 4K mark last season, and yet he played just 12 games. Even with deep ball magnet Martavis Bryant suspended for the whole year, Big Ben will be chucking it like never before. Antonio Brown is an unstoppable force of nature who destroys everyone and does it lining up all over the field. Le'Veon Bell ― suspended three games ― caught 83 balls in 2014, and presents as dangerous a play-action threat as there is.
The bottom line is that Mike Tomlin loves to throw and he loves to take shots down the field; Roethlisberger is a deep ball master. He will also lean on speed demon Markus Wheaton, who caught 28 passes for 476 yards and four touchdowns during Pittsburgh's final six games. And watch out for talented second-year man Sammie Coates and promising 23-year-old slot man Eli Rogers, a former undrafted free agent out of Louisville. Simply put, Peyton Manning's record of 5,477 yards ― set in 2013 ― is in serious jeopardy.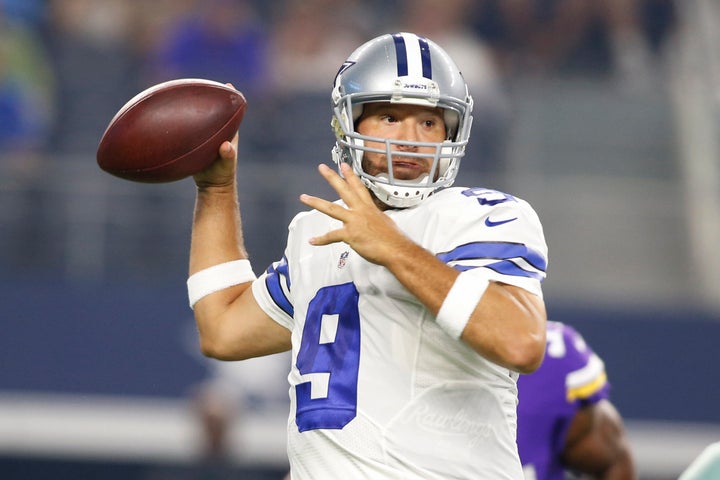 We always seem to talk about worst to first in the NFL. Dallas, which won just four games in 2015 ― mostly because of Tony Romo's clavicle injury ― is primed for a possible playoff run.
Romo ― who will be kept upright all year ― is healthy, and so too is Dez Bryant, a perennial All-Pro who hasn't been able to stay on the field. The offensive impetus for Dallas may become rookie running back Ezekiel Elliott, whom Dallas took with the fourth overall pick in the draft. Elliott, while inexperienced, is just the type of physical, patient runner built to succeed behind the league's premier offensive line. Like DeMarco Murray, Elliott should excel.
Defensively, the Cowboys will be tasked with defending two potentially explosive offenses in the NFC East: Washington and New York. The defensive line is very young, but the return of DeMarcus Lawrence and Randy Gregory ― all of whom were suspended last year ― could prove lethal. With a soft schedule for Romo and Bryant to feast on, it's not unreasonable to assume Dallas flips the script in 2016.
RG3 Wins Comeback Player Of The Year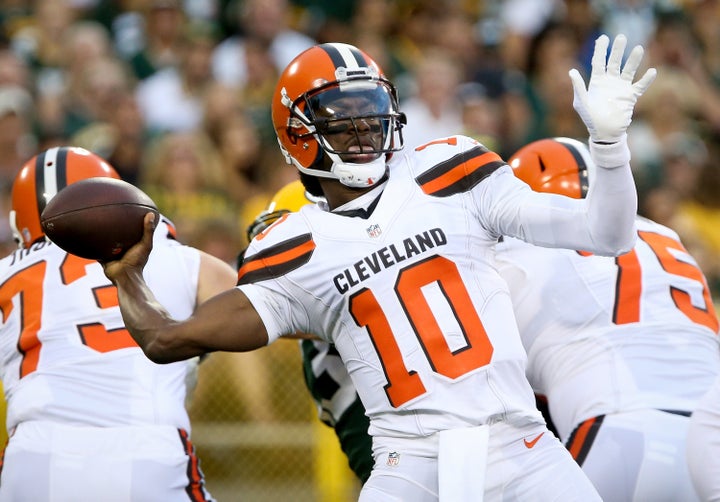 Kansas City's Jamaal Charles is the sexy choice here, and there are a whole host of others (think Jimmy Graham, Eddie Lacy, Thomas Rawls, Arian Foster or Andrew Luck), but Griffin has a real chance in Cleveland. I've been bullish on him all summer, and his recent preseason play ― check this dime to Gary Barnidge ― shows he may just be ready.
In fact, no franchise in the NFL has gone through more quarterbacks than the Browns ― over 20 in fact since they returned to Cleveland in 1999 ― but Griffin may just be the guy to end that woeful stretch. Healthy and armed with a quality offensive line and defense, RG3 will rely heavily on former All-Pro wideout Josh Gordon and rookie speedster Corey Coleman, a first rounder out of Baylor who can fly. Griffin didn't play a single snap of football last year, and perhaps that's a good thing. Reports have been positive in camp ― All-Pro left tackle Joe Thomas tells The Huffington Post he is improving ― and he has the added benefit of Barnidge at tight end and an emerging tailback in Duke Johnson. Undoubtedly, there are a lot of what ifs, but Griffin and the Browns offense should be noticeably improved this season under newly minted head coach Hue Jackson.
Sterling Shepard Wins Offensive Rookie Of The Year
This is a stretch, especially considering the assortment of uber-talented rookies (e.g. Coleman, Elliott, Laquon Treadwell, Josh Doctson, C.J. Procise and Tyler Boyd) ― and the fact that the average rookie season for second -ound receivers comes out to 28 catches for 359 yards and two touchdowns, according to Pro-Football-Reference. But Shepard, drafted 40th overall out of Oklahoma, is a difference maker who will benefit greatly from lining up next to and opposite Odell Beckham Jr.
Blessed with tremendous hands and quickness, his versatility will keep him on the field for a Giants offense that has gotten little production aside from OBJ over the past two years. The oft-injured Victor Cruz remains a huge question mark, and Eli Manning ― along with offensive coordinator Bob McAdoo ― would love nothing more than for the dynamic and shifty Shepard to burst onto the scene.
Shepard ― whose father won a Super Bowl with the Redskins ― absolutely dominated the Big 12 as a senior, amassing nearly 1,300 yards and 11 touchdowns. The comparison can be made to fellow Big 12 product Tyler Lockett, another 5-foot-10 wide receiver. Lockett, drafted in the third round, enjoyed a fabulous rookie campaign in Seattle last year, totaling almost 700 yards receiving and eight total touchdowns, while earning Pro Bowl honors as a return specialist. 
CORRECTION: An earlier version of this story said Le'Veon Bell was suspended for four games. His suspension, initially four games, was reduced to three games upon appeal. Also, an earlier version stated the Bills have not reached the playoffs in 16 years, the second longest drought in the league. The correct number is 17 years, which is the longest drought in the league. In addition, Rolando McClain was suspended in June, and has since been omitted from the portion on the Cowboys.
Calling all HuffPost superfans!
Sign up for membership to become a founding member and help shape HuffPost's next chapter