In celebration of #BourbonRebirth, I've named the 15 most-important brands (not distilleries) for bringing bourbon back. My criteria for creating this list was who made the biggest impact through sales, quality, marketing, innovation and trendsetting since 1980, a year this beloved spirit was left for dead. Fellow bourbon author Michael R. Veach consulted on this list, but the rankings are my own. These are the top five. Learn who was 15-11 and 10-6. This post originally appeared on FredMinnick.com.
The Jim Beam brand fought bourbon's fight when other brand executives had forsaken the spirit for vodka and gin investments. They pumped money into advertising, decanters and unique retail partnerships, such as with military bases, when many others couldn't figure out how to make bourbon work. No brand has done more for bourbon since Prohibition than Jim Beam. But since this list represents the works since 1980, it's No. 5. In 1982, according to the Louisville Courier Journal, Jim Beam sold 4.2 million cases, which was 800,000 cases ahead of Jack Daniel's, with sales increasing 25 percent over a four year period.
This momentum slows down and Jim Beam didn't have Frank Sinatra on its side, but Jim Beam maintained its course and continues to be the No. 1-selling bourbon. In the 1998, the Los Angeles Times called Jim Beam "the 800-pound gorilla" of bourbon. With its massive inventory, Jim Beam's relentless volume continues, as it recently filled its 14th millionth barrel and the parent company, Beam Suntory, plans to invest more than $1 billion over the next five years for Kentucky bourbon production.
Of course, bourbon is cool now. Jim Beam made the investments when nobody was looking, including the first barrel-finished bourbon. In 1999, Booker Noe and Cognac consultant Alain Royer introduced the Jim Beam Masterpiece 18-year-old bourbon finished in Cognac barrels. This release opened the door for Angel's Envy, Woodford Double Oak and the entire special barrel finish category.
Jim Beam also tapped back into its celebrity heritage with Kid Rock and Mila Kunis endorsements. One can never forget how important famous people are for selling things.
If only Seagram knew the mistake it made taking Four Roses Bourbon (not the blend) off the U.S. market in the 1950s! When Four Roses Yellow Label returned to Kentucky distribution in 1996, bourbon lovers found a high-rye bourbon so perfect, so delicious that it changed the bourbon conversation.
In 2002, it receives national distribution after new owner Kirin makes the brand a priority. For the next decade, Four Roses takes America by storm, with master distiller Jim Rutledge and brand ambassador Al Young (both in the Bourbon Hall of Fame) introducing the Yellow Label, followed by single barrel (2004) and small batch (2006) products that tickle palates with resounding cinnamon and complex caramel. Four Roses released its first Limited Edition in 2007.
Since then, Four Roses has dominated the competitions and received the highest scores in magazines and blogs, while becoming the Whiskey Geek's Darling. Rutledge has since retired, but no distiller or bourbon brand has had a better 10-year stretch than Four Roses. Last year, for Whisky Advocate, Rutledge told me the two key moments that really made his career: Working with Secretariat owner Penny Chenery to select special barrels for 40th anniversary of the great horse's Triple Crown run and the Four Roses 2012 Limited Edition Small Batch winning Whisky Advocate's American Whiskey of the Year. Those moments signaled: "We're here."
More importantly, Four Roses captured our palates with an unbeatable spicy flavor profile and stole our hearts with absolute transparency. It doesn't matter who you are, Four Roses officials will tell you anything you want to know about their products. We need more of this in the spirits industry.
3. Blanton's

The automobile has the Corvette, the airplane the Boeing 747, and the cellular phone has the iPhone. For bourbon, the brand that changed the game was Blanton's.
It was the first commercially available single barrel. Launched in 1984 and created by the rock star legendary master distiller Elmer T. Lee, Blanton's was really developed for the Japanese market, which craved good bourbon and gave distillers hope. Domestically, it also did something no other bourbon distiller dared to try: Blanton's held blind tastings against Maker's Mark in the early 1990s. Blanton's later taunted Maker's Mark in newspaper ads. This is from a 1991 ad: "...If Maker's Mark has a monopoly on wax closures, maybe Buckingham Palace should turn in its royal seal and switch to self-adhesive envelopes..."
Owned by Age International and produced at Buffalo Trace Distillery, to this day, Blanton's is the category leader in single barrel bourbon. This is the bourbon many Kentuckians buy as gifts, because nothing says Kentucky like a jockey riding a horse on top of bourbon.
2. Evan Williams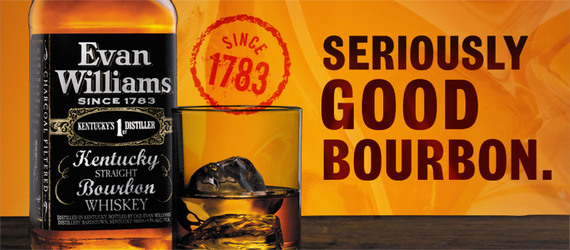 Evan Williams may surprise many. That's because its owner, Heaven Hill Brands, doesn't really talk about the double digit sales growths in the 1980s, the niche marketing with the likes of the Bassmasters Pro fishing tournaments, the Kentucky State Fair annual cooking contest or the strategic full page ad series in Sports Illustrated.
Evan Williams' portfolio equals pure value, from its entry-level 86-proof black label to its annual vintage single barrel release. More than just the cost, Evan Williams brings uncanny flavor in every bottle. If the Evan Williams Black Label is not the best bourbon around $12, it's close. And the Single Barrels are year in and year out, "bourbon of the year" contenders, while the expensive Evan Williams 23-year-old usually offers complex notes without too much wood.
In addition, the downtown Louisville Evan Williams Bourbon Experience absolutely changed bourbon tourism, giving visitors an intimate look at how Kentucky whiskey used to be made. The tour's short film takes you back to 1783, when Evan Williams (played by an actor) is in his whiskey-making prime. Evan Williams, the brand and the tour, was built by Parker Beam and Harry Shapira, two bourbon stalwarts who've done more for bourbon than we'll ever know. Today, it's the No. 2-selling bourbon brand.
Heaven Hill rarely takes chances with Evan Williams; rather, its conservative approach waits to make sure trends are not fads. Perhaps, this explains the brand's longevity.
1. Maker's Mark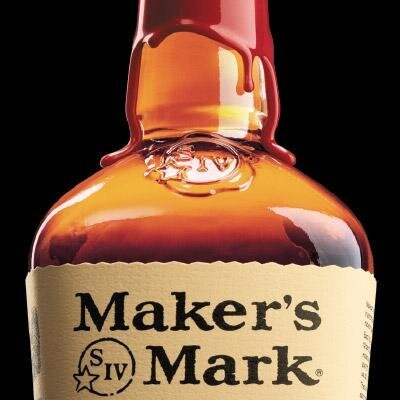 When describing Maker's Mark, it's hard not to recite what I witnessed five years ago (originally published in Tasting Panel Magazine):
As Bill Samuels Jr. walked onto the stage, his stringy reddish-orange polyester wig glistened in the spotlight and his purple vest flashed like a Christmas tree. He could have easily been mistaken for a Van Halen roadie, but those who knew the man understand his eclectic nature requires a few, let's say, creative outfits from time to time.
The crowd erupts in cheers.
"We love you, Bill!" a man voice echoes.
"Don't go!" a woman yells.
Nursing a bad hip, the 73-year-old Samuels tips his small glass of Maker's Mark to the thousand brand ambassadors who've come from all over the world to see him one last time. Even though it's his retirement party, Samuels Jr. says, "This party's about you all and not me."
Samuels Jr. looks into the sea of faces, pausing for a few seconds, as if he's taking it all in, and jokes about the rain--there's a monsoon showering the party tents. With the wig brushing against his cheeks, it's hard to see signs of his emotion, but his voice slightly breaks when he says, "It's been a long career, a hell of a time," tipping his glass toward the crowd. "Let's have a cocktail!"
The beloved Samuels Jr. retired in April 2011 and passed the torch to his son, Rob Samuels, the eighth generation Samuels to lead a whiskey brand.
Maker's Mark took over the Burks Spring Distillery in 1953 and released its first product in 1958. Created by co-owner Marjorie Samuels, the red dripping wax was the red dress in a sea of grey dresses--it stood out when packaging wasn't very interesting--while distiller Bill Samuels Sr. created a tasty wheated bourbon.
Over the years, Maker's Mark's bourbon tourism strategies inspired the Kentucky Bourbon Trail, while its clever marketing tackled important issues, such as dead racehorses, presidential elections and relationships.
During its rise to fame in the 1980s, the brand created the super premium bourbon category and gave newspapers a new angle for bourbon, which offered an annual "America's spirit's sagging sales" obituary during the rise of white spirits. Although Maker's Mark sues those attempting red dripping, it actually helped other distilleries.
Samuels Jr. introduced reporters and bars to competing brands such as Elijah Craig, Rare Breed and Booker's. Maker's Mark also encouraged ambassadors to visit other distilleries during the annual bourbon ambassador party, building an intimate relationship with consumers and becoming the de facto leader of the bourbon industry. But this stature was tested February 9, 2013, when it lowered its proof from 90 to 84.
After once telling its consumers, "we will never mess with your whiskey," Maker's Mark received a lot of publicity and fan feedback like this: "Dear Maker's Mark, you told me you will never change my favorite whiskey, and I said I would never drink another. You lied, and now I'm leaving you."
Maker's Mark reversed the decision a week later, and bourbon life returned to normal. But for a few days, Maker's Mark was the leading story on the likes of CNN, Fox News and USA Today. Other brands had lowered proofs and nobody cared. But Maker's Mark does it, and it's front page news.
Since then, Maker's Mark rebounded with record-setting sales, distillery expansions and brand extensions.
The lesson in all of this: Even when Maker's Mark screws up, the brand does nothing wrong.
Related
Popular in the Community