There were about 20 of us, brought together by the Hawaii Coalition for Justice in Palestine (HCJP) to watch 5 Broken Cameras at the University of Hawaiʻi at Mānoa (UHM). Some had seen it before. But whether it was a first or second viewing, this story of one family's encounter with state-sponsored violence and settler encroachments on a small "falah" (peasant) community left us all with a sense of outrage and revulsion.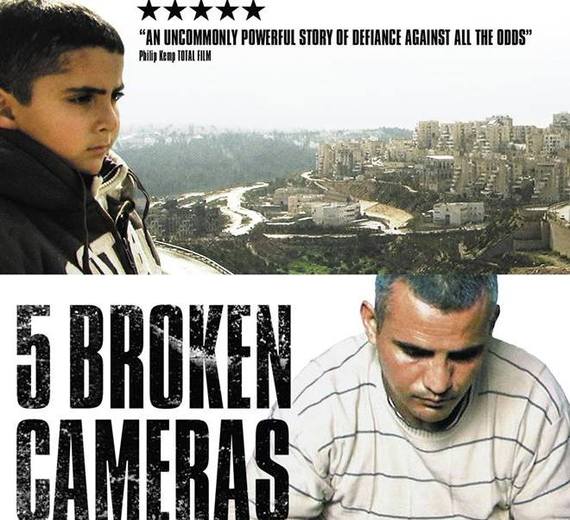 Palestinian Emad Burnat explains his compulsion to film events as they unfold in his village of Bil`in on the West Bank as a way of confronting the violence that Israeli occupation brings. The film, seen through the eyes of one man and his family and friends, chronicles that violence as a planned strategy of removing Palestinians from Palestine. Burnat and his fellow villagers try very hard to respond with nonviolent resistance--but that just brings on more violence. Each camera's destruction marks an escalation in the violence.
The villagers' solidarity and steadfastness sustain them--and give the film its power. They protest the barrier that the Israeli military erects on their land, ostensibly to demarcate a "closed military zone." They are served with notices to vacate the area. They protest, but to little avail.

Zoning: A Strategy for Occupation
Commenting on these zoning practices, Ali Musleh, a Palestinian who is pursuing his Ph.D. in political science at UHM explains: "An area could be arbitrarily declared a closed military zone around settlements, around or even in Palestinian villages and cities. Often it serves to separate Palestinian villages and settlements, impeding movement. These spatial regimes are used to punish Palestinians, govern the occupied population and advance settlements."
The film shows us how this works. The villagers watch as settlers move into the new apartments built on land that was once theirs. Burnat's camera captures the sense of entitlement of the settlers as they warn the villagers to back off and stop filming.
When the villagers keep protesting the brazen land grab, the violence from the Israelis escalates. The villagers live with the reality of being tear gassed regularly, shot at, and in some instances, killed. They live with the reality of soldiers invading their homes and arresting protesters, including children. But violence also comes from the settlers who are suspected of torching the beloved olive trees that take years to bear fruit and that the villagers depend on for their living.

"If you do not fit the resistance image, you are on your own."
Burnat worries about how he will provide for his family when an accident keeps him from engaging in physical labor. He knows the villagers' sustained, nonviolent resistance to Israeli aggression is not universally embraced. "If you do not fit the resistance image, you are on your own," he says.
The power of this film lies in Emad Burnat's dogged filming that lets events speak for themselves. He persists in recording--somewhat incredibly-- the tense confrontations with Israeli soldiers, themselves tools of a state apparatus of control and coercion. One does not necessarily see evil in the soldiers. One does see the blind, often cruel, obedience that the military demands.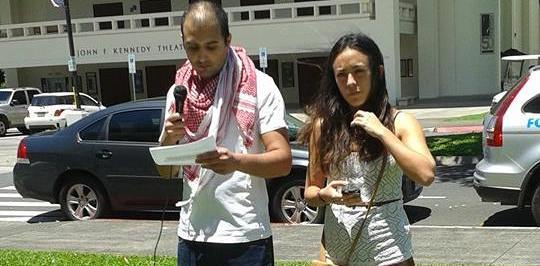 Ali Musleh and Tina Grandinetti, graduate students at UHM, speak at the protests that took place when Secretary John Kerry visited in August.
But what is the viewer to make of settlers who rush to hang the mezuzah on their doorpost as the villagers they have displaced look on? What is the logic of occupation that allows the settlers to believe that God will bless them in their new homes, built in the shadow of the destruction of the homes of others?

How are the doorposts cleansed of the bloodshed that comes with occupation?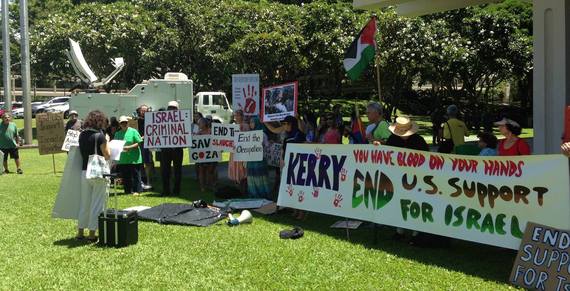 TV crews covering Kerry's visit to the UHM campus ignored the protests.
This deeply disturbing film raises many questions. It is impossible to watch 5 Broken Cameras and not think about the manipulation of history and religion to justify the policies of a supposedly democratic Jewish state. The film raises questions about how religion and tradition inhibit resistance. It raises questions about the role of women in the struggle to survive and cobble together some semblance of a stable family life in the midst of upheaval and fear.
Most of all, the film raises questions about how we respond.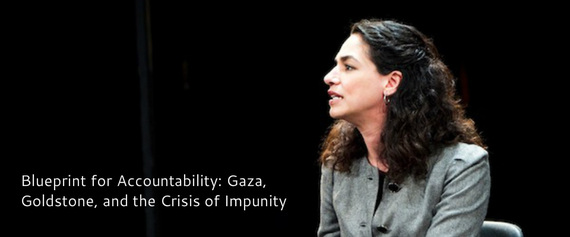 see http://www.nouraerakat.com/
Palestinian Scholar/Activist, Erakat Visits Hawaii End November
The question of culpability for settler colonial violence, and of ethical responses to it, is one of the questions that visiting Palestinian-American human rights scholar and activist, Noura Erakat will address when Hawaii Friends of Sabeel brings her to Hawaii November 28 -December 1. Sign up on Facebook or contact cfranklister@gmail.com if you would like to receive information about her visit or help with any of the events.
"We expect to have a number of really rich conversations with Noura Erakat," said Dr. Cindy Franklin, of the English Department, UHM, one of the key organizers of the HCJP and a member, too, of Hawaii Friends of Sabeel. "This includes looking at Hawaii's own history of settler colonialism and occupation -without collapsing the significant differences between Palestine and Hawai'i. Particularly when it comes to Palestine, it will be a way to think beyond mainstream media misrepresentations and silences and gain a better understanding of what settler colonialism and occupation mean to the people whose lives are shaped by these processes."
5 Broken Cameras, edited by Israeli co-director Guy Davidi is available via Netflix. Ali Musleh and Tina Grandinetti will be organizing a showing of a second film at 4:30p.m. on Thursday, November 13 at the UHM campus. The showings are free. All are welcome.
Calling all HuffPost superfans!
Sign up for membership to become a founding member and help shape HuffPost's next chapter