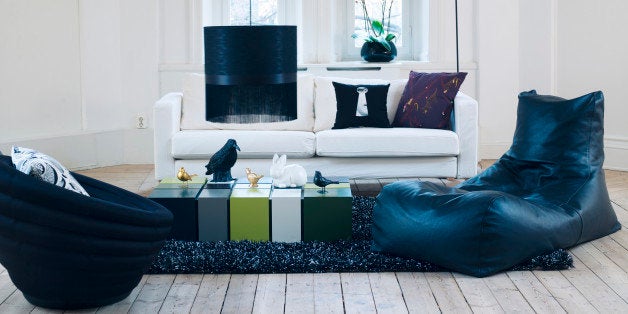 Winter is going (envision that was said in a Game of Thrones voice), and what better way to celebrate the beautiful outdoors by sprucing up your space in ways to represent the floral growth and luscious greens that are growing right outside of your very window? Here are some easy ways to lighten up your space in preparation for the spring months, while avoiding spending too much money:
Swap out your existing winter-like dark throw pillows, and get a few flowery accent pillows that can make a statement for when you throw that "spring awakening" party (is that a thing?). Store the white fur that you've been snuggling under for the past few months, and grab a brightly patterned throw to drape over your sofa as a decorative accent to your living room as well.
2. Play up the Coffee Table Books
Often overlooked, the colors of your coffee table books can make a large impact on the overall aesthetic of your space. An easy fix to spruce up the colors is to incorporate more brightly colored books onto your coffee table, in order to set up a strong springlike base to your coffee table stylings. Some books we recommend include: "Domino: The Book of Decorating" and "100 Ways to Happy Chic Your Life" by Jonathan Adler.

3. Invest in some Flowers (or Make Your Significant Other Get You Some)
This one's easy -- but what better way to celebrate the outdoors by buying some beautiful flowers and displaying them significantly in your living space! The easiest way to incorporate spring into your repertoire should never be overlooked, and if you drop enough hints, maybe your significant other will surprise you with them. Tulips, or any brightly colored flower, will liven and open up any space.
4. SPRING CLEANING. Enough said.
This one may not be as fun as buying new pillows and flowers, but it's a must do for this time of the year. Use the turning of the seasons to force yourself to give your home a good scrub down. This will not only clean out the accumulated dust from the winter months, but will also help like you're starting fresh for the season! We recommend Method cleaning products, or hiring one of the trusty maids from a service like Handy, in order to get this done.
Take advantage of a new season by rearranging your furniture -- or using a Havenly designer to help figure out how to make the most of your space. There's something about taking the time to step back and figuring out fun ways to combine your furniture to ring in a new season and a new feeling. Use your side tables as a coffee table and a coffee table as a console, and just go crazy with it! Give into the spring fever.