Virtual Reality (VR) is one of the hottest tech items in recent times. The technology replicates a physical environment while virtually injecting the user's presence into that environment. Not only do VR headsets replicate visuals, but also sound. Additional tactile replication through the use of wired gloves is also possible. VR headsets also allow additional input through the use of devices such as keyboard and mice. While not new technology, virtual reality has received well-deserved buzz, with recent months especially with Facebook's purchase of Oculus Rift in 2014. However, virtual reality is by no means cheap technology. Quality headsets can set you back hundreds or even thousands of dollars. So what are a few good VR headsets that you get that won't leave too much of a dent in your wallet?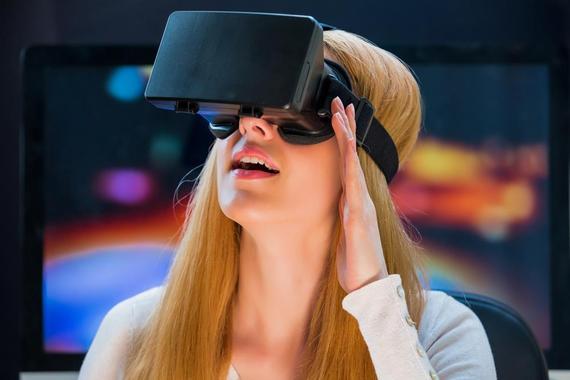 DOMO nHance VR Headset - This VR headset works with your smartphone to give you hours of fun. It allows the user to experience true 3D and it also allows you to explore this Virtual 3D world with head tracking. Users can place their Android or iOS smartphones into the headset and launch the accompanying app to immerse themselves in virtual reality. The nHance VR2 uses the sensors in your smartphone to direct the head-tracking abilities. This headset takes its cues from another VR platform, Google Cardboard and works with all of Cardboard's apps. Users can access these Google Cardboard apps through the use of human interface devices (HID) such as keyboards, mice through Bluetooth or USB. It also works well with most phones with display sizes ranging from 3.5" to 5.7". However, the nHance VR2 isn't all about technical specifications. It is ergonomically designed to fit you well allowing you to play games or watch movies for an extended period with very little discomfort. To help it stay in place, the nHance VR Headset also comes with an adjustable harness that keeps the headset close to your face, while a leather pad cushions the strap against the base of your skull. The nHance VR2 relies on a pair of Aspherical Optical Lenses which can be adjusted to fit the size of the phone display. The smartphone mount is also adjustable and users can charge the phone through an access slot built right into the headset.
PTron VR Headset - The PTron VR Headset is beautifully designed with a number of attractive features giving you a great virtual reality experience. The headset allows you to engage in high definition gaming with eye-tracking, using your eye movement as a controller. As with other VR headsets, the PTron VR Headset allows you to use your smartphone as an immersive cinema screen. The PTron VR Headset is also fitted with a pair of spherical lenses which are fully adjustable. The headset works with many different brands and models of cell phones from iPhone, Samsung, LG and HTC to name a few. It supports both iOS and Android. The design is fully closed, allowing you to fully immerse yourself into the game-playing or movie-watching experience. It is also lightweight allowing you to wear it for hours at a time without growing weary. The headset allows Bluetooth 3.0 control, has selfie support, allows you to use a wireless mouse, gamepad and PC remote control.
Zebronics VR Headset - Zebronics VR Headset is yet another virtual reality headset available on the market that is compatible with Google Cardboard's growing stable of 3D and VR-ready apps. The headset comes with a pair of focus-adjusting lenses allowing the user to set the best focal length for his or her eyes. The headset's pads are also ultra soft ensure hours of comfort. Rounding out its list of features is a magnet toggle switch, a metal neodymium ring, a ceramic disc, and motion sensors for gaming.
Agnus VR Headset - The Agnus VR Headset is a sleek, well-designed headset that is sure to make you look cool while enjoying it. The headset can help you to watch theater-sized 3D movies and play games in 3D as well. Its high-quality lenses make for an amazing viewing experience. The Agnus VR Headset can also fit a variety of phones with varying sizes. The headset features an adjustable spring system that allows the use of phones in the 4" to 6" range. Of course, no VR headset will be complete without the use of headphones for a truly immersive experience and so its easy access port makes connecting your audio a minor task.
Irusu Play VR Headset - The Irusu Play VR Headset promises you a fully immersive experience with most Android and iOS phones. The lenses have Ion Plating refining which means that it is able to block electromagnetic radiation without decreasing the integrity of the headset's optics. The lenses also have an 8-layer nano coating and have been polished 5 times in order to reduce deformity and glare. This treatment helps to reduce user fatigue and assists in a better 3D reality. Like most other VR headsets, users can adjust the focal distance of the smartphone allowing people of most vision abilities to enjoy the headset. The Inusu Play VR Headset also makes its mark in wearability with its comfortable headband and heat-dissipating design. This allows you to enjoy hours of gaming or movie-watching without growing weary.
2016 promises to be the year of virtual reality, allowing users new immersive experiences in gaming and movie watching. Luckily it appears to be a technology that people from different walks of life can enjoy. Most new technology is incredibly pricey and restrictive for those who aren't willing to shell out large amounts of cash. Because of this, many people find themselves being left out when new technology hits as they are forced to wait until the technology becomes cheaper and more ubiquitous. However, the same cannot be said for virtual reality headsets which are available at an affordable price even now. There is an impressive range of devices available for anyone with a smartphone interested in experiencing virtual reality.
Related
Popular in the Community